3 types of bank accounts everyone should have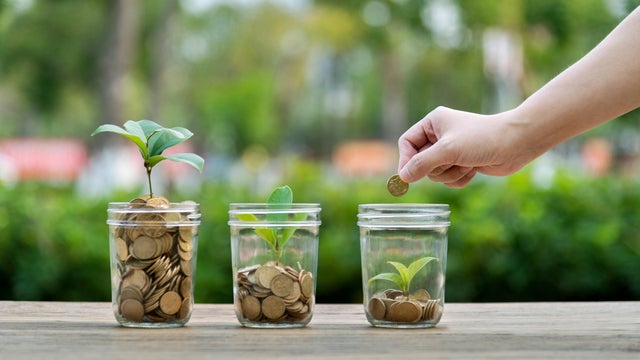 Developing smart habits with your money is one of the best ways to meet your financial goals — but doing so can be a lot easier with the right bank accounts working for you. 
Whether you need somewhere to keep the money you plan to move in and out regularly, store savings you may want to access in the near future or have a place to keep longer-term savings secure, there's a bank account that can help. But different account types have different uses, which is why you can benefit most by having more than one. 
Knowing the types of accounts that are most useful for all the different ways you spend and save can help you make the most of your financial situation, no matter where you are in your journey.
Start here by comparing some of the best savings rates available now.
These are three account types that can help you reach your financial goals today. Each of these types of accounts is FDIC-insured, so you can guarantee your money is safe and secure.
As you probably already know, a checking account can be essential for paying monthly bills, receiving direct deposits and tracking regular payments. 
Checking accounts typically come with debit cards and checks you can use to make frequent transactions. That's why most people like to keep their checking accounts with a large brick-and-mortar bank or a smaller local bank with plenty of nearby locations and ATMs.
If you really want to maximize your checking account, consider whether a high-yield checking account with an online bank could be a good option for you. You may forfeit branch access, but in return, you'll get up to 1% or even 2% APY on your balance. Just make sure to know all the requirements and account details before you make a switch.
Learn more about checking account options available today here.
If the only savings account you have is a traditional savings earning something like 0.10% interest or less, it's time to upgrade. In today's high-rate environment, a high-yield savings account can earn upwards of 4.5% APY. With $5,000 in a savings account earning that rate, you could increase your balance by as much as $225 in one year. 
High-yield savings accounts are best for short-term savings. In particular, they can be ideal for storing your emergency fund — the money you set aside for unexpected expenses or periods of financial hardship. Interest will compound on your balance as you contribute savings over time, and you have the freedom to withdraw your money anytime you need it.
Many high-yield savings accounts are offered by online banks, where the most common way to move your money in or out is via electronic transfer. There are also a few things to keep in mind when you're choosing an account, including any fees, minimum balance requirements, transfer limits and account access options. 
Start maximizing your savings with one of the best top high-yield savings rates available today!
Certificates of deposit (CDs) may be more worthwhile during some periods of your financial journey than others. As we approach the peak of the current interest rate cycle, now is one of the best times to consider locking in a CD. 
When you open a CD, you'll choose a term length (ranging from three months to 10 years) and make an opening deposit. The interest rate is fixed when you open the account, so you'll earn that amount on your deposit over the whole term. If you need to withdraw early, you'll typically pay a fee and need to close your account. 
That makes CD accounts best for money you've already saved and have a specific goal for. You won't be able to contribute more or withdraw before maturity without paying a fee, so CDs can help you lock in a top interest rate on money you know you won't need for a while.
You can earn over 5% today with a short-term (six months to one year) CD or closer to 4% to 4.5% if you want to lock in a high rate for longer (three to five years) with a long-term CD. Find more of the best CD rates available now here. 
The right bank accounts can be essential tools throughout your financial journey. A checking account may be necessary for regular payments and expenses, while high-yield savings accounts and CDs can help you earn competitive interest rates on your money to help you reach your savings goals more quickly. Before you open any new account, take time to research your options and compare terms, requirements and features from different banks so you can get the best value from whatever account you choose.
source: https://www.cbsnews.com/news/types-of-bank-accounts-everyone-should-have/