No start date for Auckland home buyout process as negotiations continue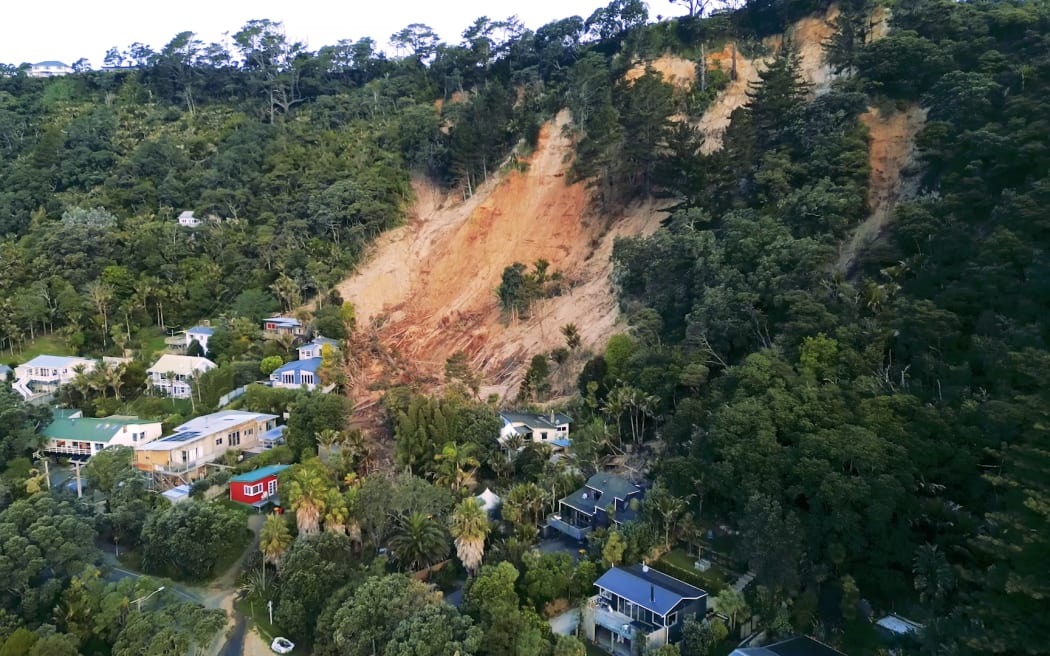 One of the land slips that forced evacuations and red or yellow stickered homes at Muriwai. Photo: RNZ / Nick Monro
Owners of high-risk flood damaged homes in Auckland will have to wait a little longer to know the future of their properties, as government and local councils have not yet been able to decide how to share the costs.
It was announced at the beginning of June that councils and government would split the cost of buying out Category 3 homes and negotiations were expected to be completed this month.
But Minister for Cyclone Recovery Grant Robertson said although there had been progress, discussions were taking longer than expected.
Auckland Council cyclone recovery manager Mat Tucker said the delay on the negotiations did not slow down the engagement with Category 3 homeowners.
"Of course, it's important that as soon as we are able to engage to homeowners on the categorisation of their properties that we do that, rather than wait for the negotiation with central government to conclude.
"In late July, early August we are going to start engaging with the first group of high-risk homes that we think are Category 3."
Tucker said about 1200 homeowners had been in contact with the council to give feedback on their current situation.
"There's no time limit on those responses, so that channel of being able to ring us or email us or filling the questionnaire we sent to all those homeowners remain open."
Without the finalisation of the cost division discussion between government and local council it was impossible to give a date when the buyouts would start, he said.
"I don't have a date regarding buyouts although minister Robertson has undertaken the negotiations between central and local government on the mechanism of the buyouts, and it should be finish by the end of this month.
"As we've not got to that point yet, I can't give a date when the buyout process would be commencing per say."
Tucker said the initial engagement with homeowners could not be called a 'buyout process'.
"I don't want to call this engagement with Category 3 homeowners a buyout process, at this stage it is a technical process.
"It will involve phoning first to engage with those owners and ... we will go and visit them; we need to visit each house to do a technical engineering inspection. "
The council would the take away the information from the inspection and give the homeowner a case number and a line of communication to continue the conversation about their categorisation, Tucker said.
Over 600 homes were estimated to be in Category 3 in Auckland, where future severe weather event risk could not be sufficiently mitigated.
In some cases, some current land uses may remain acceptable, while for others there was an intolerable risk of injury or death.
Of those homes, 400 were in flood damage areas, Tucker said.
"And perhaps 200 hundred with geotechnical challenges."
Properties on Category 2C and 2P were harder to estimate, he said.
The fact the cyclone had a national impact made it very difficult to draw conclusions, Tucker said.
"One of the reasons that is hard to use what's been done previously and apply either technical or financial mechanisms, it's the way this is a national event rather than a localised one.
"There is a considerable difficulty for central government in coordinating a standard response across Auckland, Tai Rāwhiti and Hawke's Bay."
That was one of the reasons why the buyout process was not straight forward to navigate through, Tucker said.
For Piha, Muriwai and Karekare communities, the categorisation process would be taking a little longer.
"The geotechnical work at Piha, Muriwai and Karekare is still on schedule and that schedule has been well communicated to these communities," he said.
"The work should be finished by August or September, so we can begin to engage with Category 3 homes in those communities too."
source: https://www.rnz.co.nz/news/national/493786/no-start-date-for-auckland-home-buyout-process-as-negotiations-continue