Tiwai Point plans to shift landfill higher up into a lined pit on the site
The Tiwai Point aluminium smelter aims to relocate its massive landfill to higher ground under a preliminary closure plan released today.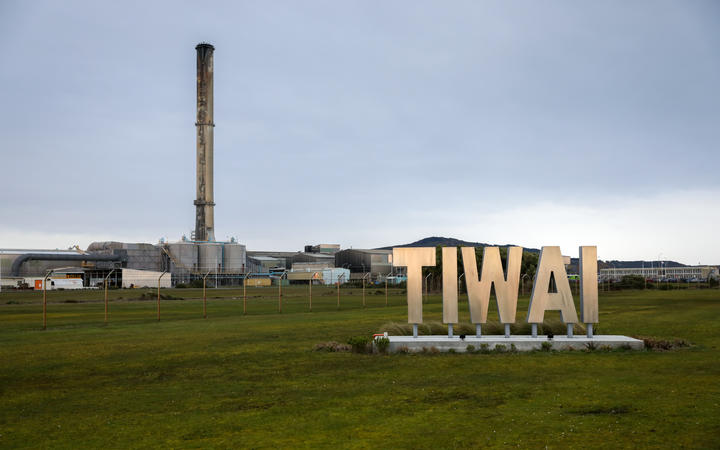 Photo: RNZ / Nate McKinnon
New Zealand Aluminium Smelters has been slated to shut down in late 2024 but recently changed tack, saying it is positive about long-term operations beyond that.
However, today's plan showed what needed to be done.
"While we do see a positive long-term future for the smelter to operate beyond 2024, we have progressed this study to understand what work is needed to remediate the site and provide reassurance to the Southland community," chief executive Chris Blenkiron said in a statement today.
It would take 10 years to complete the closure clean-up once operations ceased, but if operations carried on, then remediation would occur alongside that, according to the new plan.
It envisages shifting the 807,000 cubic metre landfill higher up into a lined pit on the site.
It says all 220,000 tonnes of highly toxic spent cell liner (SCL) waste, and 55,000 tonnes of dross, would be removed by 2029.
The plan aims to export up to 30,000 tonnes of SCL a year and also might build a processing plant at Tiwai to turn SCL into fuel for cement manufacturing.
The ground under the smelter would be excavated 1.5m deep and contaminated soil removed.
No costs are outlined. New provisions would be outlined in an annual financial report in May, NZAS said.
It has had a provision of about $300m for remediation till now.
Lack of details about a clean-up fractured relations between NZAS majority owner Rio Tinto, and the government last year, with the environment minister saying he was "blind" as to the state of the soil and water at Tiwai, near Bluff.
Rio earlier scored another cheap electricity deal with majority-state-owned Meridian power company, and talks ceased with the government on securing concessions on power transmission charges.
Southland iwi, councils and government have begun planning on how the economy runs when half a billion of smelter spending evaporates.
However, Blenkiron today said the company was "well placed" because it produced high-quality, low-carbon aluminium.
"Rio Tinto does see a positive pathway for NZAS to continue operating and contributing to the local and national economy beyond 2024, and is working closely with Ngāi Tahu, government, Southland and key industry leaders to find the best way to achieve this," he said.
"We will remediate the site, whether we stay beyond 2024 or not, and this preliminary study shows we have the right plans in place."
The smelter aims to finalise the closure plan by September 2024.
The smelter is pledging to remove all the SCL waste, has over the years leaked cyanide into Foveaux Strait, even though a new plan says half of it may be kept in Southland.
About half the SCL is on a pad 90m from the sea opposite Bluff, and half stored in sheds at the plant.
The shed waste would be exported, the plan said, but the pad waste would be sampled this year, and if local processing was not feasible, it might have to be "excavated, chemically stabilised, and taken to an off-site landfill within Southland".
However, the company says that part of the plan is out of date, and it has secured new contracts to begin exporting 30,000 tonnes a year to Australia, which will clear the full 220,000-tonne stockpile by 2029.
Exports of the hazardous waste have been constrained until now to a level that would take 30 or more years to remove.
The plan also outlines an alternative to shifting the landfill; to keep it where it is, but capped and with extra erosion controls.
"Further work is required to understand the net environmental impact of relocating the landfill versus leaving the landfill in its current location," it said.
Either way, the current landfill is unlined so it cannot take any more contaminated waste, requiring a new, lined landfill to be opened.
source: https://www.rnz.co.nz/news/national/464805/tiwai-point-plans-to-shift-landfill-higher-up-into-a-lined-pit-on-the-site