Serbia claims Ukraine and EU state behind airline bomb threats
Serbian President Aleksandar Vucic accused Ukraine and an unidentified European Union country of being behind a series of false bomb threats to Air Serbia passenger planes.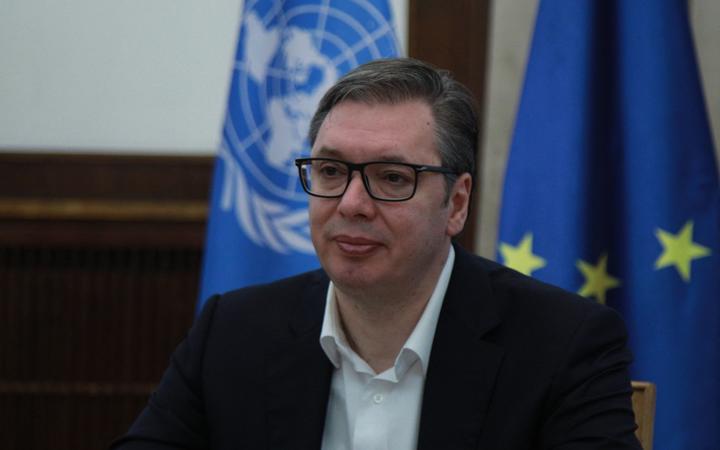 Serbian President Aleksandar Vucic says Ukraine and an EU have been sabotaging Air Serbia flights to Russia. Photo: AFP
Since Russia launched its invasion of Ukraine in late February, more than a dozen Air Serbia flights were forced to return to Belgrade or Moscow due to bomb threats, and Belgrade's airport was evacuated at least three times.
"Foreign [intelligence] services of two countries are doing that. One is an EU country, and Ukraine is another one," Vucic said without providing evidence.
Serbia, which is almost entirely dependent on Russian gas and oil, refuses to impose sanctions against the Kremlin and it maintains regular flights to Moscow. Vucic said it would continue to do so "out of principle".
"We are continuing these flights literally out of principle, because we want to show that we are a free country and we make our own decisions. Do not decide for us when to cancel flights," he said.
In recent weeks Belgrade voted three times for United Nations' resolutions that condemned Russia's invasion of Ukraine and suspended it from the main UN human rights body.
Meanwhile, authorities in Ukraine's western and southern regions of Lviv and Dnipropetrovsk reported multiple explosions today, while a Reuters reporter heard a series of blasts in Kyiv.
According to media outlet Suspilne, two people were wounded in the Dnipropetrovsk attacks. Lviv mayor Andriy Sadoviy said there had been five missile strikes on the city. It was unclear if there were any casualties.
In Kyiv, a Reuters reporter heard a series of blasts on the left bank of the Dnipro river. Local authorities were yet to provide any official information on their cause.
Russia invaded Ukraine on 24 February, in what it called a special military operation to demilitarise Ukraine and eradicate neo-Nazi forces in society.
The Russian government pointed to what it called a US-backed coup in 2014, which led to civil strife and violence against the Russian-speaking populations in the eastern region of Dondas, subsequently surrounded by the Azov battalion and other far-right militias for eight years.
Russia claimed it was forced to intervene after the French and German-brokered Minsk peace accords, designed to give the region autonomous status within Ukraine, were not implemented, with the Ukrainian government instead pushing for Nato membership.
The West and Kyiv accuse Russian President Vladimir Putin of unprovoked aggression and a "war of choice".
- Reuters/RNZ
source: https://www.rnz.co.nz/news/world/465464/serbia-claims-ukraine-and-eu-state-behind-airline-bomb-threats