As Covid-19 rules change, workers return to offices
Workers are returning to offices full of empty desks, blank screens, and quiet staffrooms.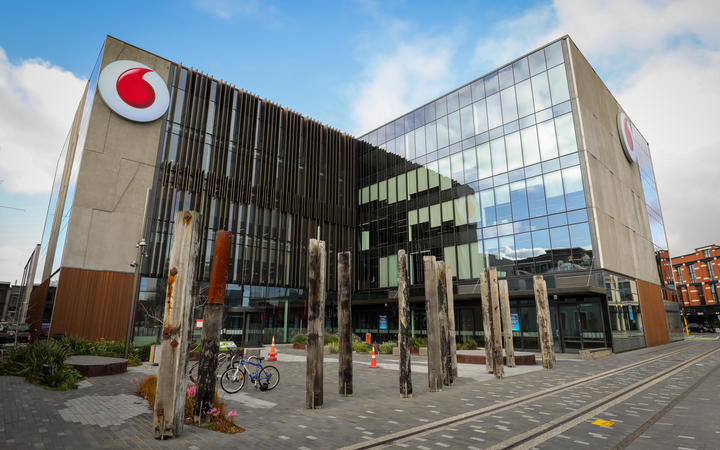 Vodafone is splitting its staff into blue and yellow teams as they readjust to being office based. Photo: RNZ / Nate McKinnon
Now that some vaccination mandates are gone, outdoor gathering limits are increasing, and businesses do not need to ask for vaccine passes, for many employees, working from home is a project nearing completion.
Microsoft's annual Work Trend report out last week found one in three New Zealand employers will need teams to go back into the office fulltime, in the next year.
The migration back into central business districts has begun after Auckland's Omicron peak.
Spark reopened all its offices across the country this week.
Fonterra did the same, inviting back 1500 workers. At its headquarters in Tāmaki Makaurau, about 50 percent have taken up the offer so far.
Vodafone has 2000 office-based staff and the vast majority have been working remotely since mid-January.
It is reopening its Christchurch, Wellington and Auckland bases next Monday, but with split 'blue' and 'yellow' teams, working alternate days.
Employees will have to return negative rapid antigen tests before they come in.
For now, Auckland Council's corporate offices have an occupancy threshold of 20 percent.
Corporate support services general manager Rob Irvine told RNZ most people had stayed away.
"Just last week, we had about 10 percent in terms of our occupancy in our buildings."
The council ditched vaccine passes at all its sites and facilities today.
"At the moment, we've got around 7700 staff and just over 100 of these staff are recorded as being unvaccinated."
Down State Highway 1 in Hamilton, the city council also got rid of mandates today.
It has just over 1300 workers and 20 have not had a vaccination.
But chief executive Lance Vervoort said he had not received any negative feedback from employees about ditching the mandate.
The council has called on up to 50 percent of staff to return onsite.
"It's a little bit slow on that uptake, we've only got 25 percent of our staff who have come to the office. But our leaders have been talking to people and it looks like more people are going to come in over the next week or so."
He said it was unclear whether the council would ever have 100 percent office occupancy, but flexible work options remained.
Council of Trade Unions president Richard Wagstaff is urging employers to maintain flexibility like this.
"You can wave the rulebook around to prove that you can do this or you can do that, but really the best thing to do is to talk to your staff."
He said if people were forced to come back into the office unwillingly, they might just find a job somewhere else.
source: https://www.rnz.co.nz/news/business/464687/as-covid-19-rules-change-workers-return-to-offices