Spine forming in Silver Ferns' starting line up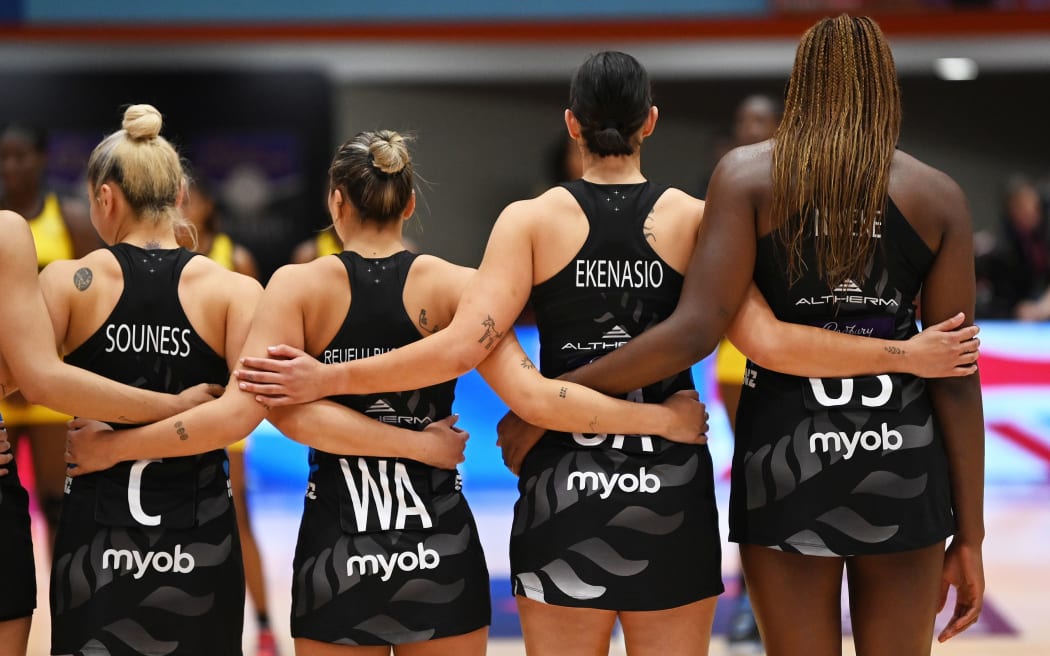 New Zealand's Ameliaranne Ekenasio and team mates during the national anthems. Photo: PHOTOSPORT
The Silver Ferns finished second in the Quad Series in Cape Town after falling 56-50 to Australia in yesterday's final, three days after losing to the same opponents by two goals in pool play.
Silver Ferns' coach Dame Noeline made a lot of changes in the first two tests of the series, which allowed her to compare different line ups.
Yesterday's starting list would have to be close to what New Zealand's strongest seven might be at the Netball World Cup and it was important they were left out on court to experience the pressure of playing Australia.
The shooting end is very settled, with Grace Nweke and Ameliaranne Ekenasio the starters and Maia Wilson and Te Paea Selby-Rickit providing good cover from the bench.
The only other shooter who might realistically push their way in would be former Silver Fern Tiana Metuarau if she has a big ANZ Premiership season.
Nweke played every single minute of the series and was named the overall player of the tournament.
The only time Nweke was kept under 40 goals was in the final against Australia, where she slotted 39.
The 20-year-old scored a whopping 17 goals in the first quarter but was only able to score 12 in the entire second half as Australia adjusted and slowed the ball distribution down the entire court.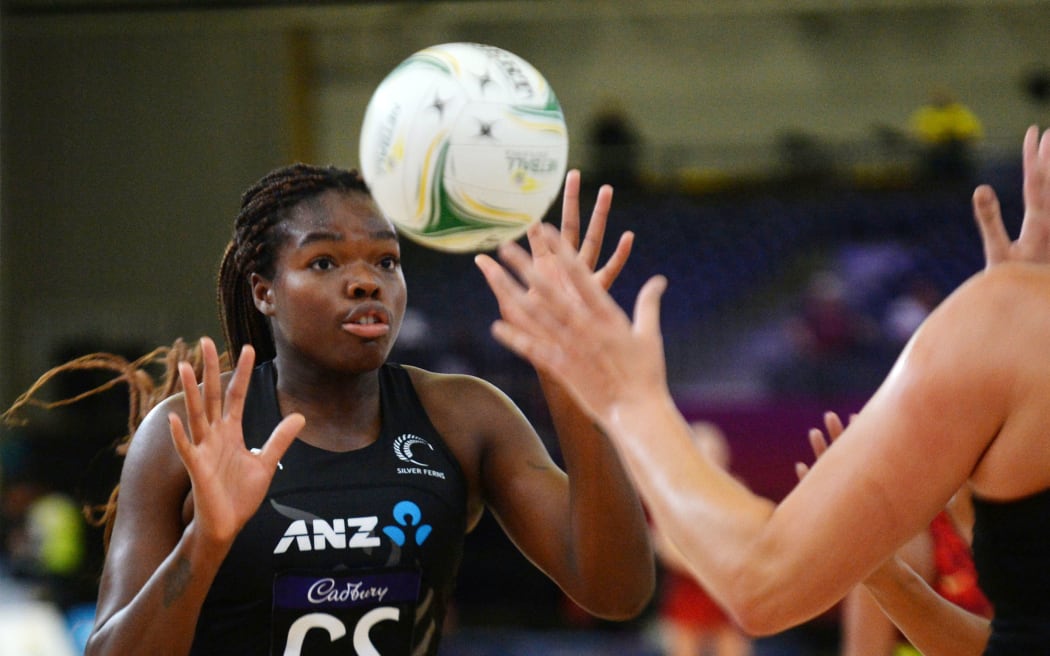 Silver Ferns shooter Grace Nweke during the 2023 Netball Quad Series Photo: PHOTOSPORT
It appears Dame Noeline still sees the experienced Gina Crampton as the strongest wing attack option.
Peta Toeava got a couple of opportunities during the series and was good without being outstanding.
Dame Noeline has not ruled out taking two specialist wing attacks to the World Cup.
Kate Heffernan would have to have cemented herself as the Silver Ferns' starting centre after the series in which she was named the midcourter of the tournament.
Dame Noeline seemed convinced that Whitney Souness was the right person for the job after last year's Commonwealth Games' trials.
Souness did a good job in the centre bib but Heffernan brings X factor to the role with her height and strong defensive game.
Heffernan also seems to be able to get away from her opposing player more easily, while the shorter Souness can get smothered at times.
When Heffernan is at centre, Karin Burger is the preferred wing defence but it's a shame she can't be cloned because she also offers so much at goal defence.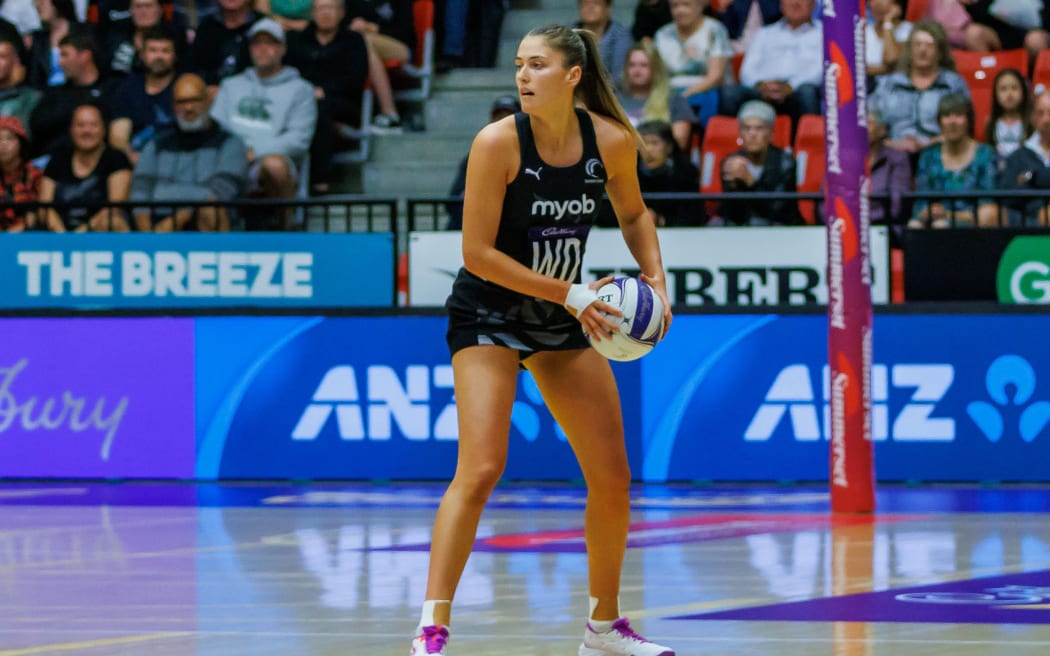 Kate Heffernan of New Zealand Photo: PHOTOSPORT
Burger may be the best person to negate a goal attack like Steph Wood who plays low to the ground and was running rings around Phoenix Karaka in the final.
Burger can cut off short passes around the circle and her instinctive partnership with Jane Watson will grow even stronger after another season in the circle for the Tactix.
That's why a Claire Kersten or Sam Winders could be added to a World Cup squad to help cover wing defence.
With her frenetic play and dangerous flailing arms Watson was a welcome sight on court as she put doubt into the feeders' minds.
Defensive gains were the area that Dame Noeline believed New Zealand could make the most ground in with the return of Watson and Burger, and that happened with the exception of yesterday's game.
Karaka and Watson were brilliant against England, but getting ball off Cara Koenen and Wood was very difficult.
Watson will have to learn on the spot quickly, having had very little court time against Australian shooters Koenen and Sophie Garbin.
Kelly Jury gives something different in the goal keeper position with her height and reach.
If Dame Noeline has to whittle her side down to 12 players for the World Cup, a very good defender will miss out and that could be Sulu Fitzpatrick, who didn't feature as much as the others.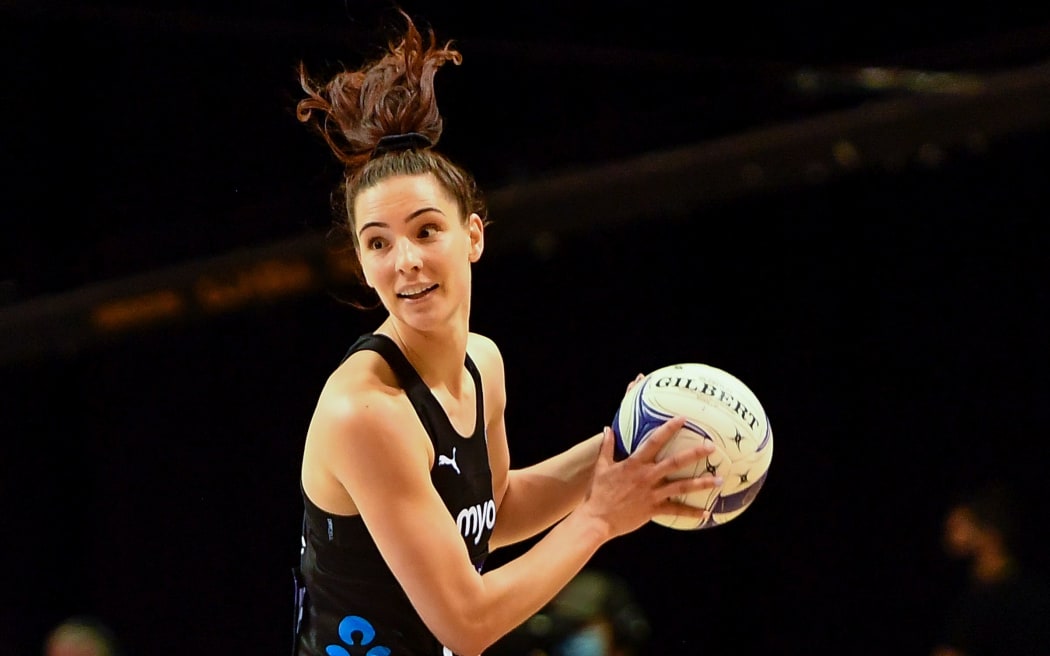 Karin Burger Photo: PHOTOSPORT
The Silver Ferns have been drawn in a potentially dangerous grouping at the World Cup.
The top three teams from Groups A and B will form Group F, while the top three teams from Groups C and D will form Group G in preliminary stage two.
England and Australia will be jockeying for semi-final spots from Group F.
Once New Zealand get through round robin games against Uganda, Trinidad & Tobago, and Singapore, they will be in the same pool as Jamaica and South Africa in Group G.
With the return of key players and veteran Australian coach Norma Plummer back in charge, South Africa have already made big strides after their disappointing 2022.
The hosts have the potential to upset higher ranked sides in July in front of a home crowd.
Jamaica, who weren't at the Quad series, won silver at the Commonwealth Games so there could be a genuine three way fight for the top two spots to qualify for the semi finals.
England will be feeling the pressure after only managing a win and a draw against South Africa, who welcomed back Karla Pretorius and Lenize Potgieter.
The Roses have still got some of the most exciting players in the world with the likes of Ellie Cardwell and Funmi Fadoju but in recent times haven't been able to eke out wins in tight situations on a regular basis.
Jamaica will be a dangerous opponent. Photo: © Photosport Ltd 2018 www.photosport.nz
Australia are a cut above the field at the moment and will be firm favourites for another World Cup title in July.
The Silver Ferns have now lost their last four encounters to the Diamonds and if they meet them in six months time they will have to play their best netball to beat them.
There's also a trend of the Silver Ferns giving up leads to their arch-rivals, who have an ability to dig themselves out of deficits.
Dame Noeline's job is to get her side peaking for the business end of the tournament, the way she did in 2019.
The Diamonds managed another Quad Series win without experienced defender Jo Weston, who is nursing a minor injury. The future of star shooter Gretel Bueta is also not clear.
Finding a strategy to combat the fast moving Australian shooting circle will occupy the Silver Ferns' brains trust.
Dame Noeline also knows her side will have to be clinical and cut down on turnovers if they want to compete with Australia for a full 60 minutes.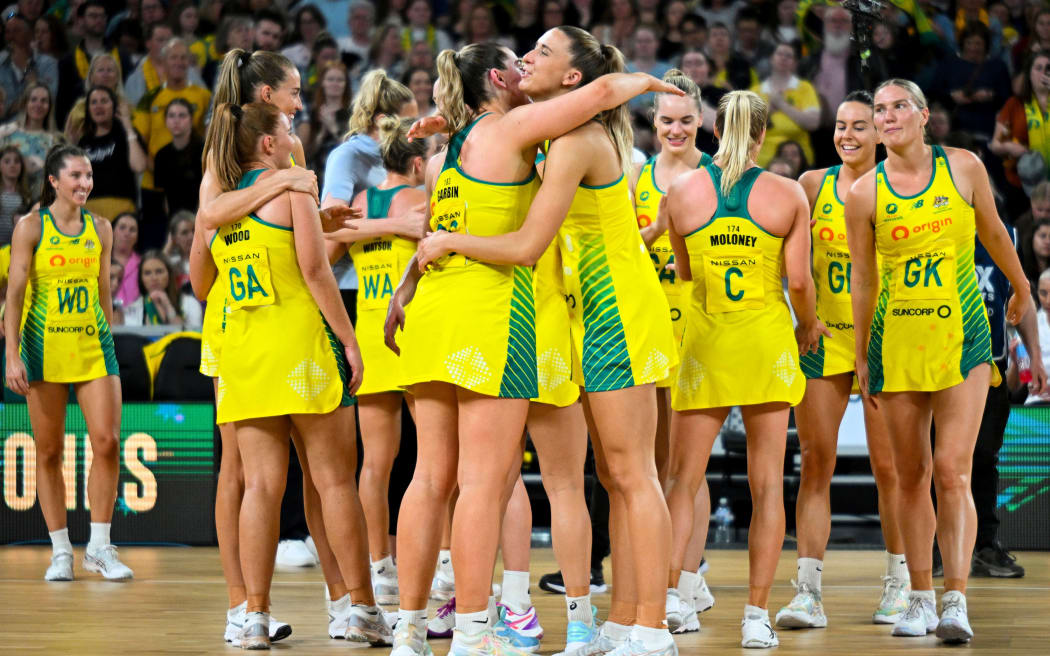 Australia celebrate another win. Photo: PHOTOSPORT
source: https://www.rnz.co.nz/news/sport/483174/spine-forming-in-silver-ferns-starting-line-up