Hayley Atwell: Working with Tom Cruise in new "Mission: Impossible" film was a "masterclass"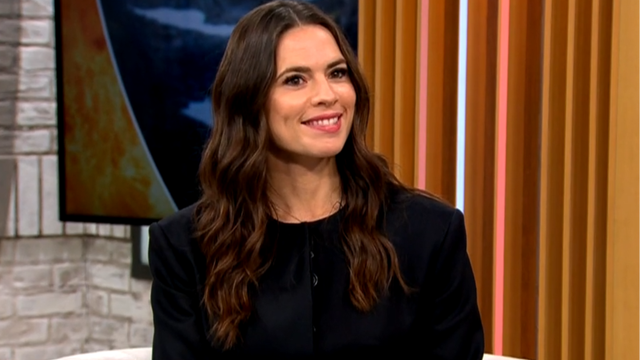 Actor Hayley Atwell co-stars in "Mission: Impossible - Dead Reckoning Part One" alongside Tom Cruise — and working with him was a "masterclass," she said.  
"It was a masterclass in not only work ethic and his incredible manners, he's so gracious and so polite to everyone, and hardworking, but then also his understanding of every technical aspect of filmmaking," Atwell told "CBS Mornings." 
Atwell plays Grace, a pickpocket and thief who accidentally finds herself in the middle of a high-stakes mission. She performs breathtaking stunts with Cruise, who plays protagonist Ethan Hunt and also performs his own stunts in the "Mission: Impossible" series. 
She described Cruise as "very attentive" and said he "can kind of read people," recalling a moment where they were filming a train scene and she was "slumped in a corner" looking tired.  
"He's like, 'How you doing? ... I think you have adrenal fatigue,'" Atwell said. "And he presented me with this beautiful box of chocolate, like out of nowhere, and said ... 'You need some chocolate. That's going to wake you up.'" 
She said it made a difference.
"Chocolate's gonna make a difference in my life in any context," she said, laughing.
The film hits theaters this Wednesday, July 12. It is a production of Paramount Pictures, a division of CBS News' parent company. Its highly-anticipated release follows a four-year gap since the release of the previous installment, "Mission: Impossible – Fallout."   
To prepare for the role, Atwell trained for months to learn skills including martial arts and drifting, a driving maneuver that allows a car to glide through turns. 
Atwell said she is proud of the film and that it was made with the audience in mind. 
"We're so proud of it. But even the whole filmmaking process, every single frame and scene was designed, executed, edited with the audience in mind," Atwell said. "And you know, when I said to Tom, you know, 'What is the running time of this going to be?' and he said, 'It's going to be as long as it is entertaining.' And it's true, it goes by so fast." 
"Mission: Impossible – Dead Reckoning Part One" hits U.S. theaters on Wednesday, July 12. Deadline calls it "Hollywood action filmmaking at its peak" and The Hollywood Reporter praises director Christopher McQuarrie's ability to keep "his audience glued to every moment." Re-watch all the movies in the famous franchise starring Tom Cruise now on Paramount+ ahead of the new stunt-filled installment. 
source: https://www.cbsnews.com/news/hayley-atwell-new-mission-impossible-dead-reckoning-part-one-tom-cruise-masterclass/