Memorial honours those who died in Ongarue train disaster 100 years ago
A new memorial is being unveiled today, a century since New Zealand's third worst rail disaster.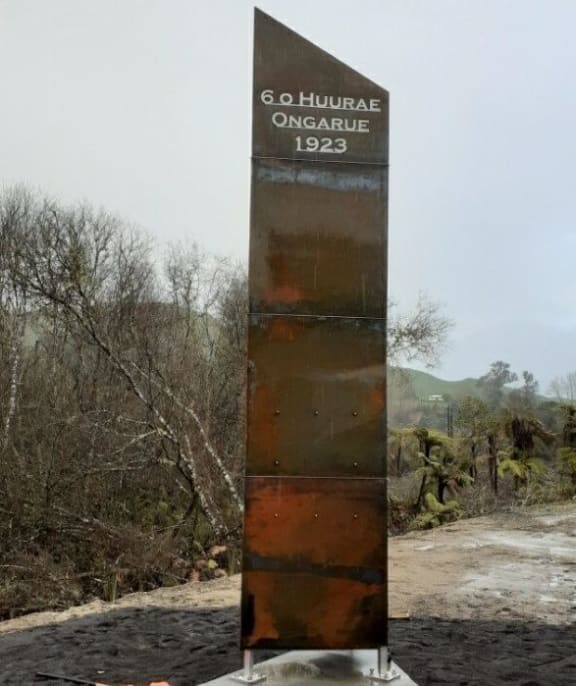 Photo: Supplied / Rail Heritage Trust of NZ
The Ongarue derailment north of Taumarunui in the Ruapehu District killed 17 people and seriously injured 28 others.
It happened when the overnight express from Auckland to Wellington rounded a curve and ran into a landslide just before 6am on 6 July 1923.
Two hundred passengers were aboard, including the 1923 New Zealand Māori rugby team.
A large boulder buried within the slide derailed the locomotive, AB 748, causing the second, third, and fourth carriages to telescope.
Eleven passengers were killed instantly while another six died later from their injuries. Another 28 people were seriously injured.
It was the country's worst rail accident at the time.
The memorial which rests on a 15 metre long concrete slab consists of five panels descending from 2.1m in height as well as a 5.2m tall totem.
It is being unveiled at its site on the Ongarue-Waimiha Road today.
KiwiRail donated $6000 for the project while other donations came from Ruapehu District Council, RMTU, Pub Charities, Taumarunui RSA, Ongarue Saleyard Co and the Rail Heritage Trust.
This photo taken the day after the derailment shows the wrecked engine, still steaming, and behind are the derailed carriages in which 17 people died. Photo: Te Ara Encyclopaedia of NZ
source: https://www.rnz.co.nz/news/national/493387/memorial-honours-those-who-died-in-ongarue-train-disaster-100-years-ago