Wellington cafes see more customers with return of workers to CBD
Wellington cafes are celebrating the return of many workers back to the streets of the CBD.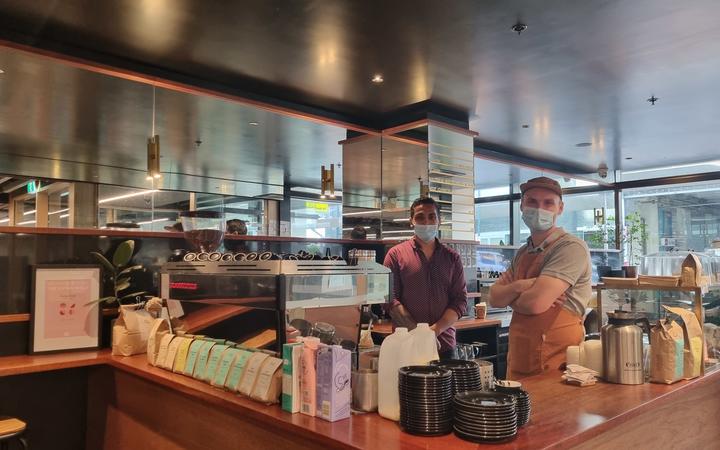 Theodore Loach (right) and Kalindha Wettwe (left) at Collective Coffee Shop & Co in Wellington. Photo: RNZ / Kirsty Frame
Today there were plenty of people zipping in and around streets like Lambton Quay and The Terrace - a clear sign many public servants are back in their offices.
Yesterday's announcement that the country would go down to orange light restrictions has brought more people back into their offices - some for the first time in months.
Under orange, there are no indoor capacity limits, no requirement to be seated for service at a cafe or bar, and masks are no longer required inside hospitality venues. Though many today were still wearing theirs.
Most cafes and restaurants on Lambton Quay, The Terrace and nearby are only open Monday to Friday because the city centre is full of offices.
That has made the response to the pandemic - and people working from home to stay safe - a bit harder on businesses in the area.
It also did not help that February's 23-day-long protest sent more people back home and even closed shops amid safety concerns.
Cafe 32 on The Terrace, a stone's throw away from the Beehive, has noted a promising turnaround.
One of its staff, Ian Mcloughlin, said they have had way more customers this week.
"It's still not how it was before - because we had a 50 percent drop-off and a few places closing and the protest were, like, really mad."
Mcloughlin said like many other cafes in the CBD, most of their customers are from offices, and this week they are back up to about 70 percent their usual rate.
Many government workers who spoke to RNZ today said they had returned to work in recent days.
Wellington City Council staff offices are opening too - yesterday city councillors were back inside the debating chamber for the first time in several months.
Theodore Loach at Collective Coffee Shop - the cafe connected to one of Wellington's temporary city libraries - said the city is getting a good hum back to it.
"This is a council building, and we're in a government town, so that does play into things and you notice that a lot," he said.
Loach said with many friends also in the hospitality industry, there is a good amount of hope right now.
"I know a few people who run clubs and things - for them, they can actually do things again which is really cool," he said.
The Collective Coffee Shop, like many others, reported the loss of about half its customers in recent months.
Loach said it would still take some time for people to come back.
"We've still got a wee way to go, don't get my wrong, it's still quite a lot further below what it was say prior to the August lockdown."
And while today was busy in the capital, cafe staff are still holding their breath a bit longer as people head away for Easter - hoping that after the holidays being busy will feel normal again.
source: https://www.rnz.co.nz/news/national/465307/wellington-cafes-see-more-customers-with-return-of-workers-to-cbd