St Mary's Bay residents blame blocked drains, poorly designed stormwater for huge slips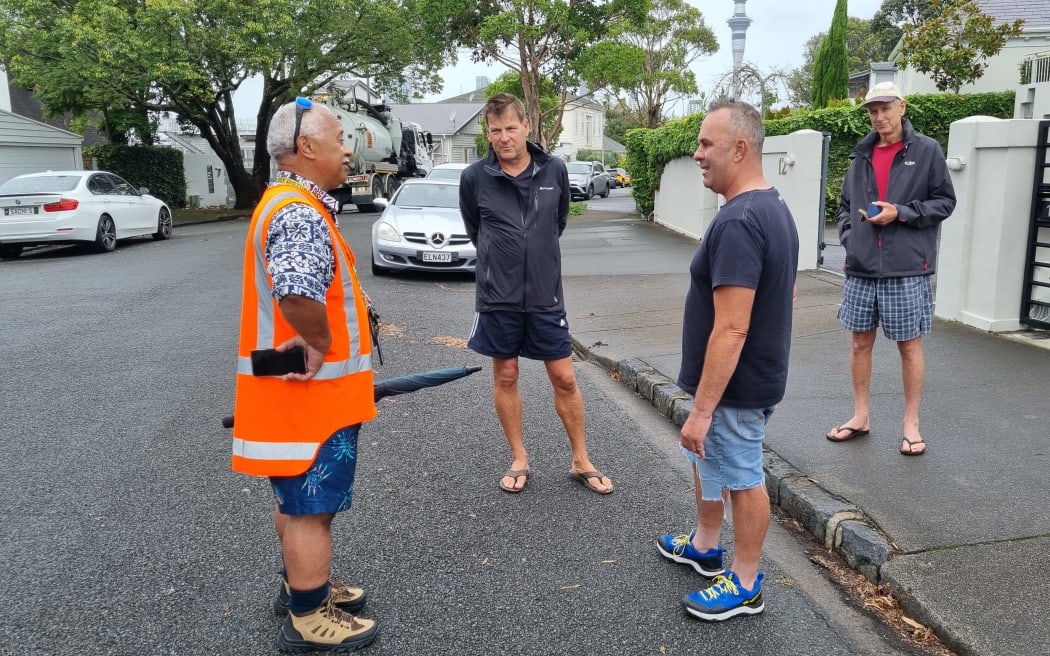 London Street residents quizzing a WaterCare services contractor about their stormwater issues, after flooding and landslips on the street following heavy rains and flooding across Auckland. Photo: RNZ/ Robin Martin
St Mary's Bay residents are blaming the council for massive slips that left some homes hanging precariously over the northern motorway approach to the Auckland Harbour Bridge.
They say blocked drains and a poorly designed stormwater system meant torrents of water poured between homes in the dress-circle suburb, undermining the cliff face.
31 January - Red weather warnings (the most severe) are currently in place for Northland, Auckland north of Orewa and Coromandel Peninsula, and orange warnings for Auckland from Orewa southwards, Great Barrier Island and Bay of Plenty. Because of this the National Emergency Management Agency has issued a safety warning of the risk of flooding, slips and damage. Scroll down to find the full list of its advice for keeping safe.
Karl Browne's two-storey home on London Street was built in 1908 and commands fabulous views of the Hauraki Gulf - views that this week came closer and closer.
The aftermath of Friday's storm was "absolute carnage", he said.
"We've got four properties in a row affected. I've probably lost 70 square metres of my property, the neighbour's lost maybe 100 to 120 square metres of their property.
"It's still slumping. Every day I'm taking measurements of these big cracks that are coming out and how far down they come."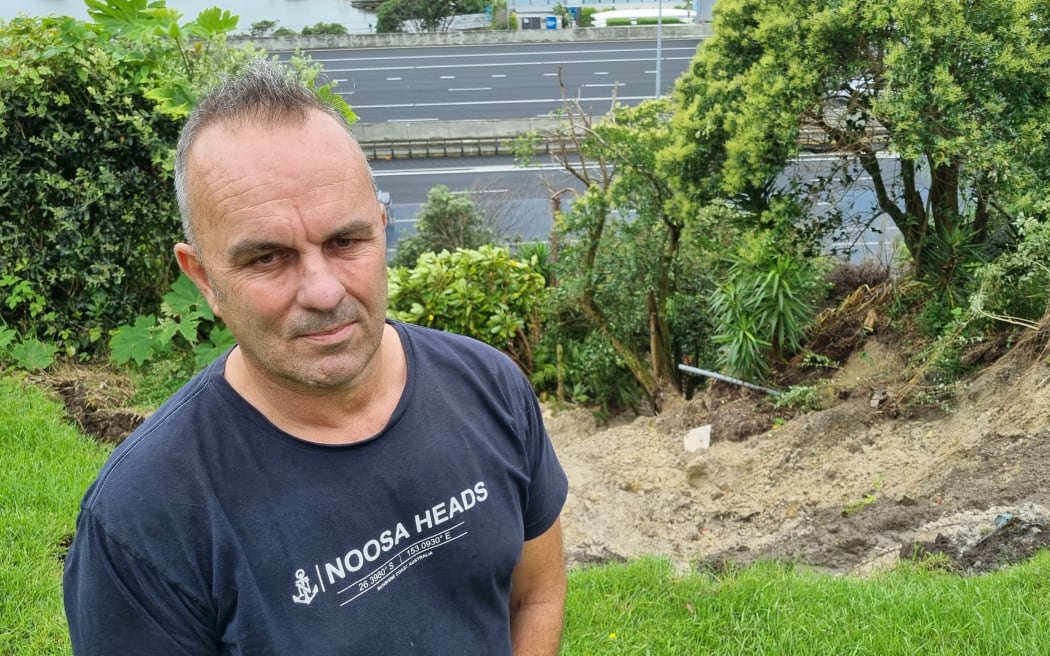 St Mary's Bay resident Karl Browne with a slip on his property that opened up after heavy rains caused flooding and damage throughout Auckland Photo: RNZ/ Robin Martin
"Don't get too close to the edge because it's more or less Cave Creek," Browne said, heading towards his neighbour's property. "There's the remains of pohutukawa trees down the bottom there. They've been here for absolutely donkey's years, they're not small trees.
"You'll see the house is precipitously hanging on the edge and the neighbour's deck is supported by one pile. I wouldn't even want to stand out there."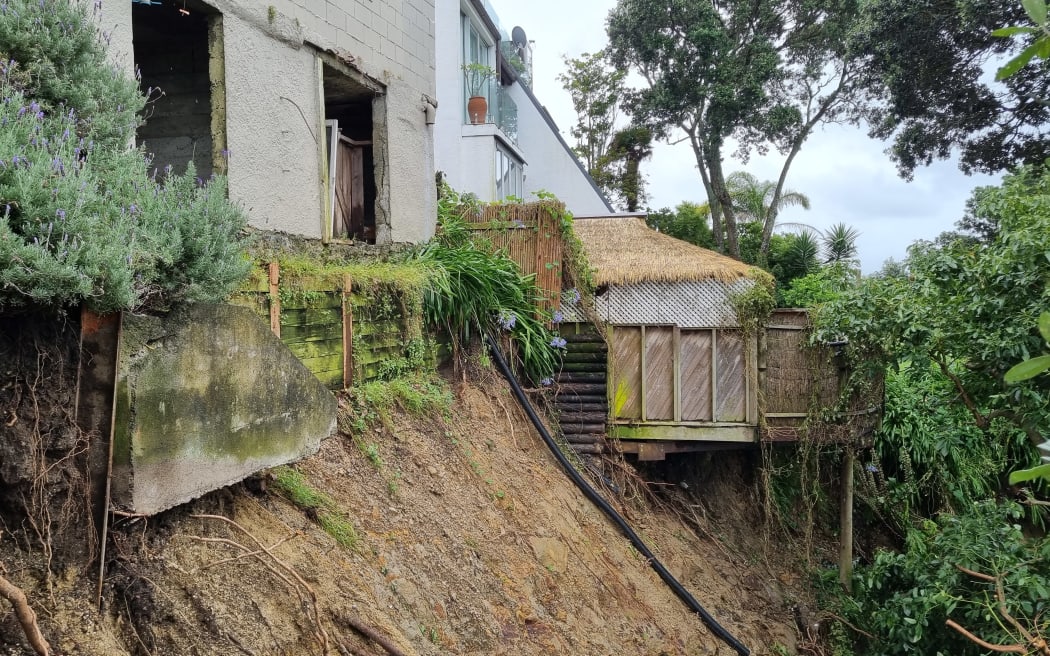 The slip on Karl Browne's neighbour's property Photo: RNZ/ Robin Martin
Browne was pretty certain what the problem was.
"Essentially what actually happened is that the overflow from the road was diverted down through the properties because the drains were blocked. The design of the drains is insufficient to cope with it.
"The fall of the road channels the water down between the properties. It's come down here and it's just hydrauliced the cliff face completely out and pushed fences, gardens, retaining walls, everything down to the bottom of the cliff.
"I've been talking to the council about this for two-and-a-half years now."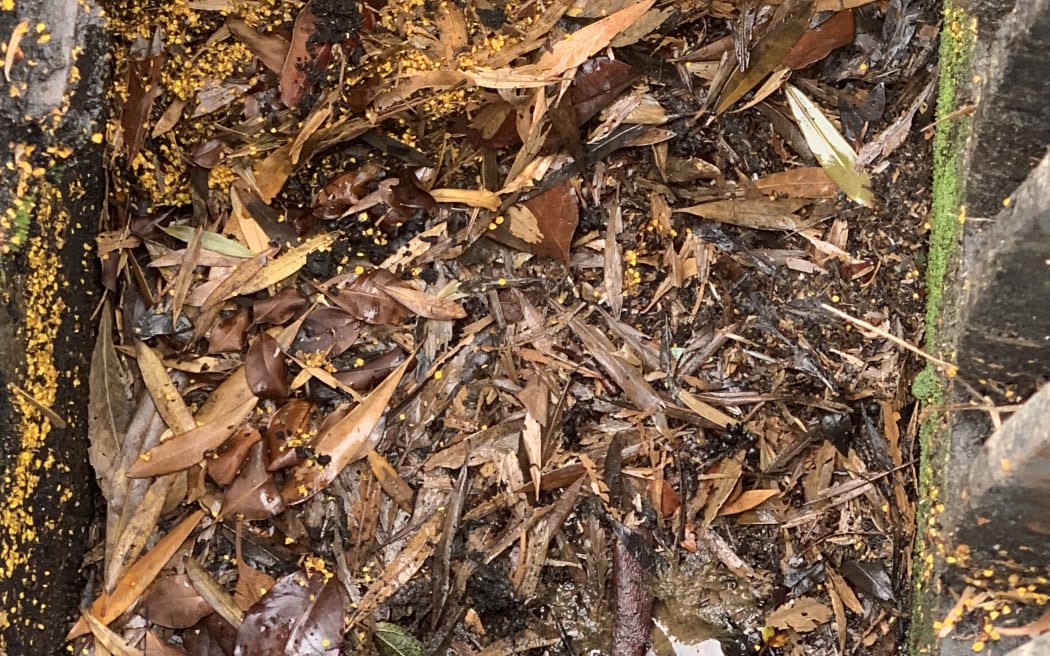 One of the blocked drains on London Street, Ponsonby. Photo: RNZ/ Robin Martin
Browne said a recent $40 million investment in new stormwater infrastructure in the neighbourhood was not up to the job.
He was considering taking a class action against the council.
Christian Arns lives on the other side of the street, and he was not happy either.
He had called in WaterCare Services.
The stormwater system was so overwhelmed his garage and those of his neighbours were flooded, he said.
"The water came up through the wastewater because the wastewater was blocked and went back into our garage, so we had to cover the wastewater drainage off with lids because there was just fountains of water coming out.
"There's a manhole in our driveway and it's got a metal lid and that popped out and the amount of crap that came out of that hole was not pretty."
Contractors clearing drains on London Street, Ponsonby, on Monday. Photo: RNZ/ Robin Martin
Brent Hellier also had a stormwater lid pop in his driveway, but that was not his only issue.
"This drain on the street had a leaf trap underneath it with 5mm mesh and it just blocked up and flooded down our driveway.
"The issue is with all the leaves from the trees - it beautifies the neighbourhood - but nobody cleans it.
"I understand Auckland Transport looks after that, but they don't do anything about it."
Adding insult to injury on Sunday council contractors began clearing drains in the neighbourhood.
Auckland Council has been contacted for comment.
Because of the red level weather warnings issued for Northland, Auckland north of Orewa and Coromandel Peninsula, the National Emergency Management Agency has posted advice on how to keep safe:
source: https://www.rnz.co.nz/news/national/483375/auckland-floods-residents-blame-blocked-drains-poorly-designed-stormwater-for-st-mary-s-bay-slips