George Pell's body lying in state at St Mary's Cathedral as protesters, police head to court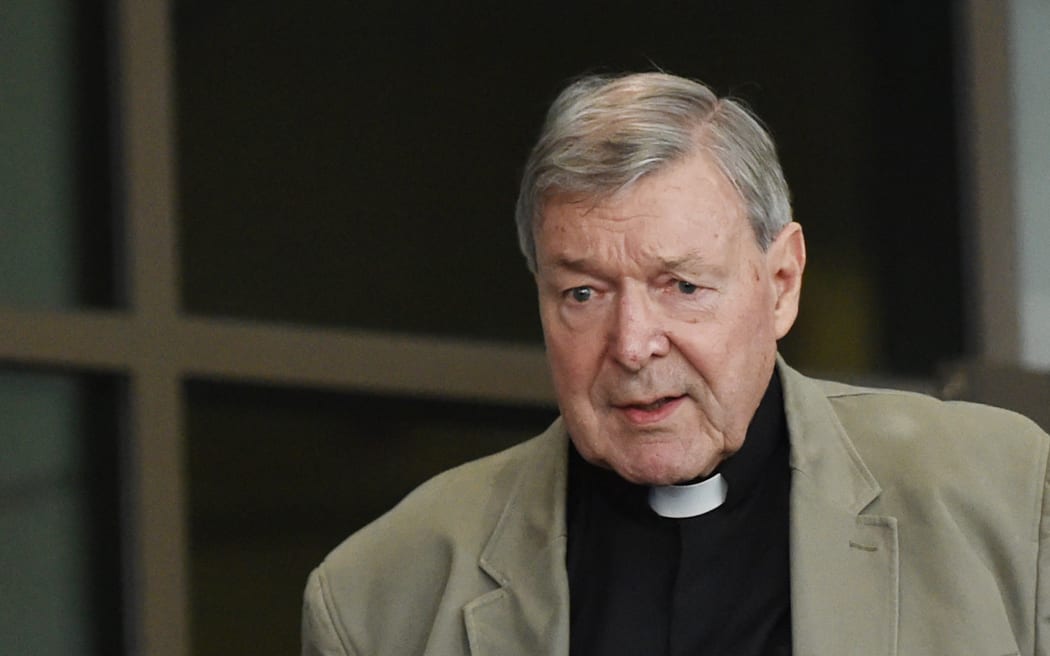 Australia's Cardinal George Pell, who died age 81 from heart complications during surgery last month. Photo: AFP
Cardinal George Pell's body is lying in state at Sydney's St Mary's Cathedral today, as ribbons symbolising the hurt caused by child sexual abuse are tied to its exterior.
A requiem mass and private funeral service will be held tomorrow at the cathedral where Pell once served as the Archbishop of Sydney.
Australia's highest-ranking Catholic, he died age 81 from heart complications during hip surgery in Rome last month.
His casket was driven down College Street in Sydney's CBD followed by clergy members and family, before it was carried into the cathedral.
This morning, coloured ribbons were tied to a fence near the front doors, in an event organised by Ballarat man and abuse survivor Paul Auchettl.
He said the ribbons were not a protest aimed at Cardinal Pell, but a reminder of the church's "unfinished business" and debt to victims and their families.
"Families are still very much hurting," he said.
"I've come to Sydney to tie ribbons for people who are too sick to be here, and who aren't alive anymore, and for their families who are too angry to be here."
Pope Francis attended a funeral mass for Pell at St Peter's Basilica at the Vatican in January. Photo: VINCENZO PINTO
Auchettl said many devout Catholic families had lost their children and were now stuck in a "spiritual wasteland" after being ostracised from their communities.
"We need to recover them."
He said ribbon tying at the cathedral in his hometown in Victoria, where paedophile priest Gerard Risdale preyed on children, had made it a "central point" for support.
"We're not being disrespectful to the service," he said.
"We are just highlighting that there is a lot of unfinished business. And what we need to be able to do is open the door so that people can feel comfortable with talking about their experience, their loss."
He said he believed in being "able to talk about the good and the bad in their lives" to properly honour a person.
Amity Lynch said she did not know anyone who suffered abuse by clergy, but still became overwhelmed with emotion when she arrived.
"I thought it was a really beautiful way to remember and acknowledge the people whose lives have been so affected by George Pell and others in the Catholic Church," she said.
"As soon as I pulled out the first ribbon I just started crying, I hadn't expected that."
Sydney man Allan said while he was not a Catholic, he decided to visit Cardinal Pell lying in state "out of respect".
"I think, basically, he was a good man. He made mistakes, but a good man nevertheless," he said.
Organisers of a separate LGBTQI protest planned to coincide with tomorrow's funeral will face a Supreme Court hearing today after NSW Police moved to block the march.
Community Action for Rainbow Rights said they intend to go ahead with a protest at Hyde Park, across the road from the cathedral, on the morning of the service.
NSW Police deputy commissioner Mal Lanyon today said he was "not opposed to the topic that protesters want to air" but was concerned with the route chosen.
"We have attempted to negotiate with them, but that's proven unsuccessful, so we have gone to the Supreme Court," he said.
"In terms of the route, we say it presents a risk to public safety. That's the matter we tried to work through with the organisers.
"We remain committed to working through with the organisers if we can in the meantime to get a successful outcome."
- ABC
source: https://www.rnz.co.nz/news/world/483450/george-pell-s-body-lying-in-state-at-st-mary-s-cathedral-as-protesters-police-head-to-court