Dunedin bar loses licence after 'concerning' incident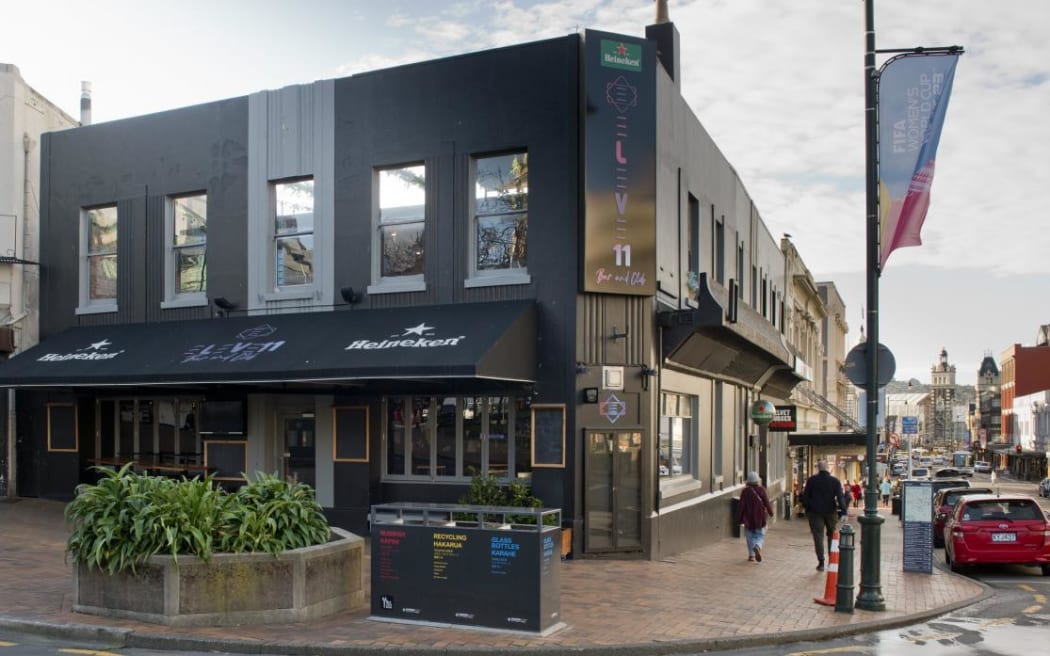 Eleven Bar in the lower Octagon. Photo: ODT / Gerard O'Brien
Two directors of an Octagon bar took a group of teenage women to a locked room full of middle-aged men who made unwanted sexual advances.
The incident was cited as a "very real concern" by the hearing panel that has now cancelled Eleven Bar's liquor licence.
It was one of several incidents described in a decision released on Friday by Dunedin's district licensing committee that led the bar to lose its licence "effective immediately".
The decision stated the bar's two directors, Nikesh Singh and Naveen Malhotra, took a group of teenage women to the upstairs bar during trading hours.
One witness, who spoke during the initial hearing in a public-excluded setting, said Singh bought her and her friends a round of drinks before leading them to a stairway.
A staff member, while Singh was present, asked them to hand over their phones because they were breaching Covid-19 rules and did not want to be filmed.
The witness said she asked staff members why blinds were pulled upstairs and was told it was so no-one could see them breaching Covid rules.
She said a staff member suggested she and the group should leave because the group of males wanted to take them all to "Bob's" place.
The witness said the staff member had to unlock the door in order for them to leave.
Another witness said the group of 50 to 60-year-old males made sexually suggestive comments to their group.
She said the men continued to watch them and tried to "come on" to the other witness.
She told the committee she felt disgusted because the older man was as old as her father.
A third witness who appeared before the committee became distressed, left the hearing and did not return.
Because the witness could not be cross-examined the panel agreed to give little weight to the evidence.
A former bartender who spoke at the hearing said the bar's clientele were students but there was a group of older men who regularly frequented the establishment and younger women occasionally felt uncomfortable with their behaviour.
There were several instances in which the bar breached alcohol licensing laws.
Singh breached licence conditions by taking a minor of whom he was not a guardian to the premises.
He would go on to become a director and shareholder of the bar after being banned for this incident only five months earlier.
On another occasion, he brought his daughter and her 16-year-old friend to the premises for a meal, which he admitted breached licensing conditions.
A licensing inspector said an advertisement for an event at the bar stated "kids' entry was free".
While there was no direct evidence to substantiate it, claims were made Singh would drink whisky from a coffee cup while working.
Insufficient food, consumption of alcohol after trading hours and a history of a lack of staff training were also highlighted.
Police presented video footage that demonstrated "clear and blatant disregard" for Covid-19 regulations, such as no social distancing, no seated tables and no use of masks when required.
Sergeant Steve Jones, of Dunedin, said when leading a police operation in February last year he found 30 to 40 patrons out of their seats mingling and dancing upstairs.
During a compliance check in April, there were about 150 people present upstairs, he said.
Prakash Khattri, a third director of the premises, said it had been agreed Singh and Malhotra were both set to relinquish ownership of the bar, which was meant to take effect in December last year.
Sergeant Jones was advised by Khattri in December that while Singh and Malhotra were still part of the business, they no longer had anything to do with it.
Police said the central city bar targeted young adults, most notably the student population.
Students for Sensible Drug Policy Otepoti said the bar not only failed to minimise operational alcohol-related harm, but actively created additional and unnecessary harm by the choices and actions of the applicant.
All other agencies opposed the renewal of Eleven Bar's licence.
source: https://www.rnz.co.nz/news/national/493391/dunedin-bar-loses-licence-after-concerning-incident