Eagles' Jason Kelce says wife Kylie will bring OB-GYN to the Super Bowl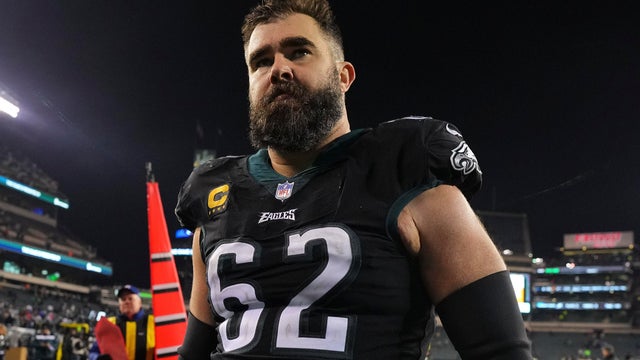 While Travis and Jason Kelce may be making history as the first brothers to play one another in the Super Bowl, Jason Kelce's pregnant wife, Kylie McDevitt, might be making history in her own right by bringing her OB-GYN to the big game.
Super Bowl LVII will be held in Glendale, Arizona on Feb. 12, and by the time of the face-off, McDevitt will be 38 weeks pregnant — just two weeks shy of the average duration of pregnancy.
A post shared by Kylie (McDevitt) Kelce (@kykelce)
The expecting father talked about his wife's unconventional guest on Wednesday on "New Heights with Jason and Travis Kelce." a podcast he co-hosts with his brother. The duo were discussing which members of the family would be watching from the sidelines, including parents, in-laws, and kids — but then, the Eagles center threw his brother a curveball:
"Kylie's bringing her OB because she's going to be 38 weeks pregnant at the game," he joked. "That could be a super Kelce bowl. If she has a baby in the stadium, it's officially scripted."  
"We're in The Matrix," laughed Travis Kelce, who plays tight end for the Kansas City Chiefs.
A post shared by Kylie (McDevitt) Kelce (@kykelce)
McDevitt and Jason Kelce already have two daughters together, and previously announced on Instagram that the third "Kelce lady" was expected in Feburary of this year. 
C Mandler is a social media producer and trending content writer in New York, focusing on LGBTQ+ issues.
source: https://www.cbsnews.com/news/philadelphia-eagles-jason-kelce-pregnant-wife-kylie-mcdevitt-will-bring-her-ob-gyn-to-the-super-bowl/