'Something needs to be done' - Call for changes after cyclist deaths
A grieving mother says Auckland Transport needs to do more to keep cyclists safe after two deaths in the past two months.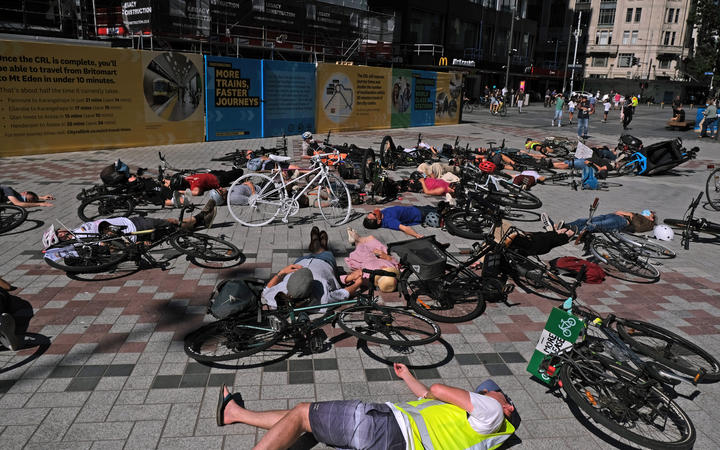 Bicycle riders from Street Safe Aotearoa protested at the weekend at Britomart. Photo: RNZ / Jonty Dine
Levi James died after being hit by a truck near the Royal Oak roundabout in Epsom.
Then on 4 April, Melissa Rays was killed in Mt Wellington.
It was a regular Saturday morning in the James household on 6 March. Kim James was heading out for lunch and farewelled her son Levi, who was making a coffee in the kitchen.
It would be the last time she saw her 19-year-old son alive.
Levi was killed on Manukau Road after a driver opened their car door, causing the cyclist to swerve into the line of a truck.
Kim James said she can not describe the shock she felt when police knocked at the door.
The third of four brothers, Levi's death has left a big hole in the James whānau.
Levi loved DIY and Kim James said their garage was still full of her son's unfinished projects.
His and Rays' deaths have sparked further calls to improve the safety infrastructure for local cyclists.
The Royal Oak roundabout on Manukau Road is notoriously dangerous for both cyclists and drivers.
"I knew the area wasn't safe and we were always encouraging our kids to be careful but obviously you are reliant on others," she said.
Ashley Pearce works at Urban Kurl on the corner of Manukau and Mt Albert roads, and she knows first-hand how perilous the roundabout can be after she was involved in a collision outside KFC.
"Everybody I speak to says something needs to be done."
Another nearby restaurant owner described the roundabout as a killer.
RNZ stood at the roundabout for 45 minutes on a busy afternoon and saw just two cyclists go through.
The stretch of road underwent safety upgrades in 2019 following 61 crashes from 2014-18.
Public feedback showed 40 per cent of respondents asked for improvements to cyclist safety.
Gabriel Gati is on the leadership group of Bike Auckland and said they had a strategic cycling network which identified where separated bike lanes should be.
He said the majority of people wanted to ride but fear of being hit by a car or truck was holding them back.
"We are really encouraging Auckland Transport to stay the course, they know bike lanes work and the public needs the chance to see that."
Gati said in 2022 Aotearoa was on track to sell more e-bikes than new cars, illustrating kiwis' desire to ride.
Not wanting his family or friends to be the next statistic, founder of cycling advocacy group Street Safe Aotearoa Philipp Governale staged a protest at the weekend.
He said about 30 cyclists attended as they delivered a "ghost bike" to Auckland Transport.
"People don't feel safe, that's reflected in the low cycling numbers we see."
In 2020, 57 per cent of those killed on Auckland roads were not in a car. Cyclists are 14 times more likely to die than motorists.
Governale said we need to start valuing life over convenience, and does not believe organisations such as Waka Kotahi and Auckland Transport have been doing so.
Auckland Transport did not respond to requests for an interview.
It said the upgrades to the road was an interim project to address safety at the intersection before a wider plan will be investigated in the coming years.
source: https://www.rnz.co.nz/news/national/465085/something-needs-to-be-done-call-for-changes-after-cyclist-deaths