All Whites to have interim coach for China matches in NZ
The All Whites will play two home games against China this March, but without a new head coach.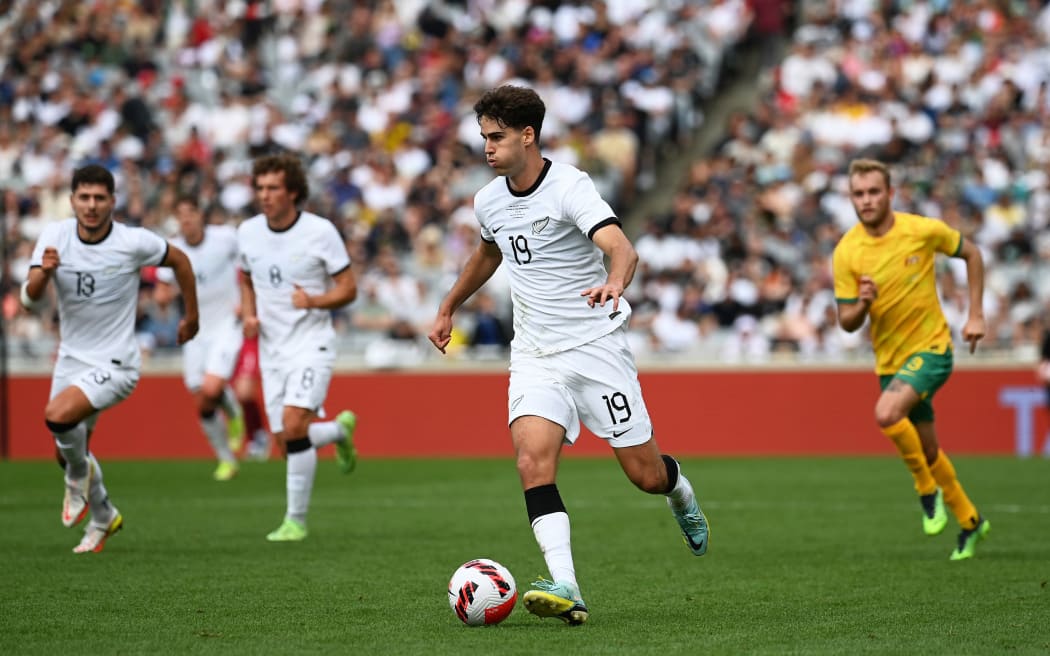 All White Matt Garbett playing against Australia, 2022. Photo: PHOTOSPORT
The team will play the first game at Mt Smart Stadium in Tāmaki Makaurau on Thursday 23 March and the second at Sky Stadium in Te Whanganui-a-Tara on Sunday 26 March.
The games will be the first All Whites fixtures at Mt Smart since 2014 and the first at Sky Stadium since 2017.
The side will be led by interim head coach Darren Bazeley.
New Zealand Football has completed interviews for the position following the departure of Danny Hay but have yet to confirm an appointment.
New Zealand Football says Bazeley will take on the role on an interim basis, in addition to being U-20s head coach, after the leading candidate for the permanent All Whites head coach role had to be called upon to help manage a family health issue meaning they weren't able to take up the position ahead of these fixtures.
New Zealand Football CEO Andrew Pragnell is excited to see the team in Aotearoa New Zealand again and to continue the momentum of recent home fixtures:
"Having our teams play at home is really important to us, the team, the fans and to continue building the game in New Zealand.
"The year ahead looks exciting for the men's programme. We will be hosting the Paris 2024 Olympics OFC qualification tournament for the men in New Zealand in September and have some incredible games in Europe in the works for the June, October and November windows.
"We had planned to have the new permanent All Whites head coach in place for the March window, but due to a personal family situation for our leading candidate this wasn't possible.
"We didn't however want this to delay the team playing so want to thank Darren Bazeley for stepping up from U-20s head coach to take on the team on an interim basis."
In addition to the All Whites games, the men's U-23 side will also play a curtain raiser against China's U-23 team before both fixtures. The U-23 side for this window will be coached by Wellington Phoenix's Academy Director Paul Temple.
All Whites vs China
Thursday 23 March, 7pm, Mt Smart Stadium, Auckland.
Sunday 26 March, 4pm, Sky Stadium, Wellington.
source: https://www.rnz.co.nz/news/sport/483442/all-whites-to-have-interim-coach-for-china-matches-in-nz