Building downturn offers incentive for further technological innovation - report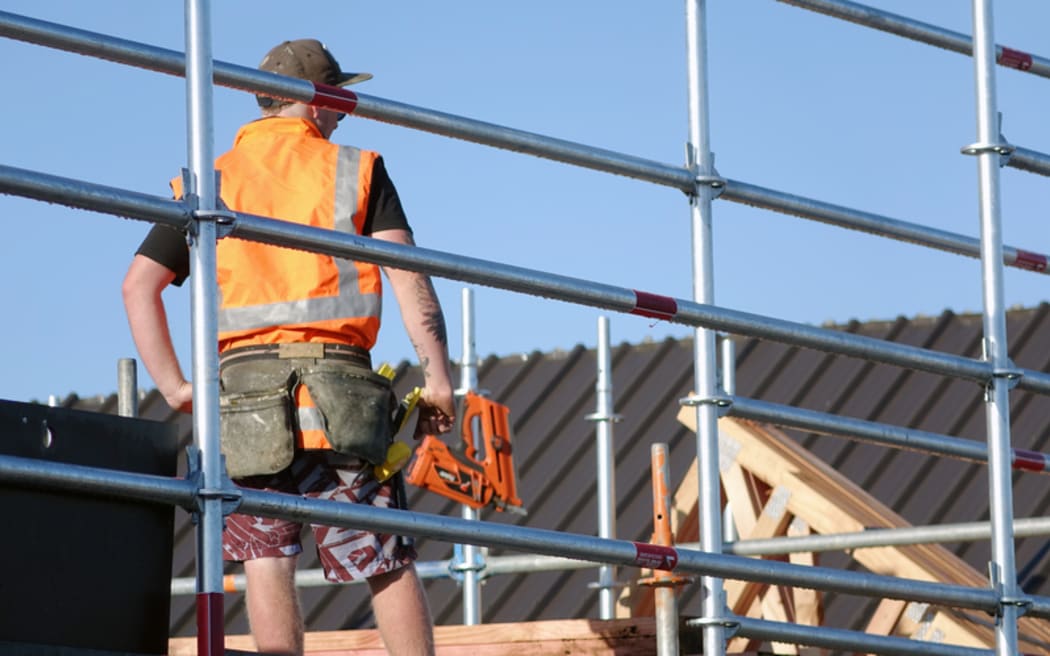 Firms need to be prepared for the expected slowdown in demand over the coming year, economists say. Photo: RNZ / Kim Baker Wilson
Residential building activity in New Zealand is expected to slow over the second half of the year, which could result in more industry investment in innovation.
A Westpac economic report said the residential building sector was likely to re-emerge from the downturn with a smaller number of larger, better resourced and more resilient firms.
Westpac industry economist Paul Clark said the adoption of digital technology would revolutionise the sector, although the changes would take time, perhaps decades to be fully realised.
He said firms would need to prepared for the expected slowdown in demand over the coming year, as reflected by a month-on-month 7.2 percent drop in December's building consents.
While the recent flooding in Auckland was expected to increase demand for residential building products, it was not expected to materially change national demand.
He said financial fitness would be key to the survival of smaller firms, with priority given to minimising costs and then boosting revenues in order to maintain margins and cash flow.
Clark said the industry lacked the scale and large investment required to fully embrace structural changes underway in bigger economies, which were increasingly using modular units to construct homes.
For example, about 80 percent of homes in Sweden were manufactured in digitally enabled factories, compared with very few in New Zealand, about 20 percent in the Netherlands, 15 percent in Japan and 5 percent in the United States, Britain and Australia.
He said such innovation would greatly reduce the time it took to construct a house, with one of the biggest firms currently able to complete only about three a day.
Clark said the make-up of the New Zealand sector, with many small firms, had so far been able to avoid making the industrial changes required, given steady demand for services.
"For many the size of investment needed will be prohibitive," he said.
"Add to that the small size of the New Zealand market, and relatively high returns already enjoyed by the sector, and it's perhaps not surprising that there is limited appetite for seismic change."
Almost all residential building in New Zealand took place on site but Clark said that would gradually change as the industry increasingly embraced industrialisation.
"While there are challenges to overcome, we think that this is where the sector will ultimately end up," he said.
"Not unlike what happens in the global vehicle manufacturing sector, manufacturing ecosystems would work together to produce standardised fabricated building elements that builders would install onsite."
He said there was also scope for more imports of modular units from countries that were better able than New Zealand to generate economies of scale.
"Looking ahead, the sector is likely to consist of a smaller number of firms," Clark said.
"However, they will increasingly be installers rather than the builders as we know them today.
"Focusing more on delivering a customer experience, these firms are likely to be larger, better resourced, and more resilient to the boom-and-bust investment cycle that currently characterises the sector."
source: https://www.rnz.co.nz/news/business/483564/building-downturn-offers-incentive-for-further-technological-innovation-report