'At the moment, we're scared': KiwiRail yard gets thumbs-up but residents worried
A huge new rail yard proposed for the outskirts of Palmerston North is a step closer to reality, after a panel of commissioners gave it the thumbs-up.
KiwiRail's Palmerston North yard. Photo: RNZ / Jimmy Ellingham
Affected residents are unhappy, but KiwiRail says the yards are much needed.
Four years ago, Hangfeng Ji and his family found a two-storey, five-bedroom house of 500 square metres they thought was theirs for life.
But now they are on land that KiwiRail plans to compulsorily acquire for its 177-hectare Regional Freight Hub, which would centralise trains and other forms of transport.
It could open in the next decade, costing more than $1 billion and dealing with more than a million tonnes of freight a year.
After a hearing last year, resource management commissioners have in recent weeks issued a decision saying they think the land is suitable for KiwiRail's plans.
Ji said his family were disappointed the commissioners ignored the concerns of submitters, such as them, who raised the social impacts from the proposal.
Their two-storey house is more than 500 square metres, with enough room to accommodate up to nine family members who sometimes live there.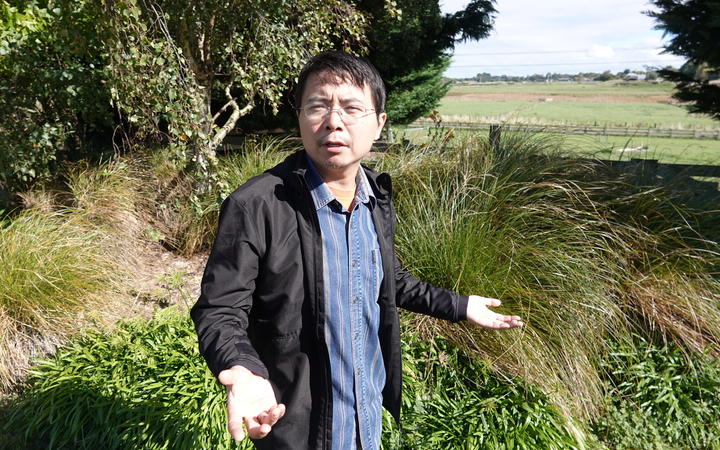 Hangfeng Ji and his family are worried they won't be able to find a similar large house when theirs is acquired. Photo: RNZ / Jimmy Ellingham
It has a huge lawn, which the family used for church or other gatherings, a vegetable garden and rimu timber features.
They had also planned to open a bed and breakfast business, but that never got off the ground because of Covid-19 and the rail yard proposal.
"Properties like this are rarely on the market," Ji said. "We really feel it was a fantastic place. A property this huge and beautiful, we'd never seen this before."
The proposed yard is about 2.5km-long, running almost the entire length between Palmerston North and the village of Bunnythorpe.
While people such as Ji would have their houses compulsorily acquired, others living nearby are worried about the effect on them, including the effects of noise.
On the outskirts of Bunnythorpe, Aaron Fox, Jo Whittle and their children live just over 1km from the proposed yard's boundary.
They have a peaceful life, one Whittle does not want to lose to a freight centre that never sleeps.
"My main concern's around the impact of noise, dust, vibration, traffic movements that will happen for the construction phase and the actual operational phase. [I'm] incredibly concerned about the 24-hour, seven-day-a-week requirement."
Whittle said she doubted other residentially zoned areas would have to come face to face with such a large industrial development, and she thought the commissioners were disparaging in dismissing concerns from Bunnythorpe residents.
Fox, Whittle and their two teenage children moved to their property four years ago, and appreciated its quiet.
"You get a sunny Sunday afternoon and it's as idyllic as Queenstown, Christchurch or anywhere else," Fox said.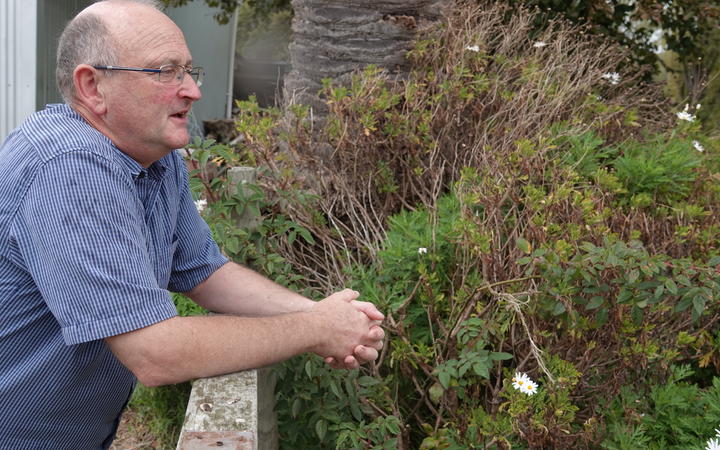 Aaron Fox says the rail yard will adversely affect Bunnythorpe. Photo: RNZ / Jimmy Ellingham
"You can hear the birds in the trees and some background traffic and the odd truck rumbling past, but it's a really peaceful part of the world.
"That's what attracted us to the neighbourhood."
The yard would have noise limits and KiwiRail would, in some cases, install mitigation, such as double glazing into neighbouring houses. But outside, Fox said, there would be a constant clatter of activity.
At the commissioners' hearing, he raised concerns about whether KiwiRail was legally empowered to propose a freight operation catering for more than trains, but the commissioners rejected this point.
KiwiRail has until 11 April to respond to the commissioners' decision, which includes dozens of recommendations.
The rail operator's present Palmerston North yard of about 25 hectares is 60 years old.
KiwiRail executive general manager for property Olivia Poulsen said it had nowhere to grow because it was inside the city boundary.
Olivia Poulsen and Logan Kahui say KiwiRail has outgrown its present Palmerston North yard. Photo: RNZ / Jimmy Ellingham
"In 30 years, we're expecting to see 50 percent more freight and we're expecting more of that to be on rail.
"What we've got here just doesn't have the capacity to accommodate that.
"It's not laid out efficiently. The buildings are quite fragmented. That yard is quite fragmented. It's not really designed for longer trains."
KiwiRail iwi engagement adviser Logan Kahui said that layout was restrictive to the operation. Some teams were one or two kilometres apart and had to access each other by using busy public roads.
Right now, 35 to 40 trains up to 700m-long come through each day. KiwiRail plans to double the number and length over the next few decades.
While KiwiRail waits to see if Environment Court action is taken, it has bought about a third of the land it will need.
That and the plans were paid for by a $40 million Provincial Growth Fund grant.
No other funding was confirmed, Poulsen said.
"We're working through the funding at the moment and what that looks like. There's a range of options for that, it would be fair to say."
A map of KiwiRail's planned new Palmerston North yard. Photo: Supplied / KiwiRail
The proposed yard would begin mostly operating from the Palmerston North end, where the neighbours were industrial, she said. It is proposed the more noisy activity would take place there.
"It's a staged development. This is a 100-year aspiration. We don't want to be doing what we're doing here [at the present yards], where in 60 years we have to move again.
"We need to be planning for future growth."
Fox said many Bunnythorpe residents felt like KiwiRail told them what would happen, rather than work with them to develop options.
Poulsen said: "When it comes to consultation, of course there are always things we could do better, but a lot of effort has gone into engaging with the community."
She said consultation would continue. A community liaison forum would be formed and a KiwiRail community liaison position established.
Meanwhile, Ji and his family face Public Works Act negotiation to compensate for their property.
He said the law was too inflexible and he would like to see public entities such as KiwiRail have to find similar properties for people losing their land, rather than paying compensation.
Ji had searched for similar properties nearby and had not found any. It was not easy to find one anywhere, he said.
"If they compensate us fairly, I have no way to use this money to buy a similar house within three months, within one year or even two years. There's no guarantee I can find a similar place in the whole country."
Fox said he was bracing to see the impact.
"I don't want to know it's there. I don't want to have to hear it, see it, smell it, feel it. If they want to put a 177ha, 24-seven freight hub there, do it in such a way that I don't know it's there.
"Do it in such away that we are proud to have it there. At the moment, we're scared of it."
Poulsen said the yard would mean huge change for the area.
"I think it will have some real benefits in terms of economic growth and jobs.
"I also absolutely acknowledge that for the community living around it, it's a significant change. We are committed to working with them to deal with that."
It was estimated about 2000 people would work at the new site. About 270 work at KiwiRail's present yard.
source: https://www.rnz.co.nz/news/national/464916/kiwirail-yard-in-palmerston-north-gets-thumbs-up-but-residents-worried