PGA Tour execs set to face skeptical lawmakers over deal with LIV Golf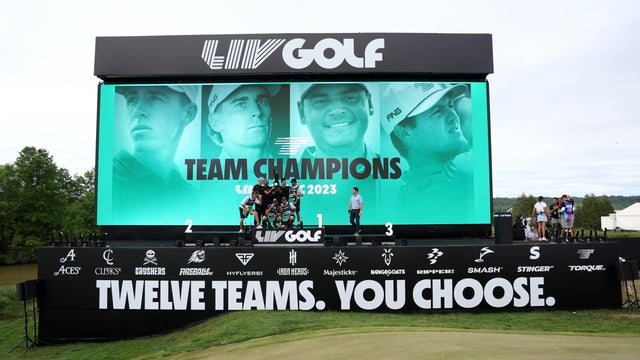 Congressional lawmakers are expected to grill two PGA Tour officials on Tuesday in a hearing focused on the organization's controversial deal with Saudi Arabia-backed LIV Golf.
Ron Price, the PGA Tour's chief operating officer, and Jimmy Dunne, a member of the group's governing board, are set to appear before the Senate Permanent Subcommittee on Investigations Price amid criticism that the alliance between the once bitterly competitive professional golfing enterprises amounts to "sportswashhing" Saudi Arabia's record of human rights abuses.
Lawmakers also have raised concerns that the deal violates federal antitrust laws as it would merge two golf organizations into one super league where the world's most talented golfers would compete, monopolizing the sport. 
"The PGA Tour brazenly announced the deal as an agreement to 'merge commercial operations under common ownership,'" Senators Elizabeth Warren and Ron Wyden wrote in a letter last month to the U.S. Department of Justice. "While the PGA Tour apparently has attempted to backtrack from its initial statement by removing the word 'merge' from the press release announcing the deal, its impacts cannot be erased. It would result in a monopoly over professional golf operations in the U.S. and potentially beyond."
Last month, the PGA Tour abruptly announced it was forming a partnership with LIV Golf's parent organization, the Public Investment Fund, or PIF, which is managed by the Saudi government. Under the transaction, the PGA Tour and PIF hope to create a for-profit golfing league, with the $620 billion sovereign wealth fund providing an undisclosed capital investment.
The deal immediately drew criticism from human rights critics, as well as from survivors and family members of victims of the Sept. 11 terrorist attacks.
"Saudi operatives played a role in the 9/11 terrorist attacks, and now it is bankrolling all of professional golf," 9/11 Families United said in a statement. 
Some players also said they felt blindsided and expressed concern about the future of the sport if the tours join forces.
"I still hate LIV," PGA golfer Rory McIlroy said in a press conference last month. "I hope it goes away, and I would fully expect that it does."
Former AT&T CEO Randall Stephenson, who sat on the PGA Tour's policy board, resigned from his position on Sunday citing concerns about the LIV Golf deal. 
Price, who is scheduled to testify today, penned an op-ed in The Athletic on Monday defending the PGA-LIV alliance, arguing that joining forces will ensure that the sport remains popular for years to come.
"If we get a final agreement, it will allow us to further invest in the players who define our sport, and the events, venues, communities and technology that bring it to life," he said. 
Khristopher J. Brooks is a reporter for CBS MoneyWatch covering business, consumer and financial stories that range from economic inequality and housing issues to bankruptcies and the business of sports.
source: https://www.cbsnews.com/news/pga-tour-liv-golf-senate-hearing/