Inflation cooled in June to slowest pace in more than 2 years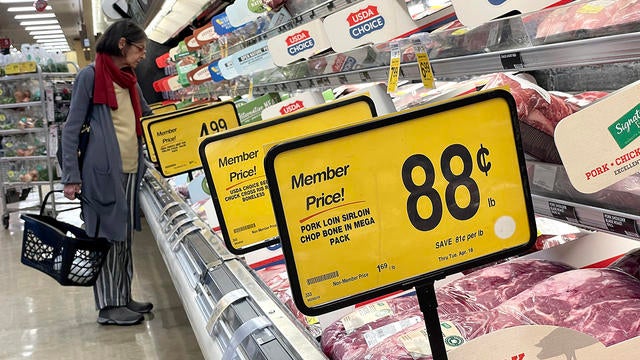 Inflation dipped in June to its slowest pace in more than 2 years, indicating price increases are cooling amid the Federal Reserve's rate-hiking regime. 
The Consumer Price Index grew at an annual rate of 3%, the Labor Department said on Wednesday. Economists had expected a 3.1% increase, according to FactSet. The increase was the smallest since March 2021, the Labor Department noted. On a monthly basis, inflation rose 0.2%.
Core inflation, which strips out volatile food and energy prices, rose 4.8% on an annual basis. Economists focus more on "core" inflation as it presents a truer gauge of price increases.
Inflation has cooled since hitting its highest levels in four decades last year, partly in the face of higher interest rates engineered by the Federal Reserve, which have made it more expensive for consumers and businesses to borrow money. Yet prices — especially core inflation — are still rising at a pace that's higher than the Fed's target of 2%, and the central bank has indicated that additional interest rate increases could be in store.
"Despite the positive inflation report, the Fed likely will resume its rate hikes when it meets later this month, remaining committed to raising interest rates until the magical 2% inflation target is met," noted Bright MLS chief economist Lisa Sturtevant in an email after the data was released. "The problem is that housing costs, which account for a large share of the inflation picture, are not coming down meaningfully."
Housing costs were the largest contributor to June's rise in prices, the Labor Department said. Shelter costs rose 7.8% compared with a year earlier, outpacing the increases for food and new vehicles, which rose 5.7% and 4.1%, respectively.
Some economists have suggested, though, that if inflation keeps slowing and the economy shows sufficient signs of cooling, the July increase could be the Fed's last.
Used-car prices, for example, have been falling, with costs dropping 5.2% in June. Automakers are finally producing more cars as supply shortages have abated. New-car prices, too, have begun to ease as a result. 
A sustained slowdown in inflation could bring meaningful relief to American households that have been squeezed by the price acceleration that began two years ago. Inflation spiked as consumers ramped up their spending on items like exercise bikes, standing desks and new patio furniture, fueled by three rounds of stimulus checks. The jump in consumer demand overwhelmed supply chains and ignited inflation.
Many economists have suggested that President Joe Biden's stimulus package in March 2021 intensified the inflation surge. At the same time, though, inflation also jumped overseas, even in countries where much less stimulus was put in place. Russia's invasion of Ukraine also triggered a spike in energy and food prices globally.
Now, though, gas prices have fallen back to about $3.50 a gallon on average, nationally, down from a $5 peak last year. And grocery prices are rising more slowly, with some categories reversing previous spikes.
Egg prices, for instance, have declined to a national average of $2.67 a dozen, down from a peak of $4.82 at the start of this year, according to government data. Egg costs had soared after avian flu decimated the nation's chicken flocks. Despite the decline, they remain above the average pre-pandemic price of about $1.60. Milk and ground beef remain elevated but have eased from their peak prices.
Still, the cost of services, like restaurant meals, car insurance, child care and dental services, continue to rise rapidly. Auto insurance, on average, now costs 17% more than it did a year ago.
—With reporting by the Associated Press.
source: https://www.cbsnews.com/news/inflation-cpi-report-june-cooled/