Hollywood actors call strike, citing "existential threat" to profession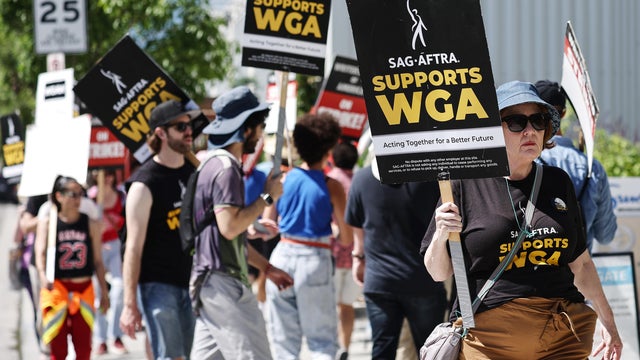 Hollywood actors formally announced a strike after negotiations between their union and motion picture studios collapsed, a serious blow for the entertainment industry that could cripple film and TV productions across the U.S.
About 160,000 actors represented by the Screen Actors Guild-American Federation of Television and Radio Artists are walking off the set effective midnight Friday, SAG-AFTRA leaders announced on Thursday afternoon. It is the first industrywide work stoppage by the labor group since 1980.
"Actors deserve a contract that reflects the changes that have taken place in the industry. Unfortunately the current model devalues our members and affects their ability to make ends meet," Duncan Crabtree-Ireland, the union's national executive director, said in a press conference. 
"What's happening to us is happening across all forms of work," SAG-AFTRA President Fran Drescher said in a press conference in Los Angeles to declare the strike action. Studios "plead poverty, that they are losing money left and right, while they give millions to their CEOs. They stand on the wrong side of history at this very moment," she said.
"Not only is it unfair, it's really un-American," she added. "Share the wealth, because you cannot exist without us."
The performers join more than 11,000 TV and script writers represented by the Writers Guild of America who have been on strike since early May.
At issue in the SAG-AFTRA negotiations is the use of artificial intelligence in movies and the impact of streaming services on actors' residual pay.
"Actors now face an existential threat to their livelihoods from the use of AI and generative technology," Crabtree-Ireland said.
"They proposed that our background performers should be able to be scanned, get paid for one day's pay, and the company should be able to own that scan, that likeness, for the rest of eternity, without consideration," he added. 
In a statement, the AMPTP said the strike was "the Union's choice, not ours."
The union "has dismissed our offer of historic pay and residual increases, substantially higher caps on pension and health contributions, audition protections, shortened series option periods, a groundbreaking AI proposal that protects actors' digital likenesses, and more," the group said in a statement, adding, "SAG-AFTRA has put us on a course that will deepen the financial hardship for thousands who depend on the industry for their livelihoods."
source: https://www.cbsnews.com/news/hollywood-actors-strike-today-2023-sag-aftra/