Tree planter attacked by bear in Canada, airlifted to hospital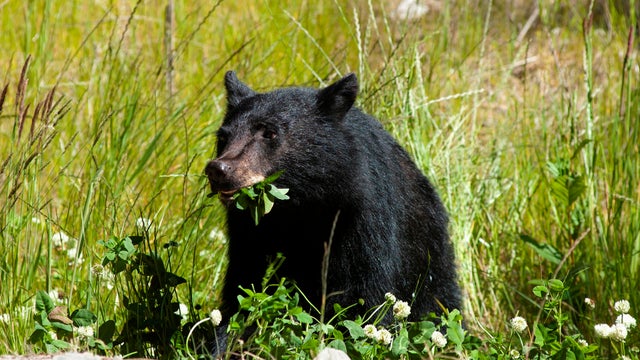 A tree planter was airlifted to a hospital after being attacked by a bear in western Canada, authorities said Thursday.
The attack happened shortly after 3 p.m. Pacific Time on Thursday near Tumbler Ridge, a small town in northeastern British Columbia, according to a statement from the province's Conservation Officer Service. The unidentified victim was transported via helicopter to a hospital in Prince George and authorities said their condition was unknown.
Four conservation officers are assessing the attack site and will "determine next steps as part of the ongoing investigation," the service said.
Officials did not say what kind of bear attacked the tree planter but both black bears and grizzlies can be found in the region.
According to statistics released by the British Columbia Ministry of Environment, Lands and Parks, there are an estimated 120,000-160,000 black bears in the province -- about one bear for every seven square kilometers. The province's grizzly bear population, estimated at 10,000 -13,000, is classified as vulnerable.
Bear-human conflicts are considered "relatively rare," the ministry said, unless the animals are startled or protecting their cubs or food.
However, last October, a "rare predatory attack" by a black bear left three people injured, two seriously, the CBC reported. That attack also occurred in northeastern British Columbia, outside the city of Dawson Creek.
Since 2019, calls about predatory grizzly bear attacks have doubled, and in some cases tripled according to statistics released by the province. In the years 2018-2019, there were 11 calls made about predatory grizzly bear attacks, and the following year there were 36 calls about attacks, according to the statistics. Through April 2023 -- the latest month statistics were released -- there were 29 calls about attacks. 
Conservation officials recommend a number of ways to stay safe around bears. One of the most important tips they recommend is not to feed the animals and to watch the bear until it leaves to "ensure it has a safe escape route."
Stephen Smith is a senior editor for CBSNews.com.
source: https://www.cbsnews.com/news/bear-attacks-tree-planter-canada-airlifted-hospital/