'This silt is horrible': Cleanup continues for some Hawke's Bay vineyards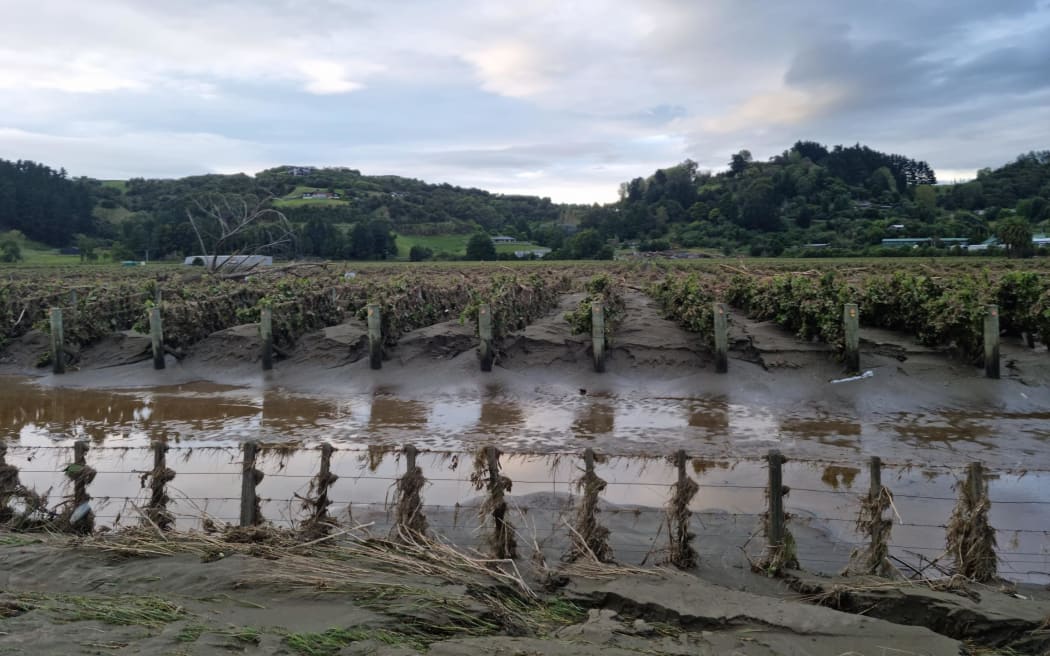 Mud and silt left behind at an Esk Valley property in Hawke's Bay after Cyclone Gabrielle passed through. Photo: RNZ / Sally Murphy
Some vineyards in Hawke's Bay still remain under soggy silt and will have to be replanted as the cleanup from Cyclone Gabrielle continues amid ongoing heavy rain.
The Hawke's Bay Winegrowers Charitable Trust has distributed $300 of donated money to growers for business advice and support.
Deputy chair Peter Hurlstone said 6 percent of the region's vines were severely affected by the cyclone and it would take time to get back to normal, especially in the areas of Esk Valley, Puketapu and Pakowhai.
"For those members, those impacts are very, very significant and in some cases, total devastation," he said.
"We've got vineyards and some areas that are completely buried in silt and when it comes to cleanup, I mean, where do you start, how do you get your trellis out?
"What sort of condition are the vines going to be in, are they going to be completely destroyed?
"Not to mention all the debris that's scattered through that, the tractors, grape bins, netting, all manner of things, so cleaning up is one thing, but even understanding how and how to approach that cleanup is also really tricky."
Hurlstone said it was fortunate more vineyards were not covered in silt, such was the damage, but for those that were, the ongoing wet weather was delaying efforts to save vines.
"This silt is horrible, it's a horrible material," he said.
"In areas where it's been deposited and attempts have been made to start to clean it up, the second that it gets wet again, it becomes very difficult to manage.
"Even in terms of drainage and so on, water's tending to pond in areas where the the silt is, because it's actually impacting the drainage of the soil as well."
Hurlstone said growers were coming off the back of a tough growing season, with as much as two and a half times times the annual rainfall coming in across the season.
"It was a tough season, even before we had the cyclone and everyone is well aware that the water table in Hawke's Bay is now very, very high, and any additional rain is adding to that and making it even more difficult for people to carry on with their cleanup work."
Hurlstone said despite the bad weather, the 2023 wines would still reach their usual high standards, as the majority was harvested prior to the cyclone.
source: https://www.rnz.co.nz/news/country/493657/tricky-cleanup-continues-for-some-hawke-s-bay-vineyards