Lightning Deal alert: Get a portable mini treadmill for $200 on Amazon Prime Day 2023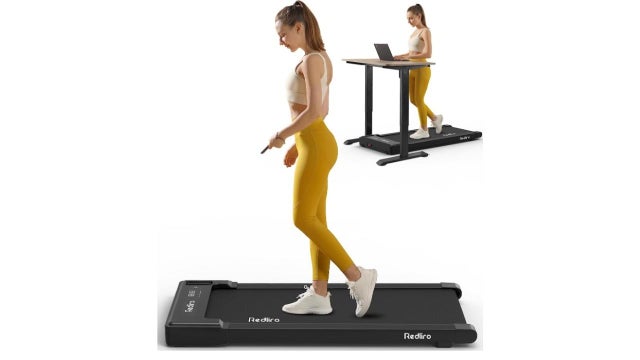 We are on day two of Amazon Prime Day 2023, and we've found a fitness deal you won't want to miss. Amazon currently has a Prime Day Lightning Deal on a portable, mini treadmill that you can use at a standing desk or anywhere else around the home or office.
Hurry -- this deal won't last long -- once Amazon Lightning Deals are claimed, they're gone forever. 
Get this Prime Day lightning deal while you still can:
Redliro portable mini treadmill, $200 (reduced from $360)
This innovative treadmill allows you to work while walking, which could reduce stress and boost your focus. Plus, its mobility and lightweight design make it easy to move and store, conveniently sliding under your sofa or bed. You can pause and resume your workout at any time and the treadmill saves your progress. 
With a five-layer running belt, shock absorption and large size, it provides a comfortable exercise experience. Plus, its quiet operation ensures a peaceful atmosphere while working, reading, watching TV or even while you're in Zoom meetings. 
With the Redliro under desk treadmill, you can seamlessly integrate exercise into your daily routine. The treadmill moves up to four miles per hour and is made of a sturdy alloy steel. But don't just take our word for it. This portable mini treadmill is rated 4.6 stars. And the Lightning Deal will be over soon.
"I don't know why I waited so long to get an under desk walking pad but I am so, so, so, so glad I did. I use it for every meeting, so I get at least two hours of walking time a day," wrote one reviewer.
Redliro portable mini treadmill, $200 (reduced from $360)
If you're looking for ways to keep track of your steps, check out the best Amazon Prime Day 2023 Fitbit deals going on right now.
This top-of-the-line Fitbit has a built-in GPS that can be used to track the pace, distance and route of your runs, hikes, or biking outings. The tracker offers heart-rate monitoring, stress data and sleep tracking. Google Assistant and Alexa voice assistant support is built in.
The Fitbit Versa 3 has a six-day battery life. Its fast-charge capability gives you a full day's worth of battery in just 12 minutes.
Fitbit Versa 3, $153 (reduced from $230)
The latest in the Charge line from Fitbit, this well-equipped activity and health tracker packs advanced technology into a slender device and features a color touchscreen. The smartphone-enabled device helps you manage stress and stay on top of heart health and sleep.
The Fitbit Charge 5 boasts a seven-day battery life on a single charge.
Fitbit Charge 5, $100 with Prime (reduced from $150) 
The Fitbit Inspire 3 is a budget-friendly, no-frills Fitbit that gets the job done. This easy-to-use, entry-level activity and sleep tracker offers various exercise modes and 24/7 heart-rate tracking. It is available in three colors with multiple accessory options.
The Fitbit Inspire 2 offers 10 days of battery life per charge, the longest of all the models in our list.
New subscribers will receive a six-month, free trial of Fitbit Premium (regularly $9.99 per month). The premium service offers personalized insights, advanced analytics, guided programs and more.
Fitbit Inspire 3, $80 (reduced from $100)
The Fitbit Luxe is a fitness and wellness tracker with heart-rate monitoring, sleep tracking and stress management features. The fitness tracker will buzz when you reach your target heart rate during a workout. It can measure your breathing rate, resting heart rate and heart rate variability. It comes with a free 6-month trial of Fitbit Premium.
The Fitbit Luxe offers about five days of battery life on a single charge.
Fitbit Luxe, $100 (reduced from $130)
The Fitbit Ace 3 is a Fitbit designed specifically for kids. It has the traditional fitness-tracking features of the adult models (including step tracking and family fitness challenges), presented in a kid-friendly format. It helps kids develop healthy sleep habits with sleep tracking, bedtime reminders and silent alarms.
Fitbit Ace 3 for kids, $59 (reduced from $80)
The Fitbit Sense is an advanced fitness tracker that tracks heart health, sleep, exercise and more. It includes an ECG app that can assess wearers for heart-rhythm irregularity, including atrial fibrillation. It also has an electrodermal-activity sensor that records your skin temperature to measure stress.
Fitbit Premium members can receive a "Daily Readiness Score" that tells you if you're ready to exercise or should focus on recovery. 
Fitbit Sense, $189 (reduced from $300) 
Amazon Prime Day is an annual two-day sales event that is running now through July 12, 2023. The e-commerce giant puts tons of top-selling products on sale exclusively for Amazon Prime subscribers. Prime Day is an excellent opportunity for shoppers to score brand-name tech (including cell phones, laptops and computers, tablets and TVs) , kitchen appliances, home goods, furniture, clothing, tools, toys, beauty products, and more at Black Friday-like prices.
Other retailers are running competing Amazon Prime Day sales. Walmart, for example, has announced it will be holding its Walmart Plus Week sale that started on Monday, July 10.
Check out these Amazon Prime Day deals on top brands for you and your family. And be sure to check out even more great Prime Day deals to shop, handpicked by our friends at ETOnline, CBS Sports Essentials and ComicBook.com.
Jennifer Martin is an expert on streaming and deals for CBS Essentials. She has a soft spot for foodie culture, beauty and wellness products and all things pop culture. Jennifer lives in Richmond, VA with her family of five, plus a cat, a dog and a frog.
source: https://www.cbsnews.com/essentials/lightning-deal-alert-get-a-portable-mini-treadmill-for-200-on-amazon-prime-day/