Black Ferns coach keeps job despite scathing review
Black Ferns coach Glenn Moore has been retained despite a scathing independent review into the team's culture and environment.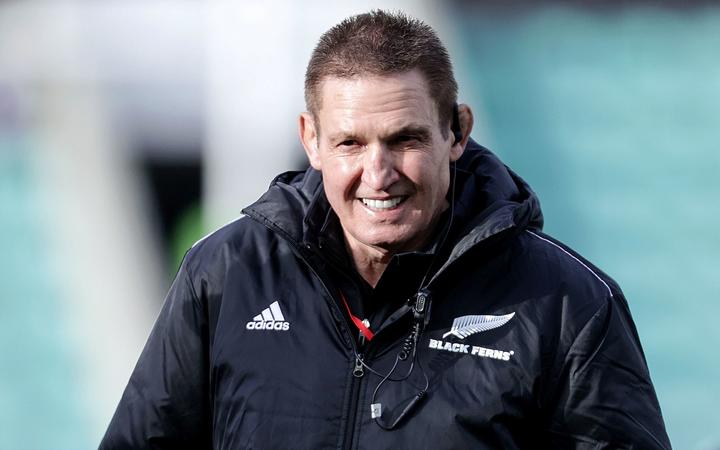 Glenn Moore. Photo: Photosport Ltd www.photosport.nz
Moore will guide the New Zealand women through the defence of their Rugby World Cup title in Aotearoa in October and November
His coaching and management of the team environment had come under scrutiny, after hooker Te Kura Ngata-Aerengamate alleged that disparaging comments from Moore contributed to her having a mental breakdown on last November's tour of England and France.
The Black Ferns lost four straight tests on the tour.
The independent review was conducted by leading employment lawyer Phillipa Muir, former Black Fern and Players Association director Tammi Wilson Uluinayau, New Zealand Rugby national harm prevention manager Eleanor Butterworth, All Blacks mental skills guru Gilbert Enoka and cultural advisors Luke Crawford and Saveatama Eroni Clarke.
Past and present players, management, NZR and NZRPA personnel contributed to the review which was made public on Monday.
The review made 26 recommendations across seven themes.
The themes are:
The review team found there is "no clear or consistent high performance vision, practices or mind-set" and this needs to be addressed.
Watch the media briefing with NZ Rugby CEO Mark Robinson and lawyer Phillipa Miles:
The recommendations said an environment that is safe and inclusive with regard to culture, gender and sexuality needs to be created.
"The Black Ferns environment needs to endorse practices and structures to allow for psychological safety and psychological freedom. NZR needs to ensure that there is sufficient awareness of, and confidence in, the channels available for people to disclose or report harm," the report said.
The review recommended management structures should be re-evaluated to ensure they support the mechanics of high performance.
"NZR needs to continue to appropriately prioritise and resource the Black Ferns to ensure that the team attracts the best talent for coaching and management roles, and for the Black Ferns management roles to be seen as attractive, but highly contested, opportunities for those individuals.
"There needs to be a review of the structures in place regarding the information provided to the NZR Board, to ensure greater transparency and accuracy and in order for appropriate monitoring to occur - particularly in relation to health and safety, and player/staff welfare."
The review panel found "too many annual reviews of Black Ferns' tours have resulted in little, if any, change".
"The players and Management say they have no confidence in tour reviews - this needs to change. There was also insufficient adaption for the reality of Covid-19 and its impacts. A more robust and transparent process needs to be introduced by NZR that allows for more regular check-ins and feedback during the year and a transparent end of year review process."
In reponse to the review NZR said in a statment additional education resources for players and management will be introduced, with a focus on harm free workplace sessions, communication strategies and continued focus on personal development plans for players through the NZRPA.
NZR has committed to remain connected with Muir and Wilson Uluinayau to ensure progress continues on the recommendations made.
In a statement, Moore said he accepts the review's findings.
"Participating in high-performance sport, whether as a coach, player, or part of the management team, can present unique challenges and the findings of the Black Ferns Cultural and Environmental Review released today have highlighted a number of those challenges. There are learnings from the Review. I am committed to ensuring those are taken on board."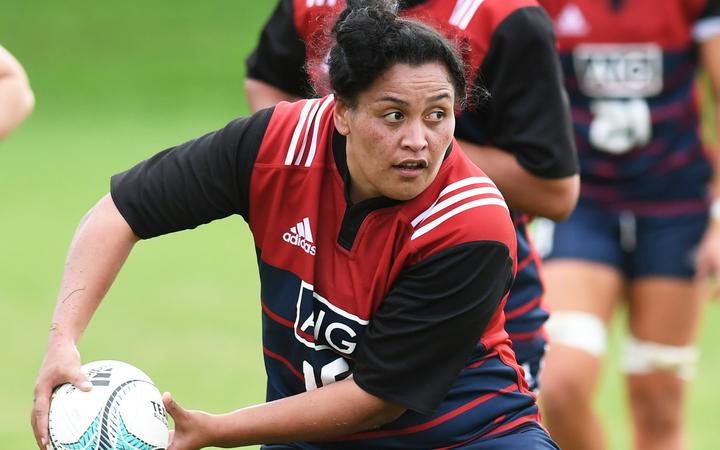 Black Fern Te Kura Ngata-Aerengamate Photo: Photosport
Moore said players and coaches must accept there are some stressful parts of the job.
"I look forward to working with everyone involved in the Black Ferns team, New Zealand Rugby, and the New Zealand Rugby Players Association to ensure we have a high-performance culture and environment in place.
"One that achieves a healthy balance: prioritising personal wellbeing whilst accepting the pressures that come from meeting expectations and competing at an elite level of sport, whether as a player, a coach or part of the management team."
Moore said he was honoured to be leading the Black Ferns into this year's World Cup.
"It is a privilege to be working alongside a highly skilled and experienced management team who have a deep understanding of what is required to achieve success at an elite level of the sport and who join me in coaching a team of extremely talented and motivated players.
"My goal as Black Ferns Coach is to ensure the team excel both on and off the field. I am driven to maximise our performance in all aspects of the game and achieve a high standard of excellence.
"The World Cup is the pinnacle event in women's rugby and we are all focused on emulating our success from the 2017 World Cup, which we know will be challenging".
The Black Ferns have won five of the seven women's World Cups they have taken part in.
The ninth women's World Cup, which was put back by a year because of the Covid-19 pandemic, takes place in New Zealand from 8 October to 12 November.
source: https://www.rnz.co.nz/news/sport/465080/black-ferns-coach-keeps-job-despite-scathing-review