Trump skips Iowa candidate event, feuds with GOP Iowa governor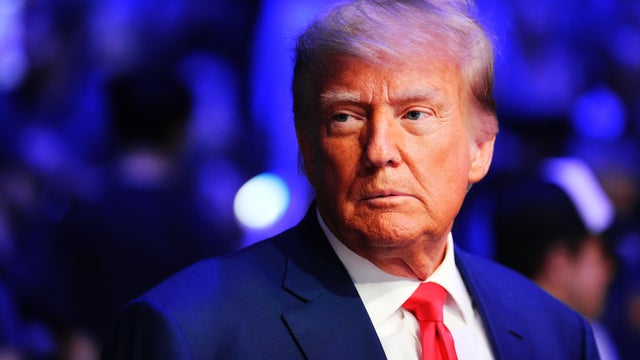 Former President Donald Trump won't be among the GOP presidential candidates gathering in Des Moines Friday for the Family Leadership summit, which is expected to attract over 2,000 Iowa GOP voters.  
Bob Vander Plaats, the president and CEO of the Family Leader, told CBS News political correspondent Caitlin Huey-Burns that Trump is "making a mistake" by skipping the group's annual conference. 
"He is choosing not to show up, and I don't think it is just a smart idea on his part," Vander Plaats said.
Iowa Gov. Kim Reynolds plans to sign the state's new six-week abortion ban into law at the summit Friday. Trump is also feuding with her because Reynolds won't endorse him before the Iowa caucuses. She has said she won't endorse anyone during the primaries.
Trump recently lashed out at Reynolds on social media, posting that he "opened up the governor position for Kim Reynolds and when she fell behind I endorsed her….now she wants to remain neutral." In addition to endorsing her, Trump appears to be claiming credit for enabling her to win the governor's race because he appointed her predecessor, former Gov. Terry Branstad, to be ambassador to China during his administration. 
Vander Plaats also called out Trump for picking a fight with Reynolds. He told CBS News that Trump poses the "biggest risk" for Republicans "to not win back the White House."
He argues candidates who are "right on the sanctity of life" are "going to get a lot of other issues right" and believes Iowans want GOP presidential candidates to express their stance on abortion clearly.
"We believe there is a role for the federal government — the big thing we're looking for from candidates is what is clarity and message that we can trust that you will be a champion for the sanctity of human life," Vander Plaats said.
He went to praise Florida Gov. Ron DeSantis as "the clear alternative right now" to Trump. Vander Plaats predicted that "if Trump wins Iowa, that's it" but "if he gets beat here, then I think whoever beats him here, it's 'game on' [for] the nomination."
Unlike Reynolds, Vander Plaats said he plans to endorse a candidate in December, ahead of the mid-January Iowa caucuses and indicated that Trump was unlikely to receive his support.
"My fear is too much of American has made up their mind on the former president. They want a new generational leader," Vander Plaats said. "For me, I do believe it is probably time that we turn the page."
CBS News reporter covering the intersection between politics and tech.
source: https://www.cbsnews.com/news/trump-skips-iowa-evangelical-presidential-campaign-event-feuds-with-gop-iowa-governor/