Russian oligarch's ties to NZ posed risk to sanctions - police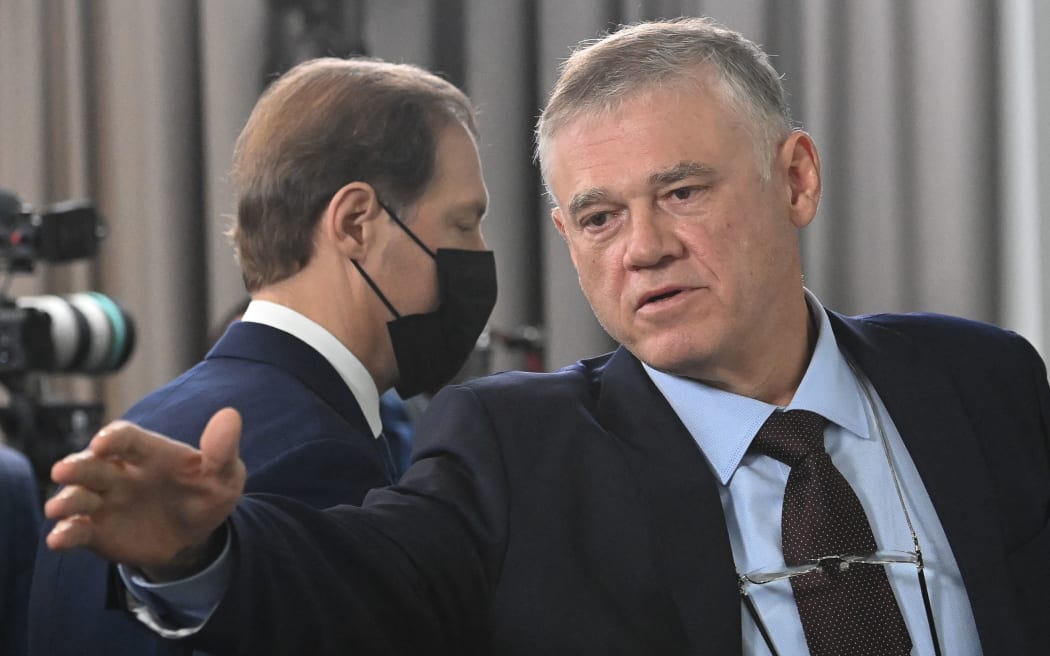 Chairperson of the board of directors of Evraz Group, Alexander Abramov. Photo: AFP
Russian oligarch Alexander Abramov's links to New Zealand were considered a threat to the integrity of overseas sanctions against his business partner Roman Abramovich, a police intelligence report shows.
That was one of the reasons for sanctioning Abramov, ahead of the government's travel bans against him, his family, his aircraft and vessels, invoked last October.
He and Abramovich are both billionaire co-heads of the steel company Evraz, which has been accused of supplying raw materials to build Russian tanks. Evraz denies this.
The company also produces more than 25 percent of all Russian railway wheels and almost all of Russia's rail lines.
Abramov's assets in New Zealand include a $41 million retreat in Helena Bay, Northland, including guest villas, a gym, sauna, massage room, a 25-metre heated swimming pool and a library, situated on 320 hectares of farmland and native forest.
The retreat has four private beaches and a luxury yacht.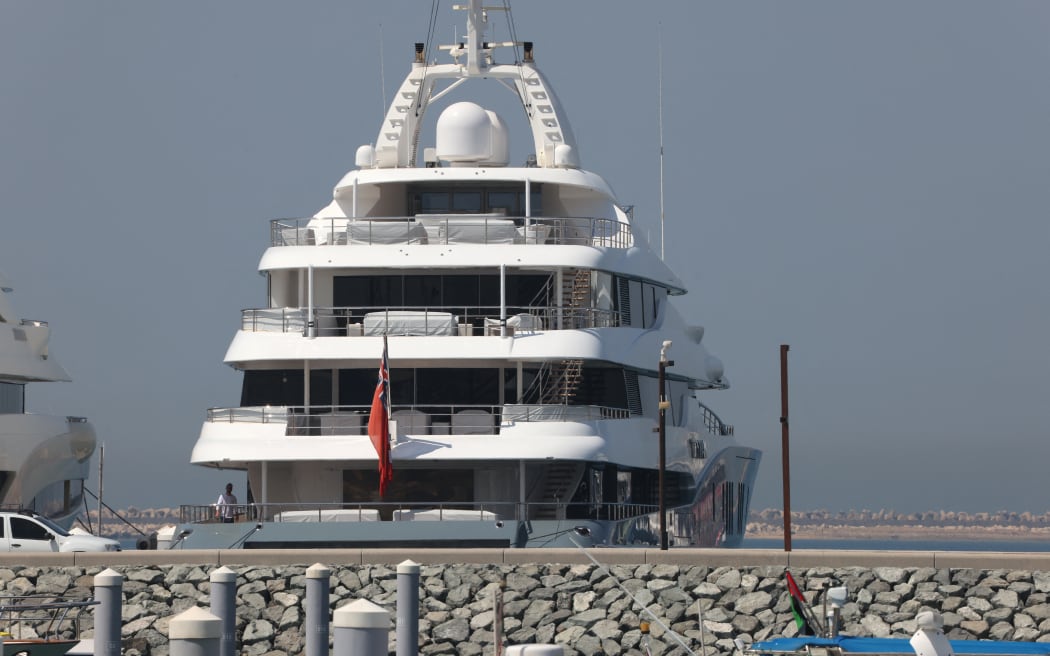 The Titan yacht belonging to Russian businessman Alexander Abramov docked at Al-Rashid port in the Gulf Emirate of Dubai, in April 2022. Photo: AFP
The Ministry of Foreign Affairs and Trade (MFAT) described him as the 365th wealthiest man in the world last year.
The police report was completed in April 2022, six months prior to Abramov's tailored sanctions, by officers in the Financial Intelligence Unit.
At the time, the report raised that Abramov had "been named on the US Treasury's 'Putin list' of 210 Russian politicians and oligarchs with close ties to the Kremlin, as part of the broader work undertaken by the US government to identify influential Russian elites around the world".
It also said Abramovich was "one of seven oligarchs to have been sanctioned by the UK government, resulting in the suspension of trading in Evraz shares by the UK's Financial Conduct Authority pending clarification of the broader impact of the sanctions".
Abramovich was one of Russia's richest people when Ukraine was invaded, and his investments included the $4.7 billion Chelsea Football Club - an asset frozen by the British government, and later sold.
He has also been accused of being closely tied to Putin - but denies this.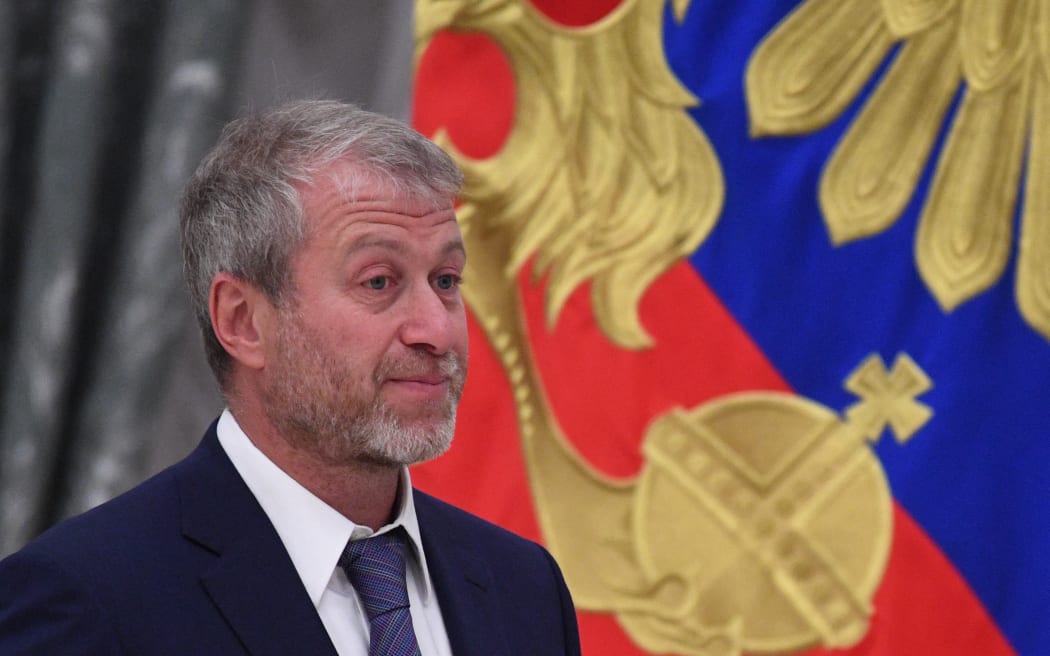 Roman Abramovich before President Vladimir Putin's meeting with representatives of Russian business circles and associations in September 2017. Photo: Grigoriy Sisoev / Sputnik via AFP
The intelligence report said: "Internationally, the sanctions implications for Abramov are not clear. However, in view of his relationship with Abramovich, there is a risk that Abramov's New Zealand interests may be used to circumvent sanctions against Abramovich."
Police also wrote: "More broadly, Abramov's significant New Zealand presence and standing among the Russian elite make him a high priority POI [person of interest] for sanctions consideration in the current context."
The report was supplied to a dedicated MFAT unit called the Russian Sanctions Taskforce, as well as the wider inter-agency Russian Sanctions Tasking and Coordination Group.
At the same time, emails show MFAT was conscious of Australian sanctions against Abramov, which his lawyers have challenged in court.
Advice from the Reserve Bank of New Zealand (RBNZ) also released to RNZ shows the sanctions coordination group was warned last July about financial sanctions taking immediate effect.
The Reserve Bank called immediate sanctions "unreasonable".
"This is based on industry feedback following sanctions imposed in Australia. RBNZ considers a delayed approach will not undermine the intention of the sanctions and likely not allow existing assets to be divested.
"A mitigating factor is that [Abramov] is already sanctioned in Australia and a large proportion of registered banks in New Zealand are subsidiaries of an Australian parent company."
In a written statement, MFAT said Foreign Minister Nanaia Mahuta was "satisfied that Abramov met the test as laid out in the Russia Sanctions Act 2022" and was "confident that our sanctions are legally justified".
The ministry said in response to New Zealand's sanctions, "Russia has enacted three sanctions packages against nearly 200 New Zealanders."
This group includes former Prime Minister Jacinda Ardern, journalists, MPs and academics.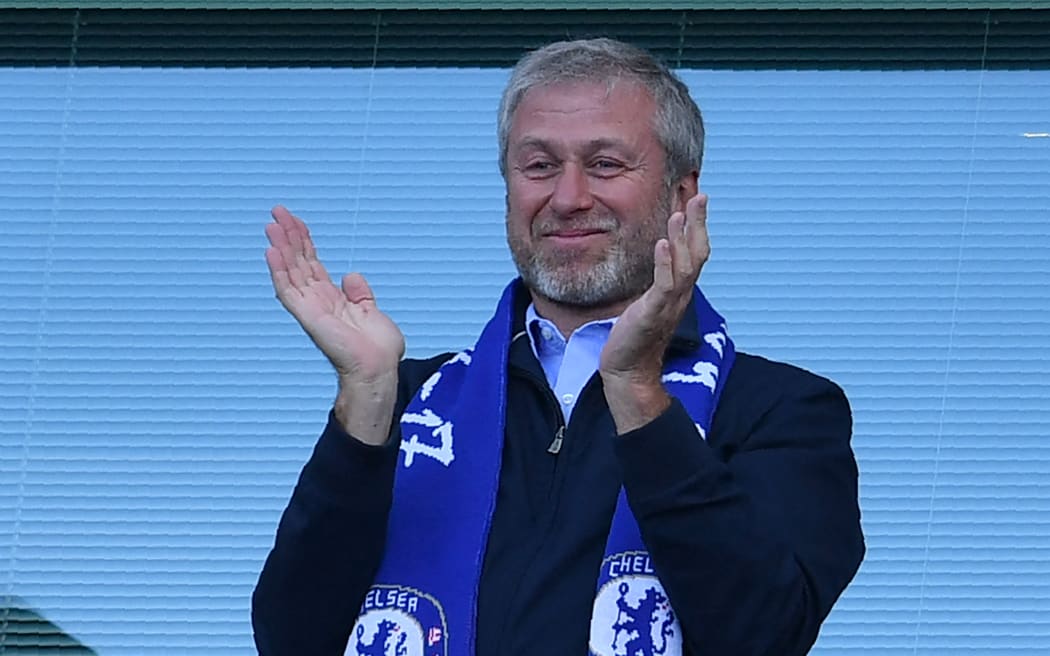 Former Chelsea Football Club owner Roman Abramovich. Photo: AFP
Mahuta's office did not provide answers to RNZ's questions, but when she announced sanctions against Abramov last year, she said: "Although I am advised that his representatives in New Zealand insist he has not played a role in the invasion and has not lived in Russia since 2016, as a leading businessman with links to Russia's political and economic elites I expect he has the influence to speak up and be heard."
She added: "We hope that the considered actions we are taking will encourage Abramov to voice concerns about Russia's war on Ukraine."
Lawyers representing Abramov said he declined to comment.
In a statement, police said staff "routinely assist other government departments as and when requested, and the Commissioner has functions under the Russia Sanctions Act 2022 to discharge".
source: https://www.rnz.co.nz/news/national/483492/russian-oligarch-alexander-abramov-s-ties-to-new-zealand-posed-risk-to-sanctions-police