Self-employed midwives still waiting for their day in court for pay equity fight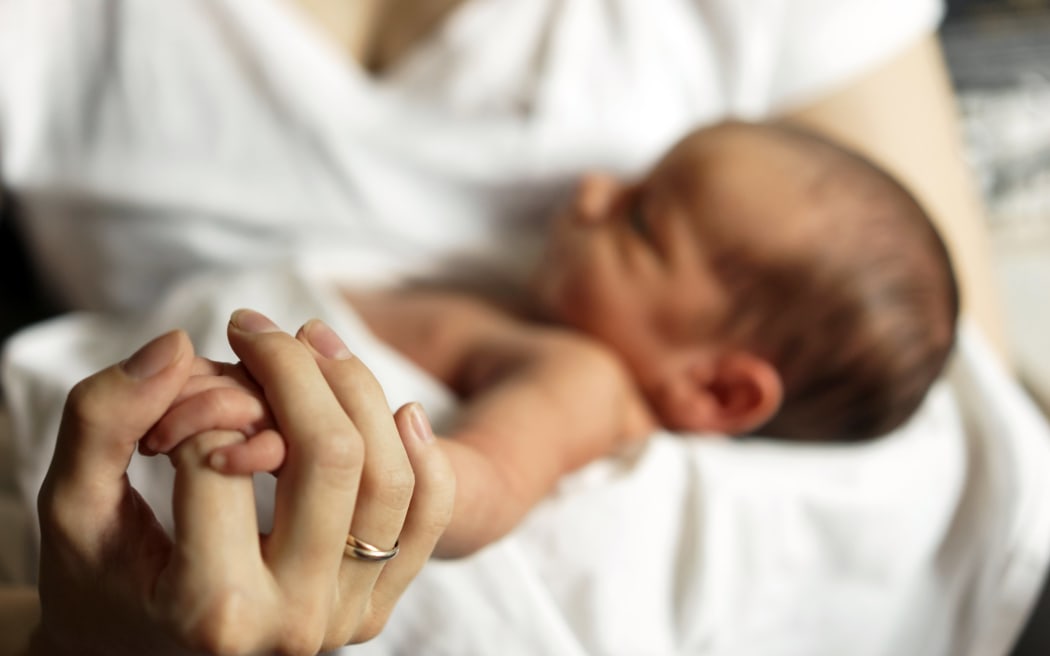 Self-employed midwives are publicly funded by Te Whatu Ora but working as sole traders means they cannot take industrial action (file image). Photo: 123RF
Thirteen-hundred self-employed midwives will be waiting more than a year to go to court and fight to get pay equity.
Five years of negotiations with government has meant hospital midwives will receive a 15 percent pay increase. But self-employed, community midwives are still waiting.
Melanie Nicholson is a self-employed midwife who is happy hospital midwives have made some progress in improving their pay. But she is frustrated her own workforce is being held back.
"We feel pretty let down at this point that it's taking so long and that our pay equity process is so slow," she said.
Self-employed midwives are publicly funded by Te Whatu Ora but working as sole traders means they cannot take industrial action.
New Zealand College of Midwives chief executive Alison Eddy said they have had to take legal action to seek better pay and working conditions. But they will not have their day in court until August 2024, meaning self-employed midwives will wait more than a year before their case is heard.
"We really don't want to take away from the success of this significant milestone for employed midwives but we absolutely need to make sure that we have relativity between the employed and self-employed workforces".
Although a year seemed like a long time to wait, it was a reasonably quick turn around for such a significant case, Eddy said.
Nicholson said the strain on the wider healthcare sector meant midwives working in the community were run off their feet. Some midwives are on call twenty-four-seven and are taking on the role of GPs.
"Self employed midwives are addressing other gaps in the healthcare system from other sectors that are unable to be met," Nicholson said.
"It's not unusual for a midwife to be called on the weekend about something that's not related to the pregnancy."
The industry is also dealing with a 40 percent shortage in its workforce, meaning expecting mothers are struggling to get the antenatal care they need.
Hutt Maternity Action Trust chairperson Meg Waghorn said women were being denied a choice in care.
"As numbers go down there becomes less availability of home birth midwives for example.
"So a choice that New Zealand women may have assumed that they have, they may no longer have because there just aren't home birth midwives available".
Julia Fitzgerald wanted to work with a self-employed midwife to have consistency throughout her pregnancy but was unable to find one.
She wished her GP had been clearer about what her options were if she did not find a midwife. She also would have liked to receive better communication from the midwives she contacted.
"We'd call and text all the midwives on the list and they wouldn't get back to us so you never really knew where you stood," Fitzgerald said.
"I appreciate that midwives are really busy, that they're so short staffed, and it's an incredibly undervalued profession but having that communication is so important".
Nicholson said having to decline requests for self-employed midwifery care due to not having capacity was challenging. More investment needed to be put into the midwifery industry, she said.
"Until the government addresses the workforce shortages in a really strategic, dynamic way I don't know how we can resolve that.
"We can't create new midwives over night".
The New Zealand College of Midwives said work to improve conditions for self-employed midwives started in 2015. It was promising to continue to advocate for midwives and get a pay result next year.
source: https://www.rnz.co.nz/news/national/493362/self-employed-midwives-still-waiting-for-their-day-in-court-for-pay-equity-fight