Ferns vow best still to come: 'We will grab this opportunity'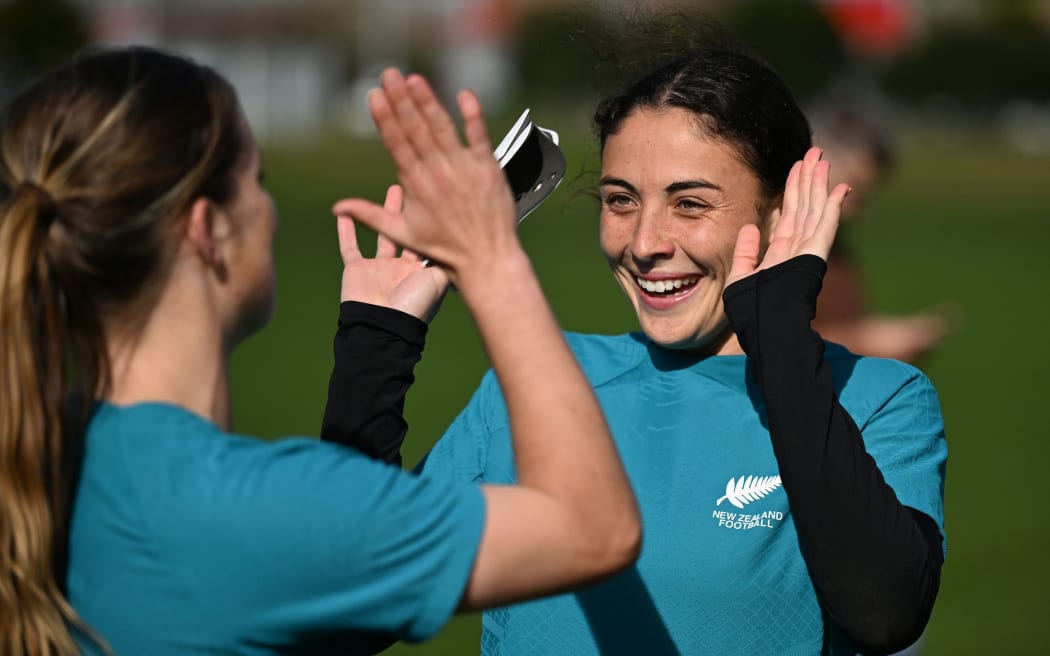 Football Fern Claudia Bunge exchanges a greeting with a teammate, during the buildup to the FIFA Football World Cup. Photo: Andrew Cornaga/www.photosport.nz
The Football Ferns are facing a similar predicament to their world champion rugby counterparts entering the biggest tournament of their lives on home soil on the back of a run of mostly mediocre form.
Amazingly, the country was able to celebrate as the Black Ferns turned that around in Auckland eight months ago to retain their rugby crown.
No-one is suggesting the Football Ferns will achieve anything remotely similar. Their FIFA world ranking has slipped to its lowest ever point of 26 from a high of 16 in 2015.
Making the knockout rounds for the first time ever from a group containing Norway, the Philippines and Switzerland is the ambition but the omens were not good although Monday night's 2-0 win over Vietnam has boosted morale.
The injection of the likes of CJ Bott and Ria Percival provided more attacking flair although once again the Ferns wasted many goal opportunities, especially in the first half and their opponents provided almost no threat to Ferns goalkeeper Vic Esson throughout the match.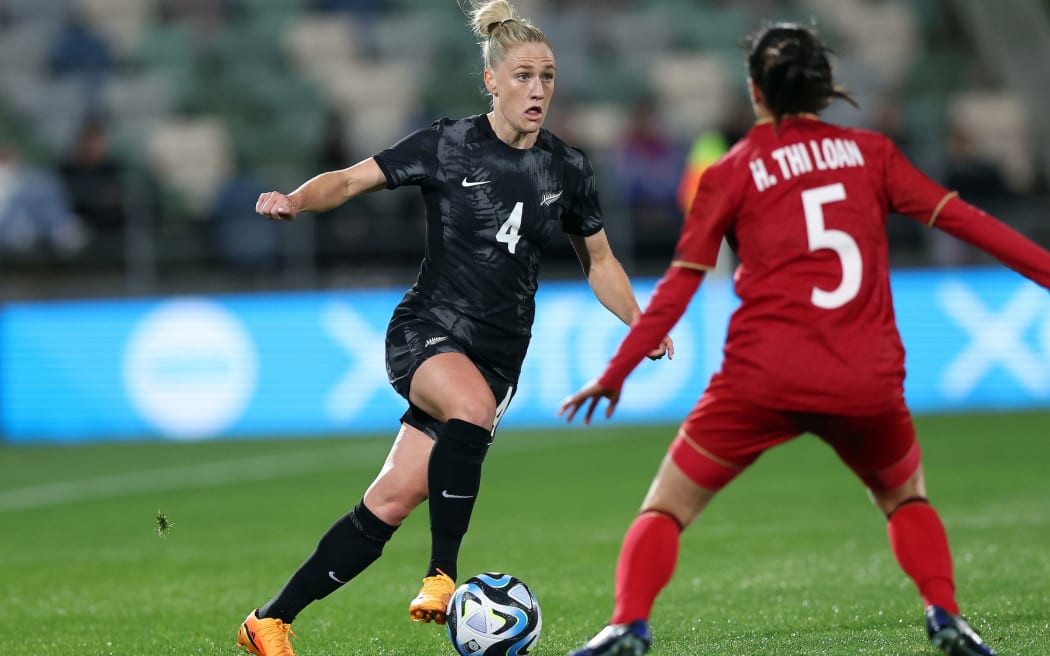 CJ Bott made a noticeable impact during the warmup match against Vietnam in Napier. Photo: Lynne Cameron/www.photosport.nz
Since Jitka Klimková was appointed national coach in 2021 New Zealand has played 15 games and won just two, leaking 35 goals while scoring just seven.
It is a less than impressive record far removed from Klimková's promise on her appointment that she would not be depending on the traditional playing style of New Zealand teams - tough defensively and then relying on the long ball up the field to score goals.
"Whoever we are up against, New Zealand will be a team that plays to win," she told FIFA.
New Zealand qualified automatically from the Oceania region as the host nation (alongside Australia) but as if a goal drought and defensive lapses have not been bad enough, key players, including midfielders Olivia Chance, Betsy Hassett, Percival and Annalie Longo and Bott suffered injuries that sidelined them for months before gradually returning to their clubs and World Cup contention.
As she whittled her final squad down to 23, Klimková praised those who had worked so hard on their rehabilitation and was confident she would take fully fit players into the event.
Injuries have opened doors for exciting newcomers such as striker Millie Clegg who at just 17 attracted the coach's interest after "brilliant performances" at the U-17 and U-20 FIFA Women's World Cups.
Much will depend on the veterans though, including captain and right-back Ali Riley (capped 152 times) who at 35 will play at her fifth World Cup. She's been in fine form for her US club, Angel City, and is optimistic the national team will deliver for fans. "I hope that we live up to the slogan of 'beyond greatness' by creating a legacy for the Ferns who come after us," she said.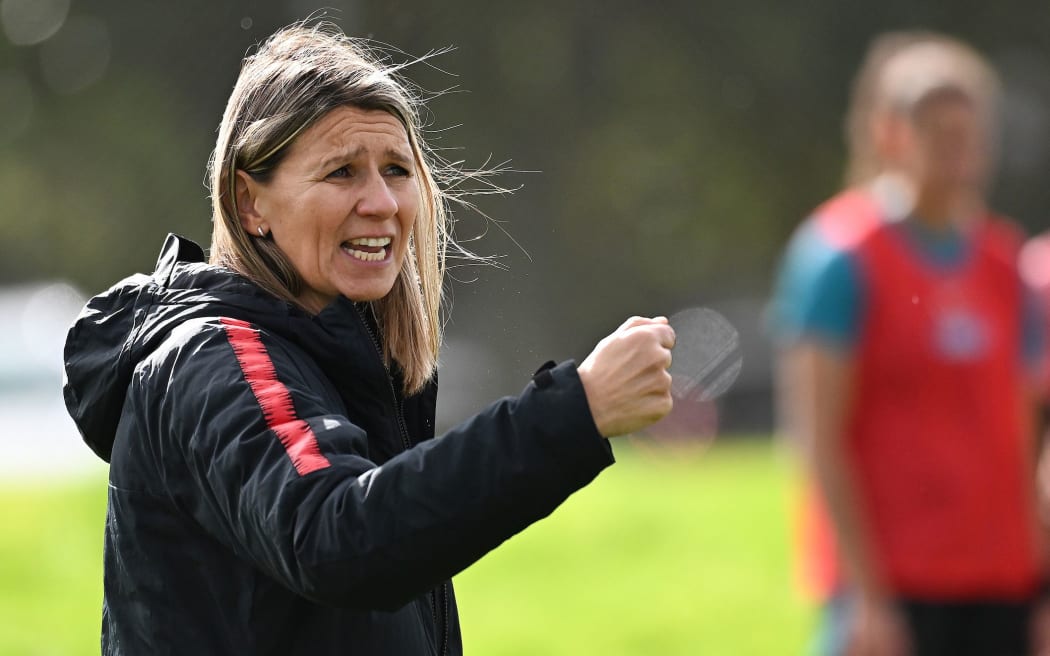 Coach Jitka Klimková believes huge progress has been made during a two-month camp she's been overseeing to prepare her squad for the cup. Photo: Andrew Cornaga/www.photosport.nz
Klimková, who took on the role via coaching the youth teams of New Zealand, USA and her native Czech Republic, has not backed away from a positive approach in the face of mostly disappointing results and a goal drought.
"We want to play attacking football that results in taking our chances in front of goal and be greedy in defence and win the ball back further up the field," she told RNZ.
She has been working with the squad for more than two months to prepare for the cup - a luxury for a side that usually assembles for a couple of days before flying off to fixtures.
The improvements during the cup buildup have been substantial, she said, especially once overseas players such as Bott returned.
Decision making in front of goal would be critical during cup matches, she said.
"We have to really make better decisions in front of the goals so that we can score goals and then better decisions defensively in front of our goal so that we are not conceding such soft goals that we conceded in the past. So I am happy with our improvement box to box but we need to get better inside of the box," Klimkova told RNZ in June.
Training sessions were revealing sharpness in front of goal, improved fitness and the ability to change styles to address how their opposition would play, she said.
"The quality of football is growing, we are improving, our fitness is improving. I think our connection on the field, off the field is growing and that's what we wanted."
This seemed to be borne out by the improvements in their impressive display against Vietnam. It had achieved everything she wanted, she said.
"This was really important for us, this win and this performance," Klimková told Sky Sport.
As for playing at home: "The fans will be our 12th player and that's so important to our team. We will grab this opportunity."
New Zealand has played 15 matches in all World Cups and won none so reaching the knockout stage may be too tall an order. A win over the 46th ranked Philippines shapes as a realistic target, while draws or narrow losses to Norway (ranked 12) and Switzerland (20) would be encouraging.
Ex-player Maia Jackman (capped 50 times for NZ) believes the tournament has come too soon and the team's peak will coincide with the next World Cup. But the buzz of playing in front of families and fans may restore some grit.
"World Cups bring out the best in players and I believe come 20 July [the tournament's opening match against Norway] we'll see a different Football Ferns outfit."
Goalkeepers: Victoria Esson, Anna Leat, Erin Nayler
Defenders: Liz Anton, CJ Bott, Katie Bowen, Claudia Bunge, Michaela Foster, Ali Riley, Rebekah Stott
Midfielders: Olivia Chance, Daisy Cleverley, Betsy Hassett, Annalie Longo, Ria Percival, Malia Steinmetz
Forwards: Milly Clegg, Jacqui Hand, Grace Jale, Gabi Rennie, Indiah-Paige Riley, Paige Satchell, Hannah Wilkinson
source: https://www.rnz.co.nz/news/sport/493668/fifa-women-s-world-cup-modest-hopes-for-ferns-in-wake-of-mostly-uninspiring-buildup