Netball: Hard-hit Stars ready to re-start season
The Stars are keen to get their ANZ Premiership season back on track this weekend after having four of their fixtures postponed as a result of Covid-19.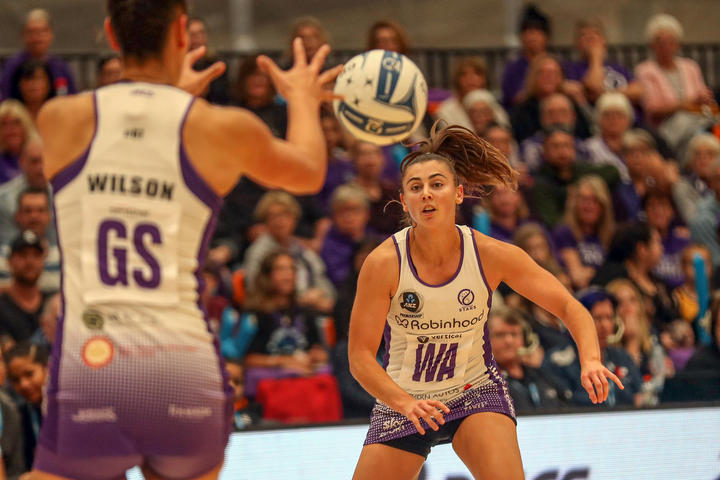 Stars player Gina Grampton waiting for a pass from Maia Wilson. Photo: PHOTOSPORT
Several games have been postponed so far, but it's impacted on teams differently with the Mystics playing five games, and the Stars just two.
It's been a combination of the Stars requesting deferments themselves, or their opposition.
On Saturday the Stars take on the Tactix, who have had three of their games postponed with Covid-19 recently ripping through the Christchurch-based side.
In a bid to fit in some much needed game time, the Stars will play fellow Auckland side the Mystics in a training game tonight at Trusts Arena in Henderson.
"We probably need it more than they do, they've got a few more games under their belt so we are very grateful to them to do this for us and on Wednesday night both teams train so it was easy," Stars' coach Kiri Wills said.
Most of the postponed games have been rescheduled inside an already condensed season consisting of a number of double headers.
Being the worst hit side postponement-wise, Wills said it would be a tough schedule when they play catch up.
"We're not going to try to pretend that it's anything but tough. We're now looking at quite a few weeks of two games, if not back to back, then we're using a regular training night for those games.
"But we just want to get out there and play and get some momentum so we want to string a few games in a row, see if we remember how to play this game which I've assured the players they absolutely do know how to to play."
Wills said they also had to look after players through return to play protocols.
"It's not just managing the extra games, it's actually managing players who are coming out of less than adequate training to play those games and then looking at your back-ups and actually your back-ups are being impacted now too."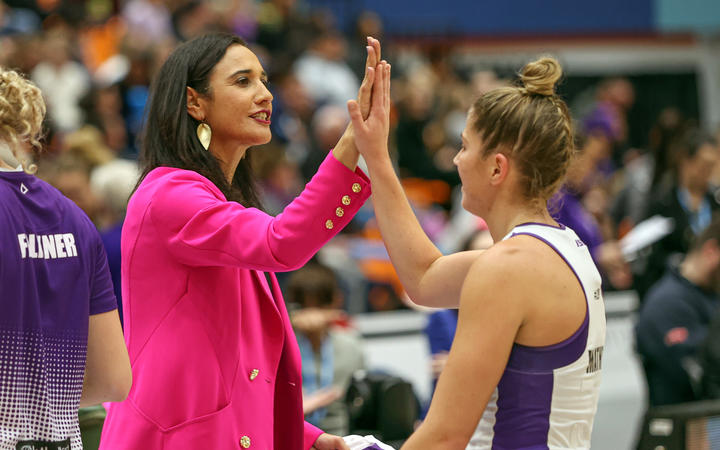 Stars coach Kiri Wills high fives one of her players. Photo: © Photosport Ltd 2021 www.photosport.nz
Wills didn't think there was much, if any wriggle room to extend the season out.
"I think the fact that the Commonwealth Games are a concrete wall in terms of timeframes we do have to get the games done in a certain period of time.
"Whether or not they'll re-look at that and allow us to go another week after or something ...I don't think we're at that stage yet but if we have many more rescheduled games it's going to be very tight, very hard to fit things in."
Wills said if two teams were available to play after their respective fixtures got postponed by their opposition, maybe those two teams could then play each other.
"That's actually just been floated, we're basically saying as teams if we can get a game because someone else is available, let's make it happen and then that frees up another date down the track.
"Not sure what they're going to do about it really, it's a bit of a headache but I'm sure they're working around the clock to make things happen."
The Stars last took to the court on the 27th March.
Wills said they had tried to prepare as much as they could and had got the men's team in so they could play seven on seven at training.
"There's been a couple of trainings where I've had two players on a bike, two players at 50 percent, two players at 80 percent ...as a coach you've got all these people spread out over the court and you're trying to work them all.
"I've got say it's been a huge year already and we're only two games in."
The Stars have plenty of Silver Ferns' prospects who want to get out on court so they can be seen by the New Zealand selectors.
"Absolutely, that's been really quite cool to see you know Mila [Reuelu-Buchanan] was out of action when we played the Steel and she just really wants to get back out there and she smashed all of her return to play tests.
"They just want to show what they've got, it actually gives them heaps of motivation to get out there and do the job.
"We have to temper that with making sure we're doing what's best for long term health but the response from players who've been affected by this is 'we want to get back out there and we want to make sure we put our hand up'."
Wills said it was likely they would have all of their 10 contracted players available this weekend but she doesn't want to tempt fate.
"Pretty much nine out of our 10 member squad have had Covid now so we're hoping that that holds us in good stead.
"But we have heard through other teams that people are getting it for the second time around so that also is something that we are mindful of too."
source: https://www.rnz.co.nz/news/sport/465180/netball-hard-hit-stars-ready-to-re-start-season