USA captain a fan of Football Ferns leaders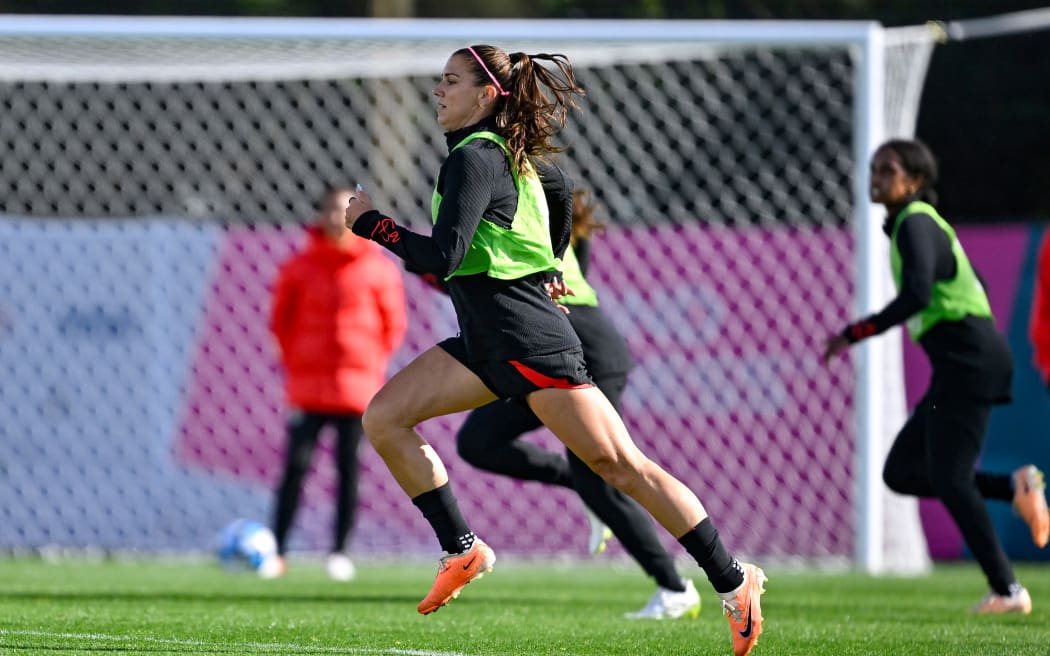 Alex Morgan of the United States Women's National Team Photo: Alan Lee
USA co-captain Alex Morgan is attending her fourth Women's Football World Cup with a focus on taking the trophy back to America for the third time in a row.
Morgan and her squad, which includes 14 World Cup debutantes, arrived in Auckland on Tuesday and took to the training pitch on the North Shore on Wednesday where more than 100 fans were invited to watch the world champions shake off the jet lag and get stuck into training.
The USA team will draw crowds during the World Cup, with the bulk of the international visitors to New Zealand for the tournament coming from America, making the open training session extra special for those who got autographs or selfies with some of the biggest names in women's football.
Talk of making history as the first women's football team to win three consecutive World Cups comes from the fans or the media, Morgan said, not the 23-strong squad which will face Vietnam, Netherlands and Portugal in group play.
"We see this as our own journey," Morgan said.
"Each four year block is its own. We're coming to the end of this four year block after the World Cup so we're looking to make history that would be great, with the three peat, but with this team that's not on the back of our minds it's really just winning each game as it comes."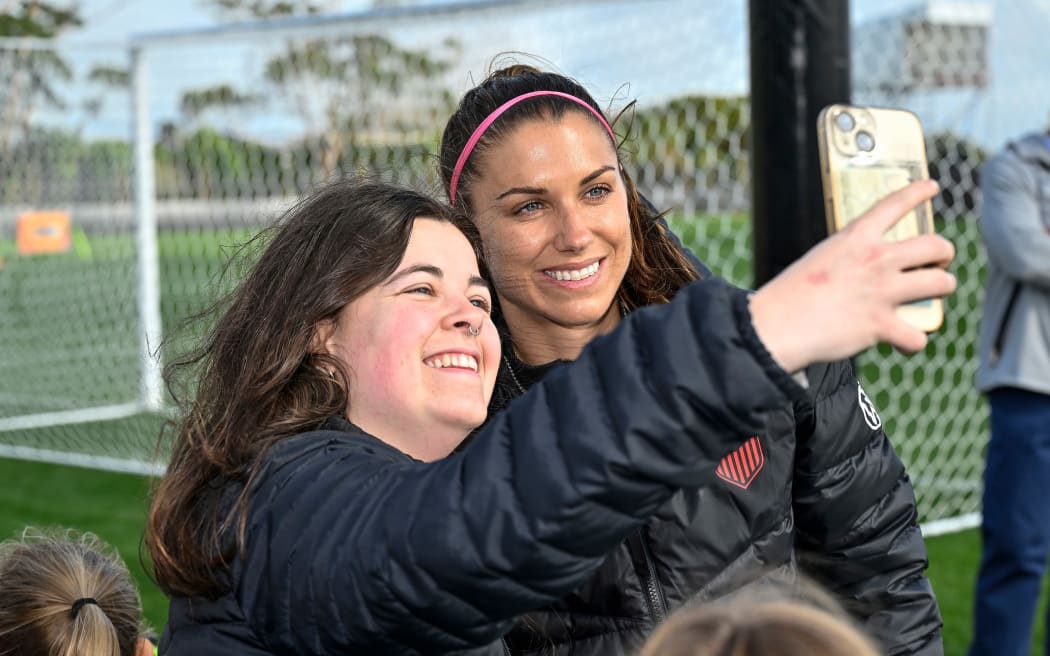 Alex Morgan has a selfie taken with a fan at Bay City Park in Auckland Photo: Alan Lee
Morgan credits the intra-squad competition and the strength of their domestic competition for the USA's recent dominance in the women's game.
"Getting to the top is tough, but staying there is even harder. We've had to challenge each other every single day in training, we hold each other accountable. The trainings are extremely difficult, it's very competitive. We don't shy away from tackles or getting into each other. So I think that's how we really keep the standard high.
"I think our domestic league in the US the NWSL definitely helps because it helps us play year round and get to know each other a lot more and then bringing it to the global stage whether it's all the Brazilians and Australians and other internationals, playing in the NWSL and then competing against them in a World Cup it's always just driving the standard that's what this team is about."
Co-captain Lindsay Horan agrees that the NWSL prepares the players for the world stage.
"There's always pressure in this team we live in pressure and I think we make that very known to any new younger player coming into this environment that you're gonna live in that for the rest of your career on this national team," Horan said.
"For the young ones it's nothing new they do this week in week out with the NWSL you see the way Trinity [Rodman] is playing, Sophie [Smith], Alyssa [Thompson] so all these players, they've been incredible and so it's nothing new to them. It's just a bigger stage and a little bit more fans now going into the World Cup. I tell them to do the same thing that they do every single week and obviously just take in the moment and enjoy."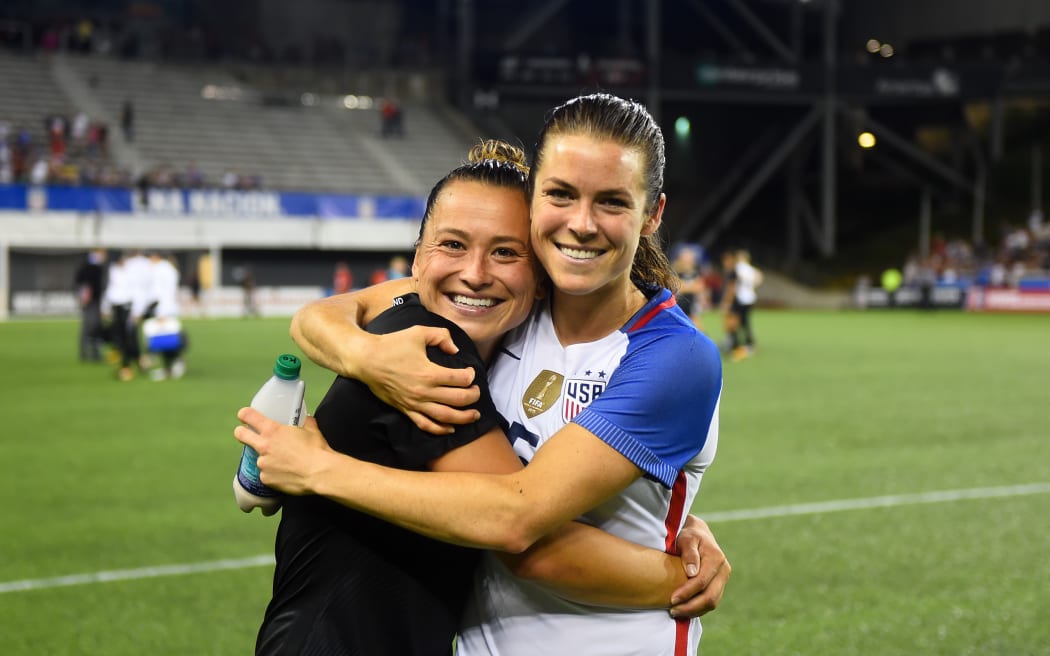 Football Fern Ali Riley and USA player Kelley O'Hara in 2017. Photo: Brad Smith/isiphotos.com
Morgan captains San Diego Wave in the NWSL where she comes up against Football Ferns co-captain Ali Riley who leads Angel City team in the same competition.
New Zealand's other co-captain Ria Percival has also briefly played alongside Morgan when the American played in England for Tottenham Hotspur in 2020.
"They're both great players, great people," Morgan said,
"Ali I've pretty much played with and against since I was probably 18 or 19 years old and she's really good person.
"She works so hard and she represents New Zealand so proudly on the global football stage. So it's great to see them both being captains and to have a World Cup of this magnitude and this calibre and just with so many fans watching, so many people tuned in and FIFA stepping up as well it must be a good feeling for them."
For all the friendships and connections between the 720 players who will represent 32 countries at the World Cup each player and nation will have their own goals.
Horan is clear that although USA have a target on their back they are only looking forward.
"We made that point coming into this that we're just focusing on this tournament, obviously we're so proud and happy about our accomplishments in the past, but I think that's kind of left in the past for right now. And we focus on this tournament and we focus on Vietnam."
source: https://www.rnz.co.nz/news/sport/493639/usa-captain-a-fan-of-football-ferns-leaders