Top seed upset in Wimbledon quarter-finals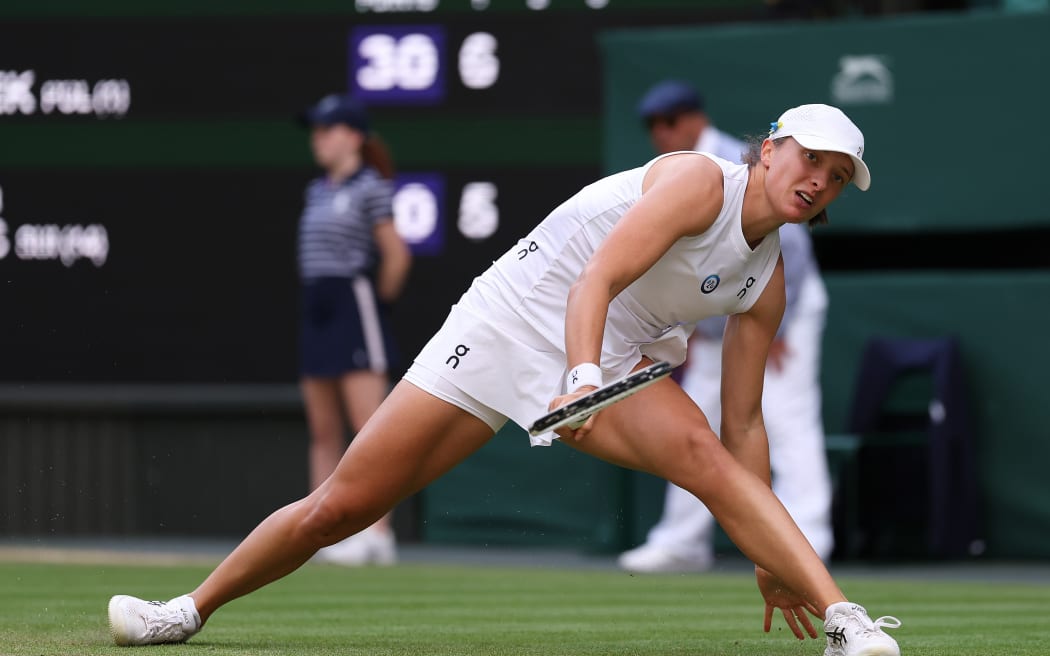 Iga Swiatek Photo: PHOTOSPORT
Even the world's best players are not immune to crippling nerves as Iga Swiatek discovered when her Wimbledon dreams were turned to dust in a 7-5 6-7(5) 6-2 quarter-final defeat by Ukrainian wildcard Elina Svitolina.
Svitolina, who returned to the tour in April after giving birth to her daughter last October, might have been facing an opponent who was riding high on a 14-match winning streak but she never stopped believing even when she was on the receiving end of some brutal shots from the four-time Grand Slam champion.
After almost three hours of nerve-jangling drama, Svitolina gave her war-ravaged homeland something to cheer about when she pulled off the biggest upset of this year's championships.
"I don't know what is happening right now in my head. It's just really unbelievable," a beaming Svitolina told the crowd after setting up a last four showdown with the Czech Republic's Marketa Vondrousova.
"At the beginning of the tournament if somebody would tell me that I will be in the semi-final and beating the world number one, I would say they are crazy!"
"I'm happy I could bring a little happiness to people in Ukraine."
The early exchanges did not exactly go Svitolina's way as she found herself 4-2 down in the opening set and she struggled to get her serve going in blustery conditions on Centre Court, leaving Swiatek to edge into a 5-3 lead.
But the momentum suddenly swung Svitolina's way as from 0-30 down on her serve in the ninth game, she went on to win 16 of the next 18 points to bag the first set and leave a shell-shocked Swiatek wondering what had gone wrong.
That sequence included breaking Swiatek's serve twice in succession, with the Polish top seed surrendering the first of those to love with a double fault.
After Swiatek guided a backhand volley into the tramlines to hand Svitolina the set, the players had to endure a 20-minute break as the roof was closed to shut out the dark clouds hovering over Centre Court.
That interlude gave Swiatek a chance to re-evaluate her tactics and she came back to break Svitolina for a 2-1 lead in the second set.
Swiatek's 28-year-old rival, however, kept breathing down her neck and made it all square at 3-3 by pounding some ferocious groundstrokes from the baseline.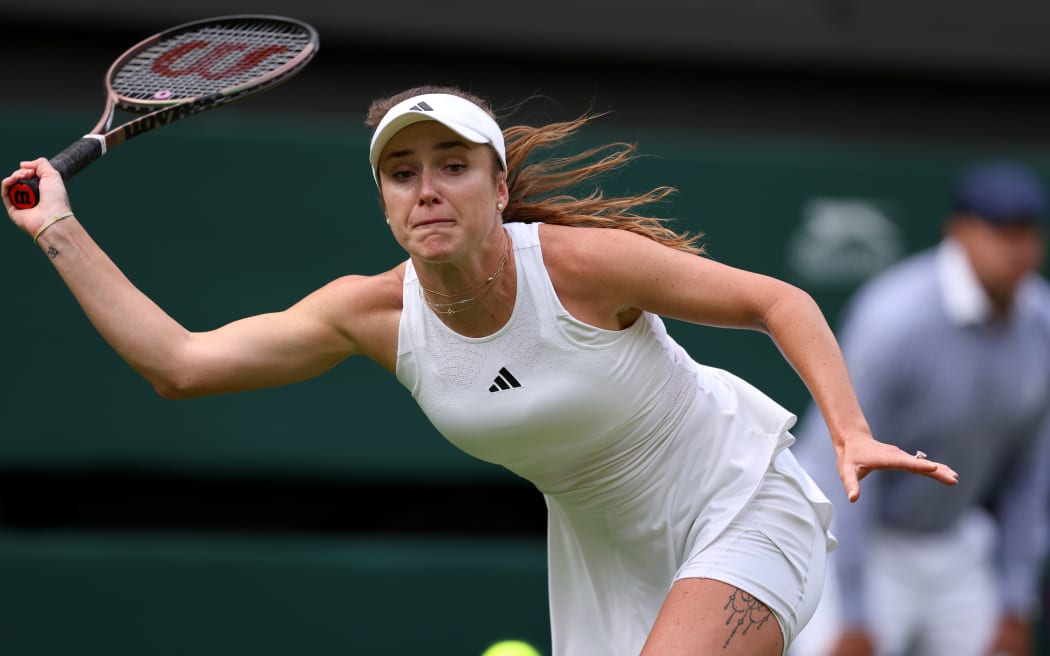 Elina Svitolina Photo: PHOTOSPORT
Swiatek earned two more break points in the ninth game but once those went begging neither player could break the deadlock and they headed into the tiebreak.
Svitolina made a fast and furious start to jump into a 4-2 lead but Swiatek, who saved two match points to beat Belinda Bencic in the previous round, refused to panic and kept faith with her fearsome forehand to rattle her rival.
A backhand error handed Swiatek the set and many thought Svitolina's moment to shine had come and gone as surely the world number one would now stamp her authority on the contest and race away with the decider.
But, having already beaten three Grand Slam champions in the run-up to her showdown with Swiatek, Svitolina had gained an appetite for mauling more celebrated opponents and she was not going to let the top seed stand in her way as she targeted a place in the Wimbledon semi-finals for the second time in four years.
Svitolina kept believing as she broke for a 2-1 lead and then blew a hole in the aura around Swiatek, whose 14-match winning streak included her run to a third French Open title, after grabbing a double break two games later.
There was no coming back for Swiatek from that gaping abyss and a forehand into the net - her 41st unforced error - handed Svitolina a remarkable win.
While Svitolina went off to celebrate her triumph with a pint of beer, Swiatek harboured no ill feelings and backed her conqueror to go all the way: "You have to have guts if you want to win these matches... Elina played really well. So congrats to her.
"I told her on the net that I hope she wins this tournament. It's tough to win a Grand Slam. I know that for sure she wants it really bad. So I will be rooting for her."
-Reuters
source: https://www.rnz.co.nz/news/sport/493580/top-seed-upset-in-wimbledon-quarter-finals