Cooks Garden heritage plaque to be unveiled this weekend
The World Heritage Plaque bestowed by World Athletics to jointly commemorate the 60th anniversary of the first world mile record set by Sir Peter Snell and to recognise the historic Cooks Gardens in Whanganui will be officially unveiled at the venue on Saturday.
Peter Snell in action Photo: PHOTOSPORT
Twelve months ago, World Athletics announced that Sir Peter Snell, the three-time Olympic middle-distance champion and New Zealand Athlete of the Century, would be honoured with the World Heritage Plaque in the posthumous category of "Legend."
The plaque jointly recognises Cooks Gardens in Whanganui, whose grass track was the venue for Snell's epic 3:54.4 run on 27 January 1962, which clipped one-tenth of a second off Herb Elliott's world record.
Cooks Gardens, which since 1996 has had a synthetic track, boasts a distinguished history as a venue of outstanding middle-distance performances, receives the plaque in the category of "Landmark".
Dubbed "The Home of the Mile", Cooks Gardens emerged on the global stage thanks to Snell's world mile record there 61 years ago. In total, Cooks Gardens has witnessed 71 sub-four-minute mile performances with the track record belonging to double Olympic 1500m medallist Nick Willis, who ran a time of 3:52.75 in 2006.
Present at the official opening will be 1972 Olympic 1500m bronze medallist Rod Dixon, who recorded a time of 3:55.5 for the mile at Cooks Gardens in 1974 - the 11th fastest mile time ever recorded at the venue, Athletics NZ President Karen Gillum-Green and Whanganui Mayor Andrew Tripe.
Athletics NZ CEO Pete Pftizinger said: "Athletics NZ is immensely proud that our former Patron Sir Peter Snell has been recognised with a World Athletics Heritage Plaque and we are also thrilled that Cooks Gardens has been recognised with a World Athletics Landmark plaque for its remarkable contribution to middle distance running.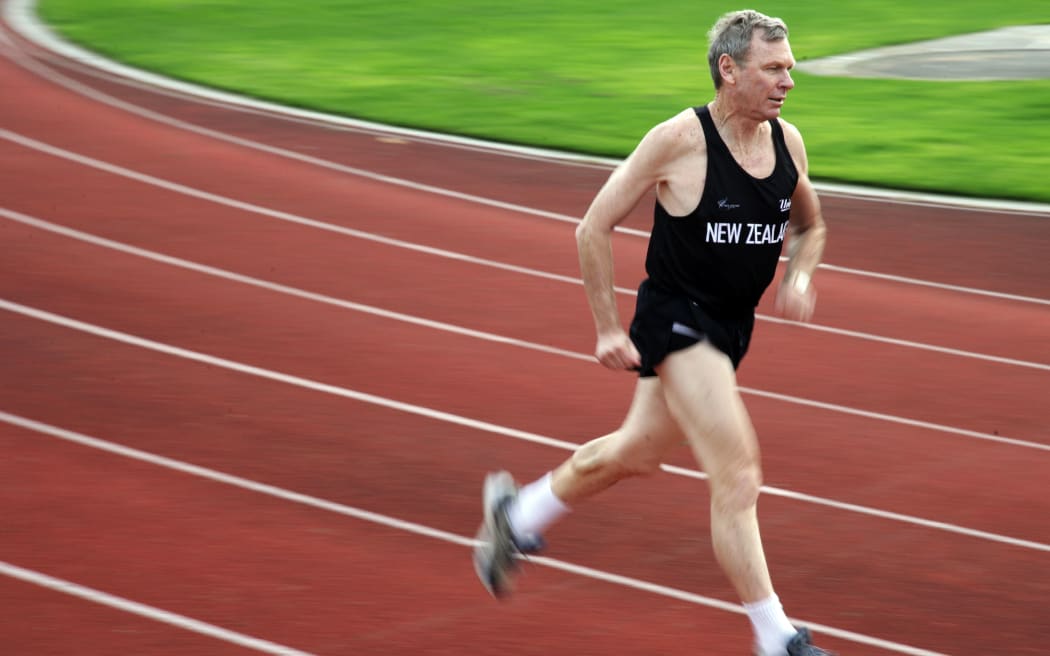 Sir Peter Snell on the Cooks Garden track in 2007 Photo: PHOTOSPORT
World Athletics President Sebastian Coe said: "Sir Peter Snell is part of a long list of Kiwi superstars, which includes Jack Lovelock, Sir Murray Halberg, Sir John Walker, Rod Dixon and Dick Quax who have graced Cooks Gardens over the decades.
"World Athletics is proud to recognise a New Zealand world-beater (Sir Peter Snell) and an historic stadium for the outstanding contribution to the history and development of athletics."
Russell Sears, Co-ordinator of the Sports Heritage Trust in Whanganui said: "We are delighted that "Cooks Gardens - Home of the Mile" has been recognised by World Athletics on the global stage and we are excited at the official plaque unveiling.
"Cooks Gardens and Whanganui are indebted to Sir Peter Snell and the other six athletes who made history that night back in 1962. It put Whanganui on the world stage and through Snell's efforts, athletes from around the world still want to run a mile at Cooks Gardens."
source: https://www.rnz.co.nz/news/sport/483192/cooks-garden-heritage-plaque-to-be-unveiled-this-weekend