Javelin champion Holly Robinson easing back into Para world champs
Holly Robinson wins gold at the Tokyo Paralympics Photo: PHOTOSPORT
Holly Robinson is delighted to be injury-free but isn't setting her sights too high at the Para Athletics World Championships in Paris this week.
The Paralympic javelin champion is coming off elbow surgery which stymied her New Zealand season.
"I was struggling for a while with my elbow and it was affecting my training, so we [her team] felt getting it fixed was a high priority."
The surgery happened in January and while she's not feeling any affects from it, she's not expecting glory at the world champs.
"I'm confident, I've been having some good throws and my main priority is that top four placing because next year is the big one for us.
"I'm a reigning Paralympic gold medalist and I want to retain that title next year."
A top four finish in Paris this week will gain New Zealand a javelin spot at next year's Paralympics.
"So for us it's what do we need to do now to make sure that happens."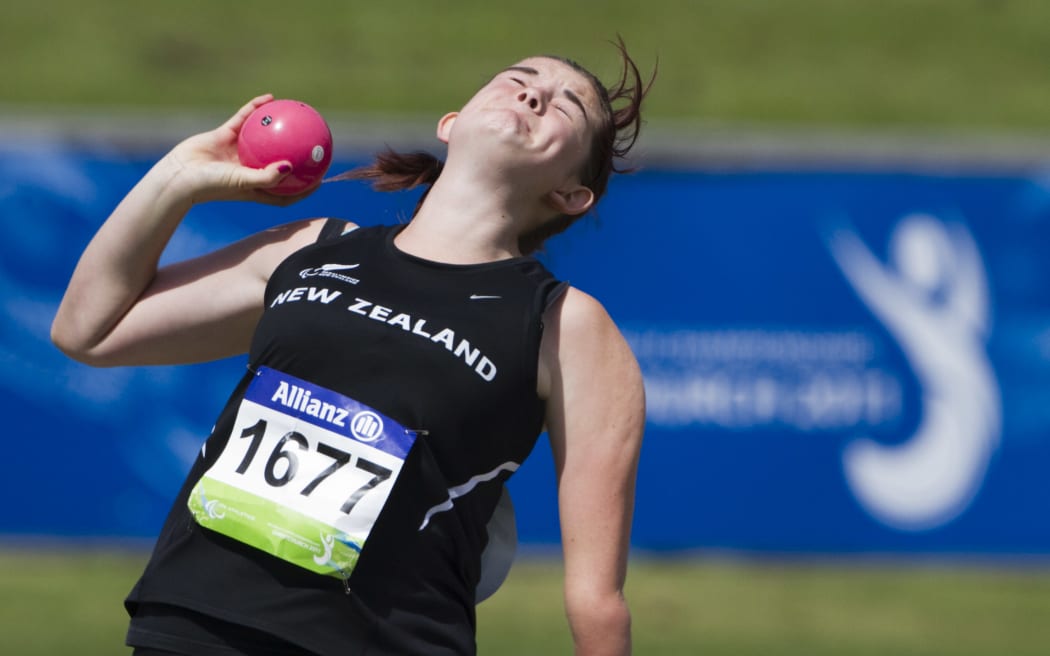 Holly Robinson competing in the shot put at the 2011 World Championships Photo: PHOTOSPORT
This will be Robinson's sixth world champs having previously won three silver medals and one bronze.
She's spent the past month preparing in Australia, but not just in javelin.
The 28 year old will also compete in the shot put at the world champs.
Shot put has been added to her classification (F46) for the world champs and the Paralympics.
"I actually went to my first world championships as a shot-putter and javelin thrower and so it's sort of come full circle that I'm going to my sixth doing both.
"When I was young I did all the throwing events and back then I was probably leaning towards shot put as my favoured event.
"But knowing that I wanted to represent New Zealand at the Paralympics, my choice was sort of chosen for me as javelin was the only event possible in my classification.
"It's exciting, I'm definitely a specialised javelin thrower and a secondary shot-putter and I have a lot to learn.
"However it's been nice that I have a new goal of potentially being able to achieve two medals next year."
For now Robinson is wanting some solid throws and will wait and see what happens.
"To be fair anything can happen on the day, but my main goal is that top four slot for the Paralympic games.
"I am excited to throw without pain and to throw with an elbow that is definitely a lot better than it was.
New Zealand has a seven strong team at the World Para Athletics Championships in Paris.
source: https://www.rnz.co.nz/news/sport/493543/javelin-champion-holly-robinson-easing-back-into-para-world-champs