Biden wraps European trip, declares Putin's "already lost" in Ukraine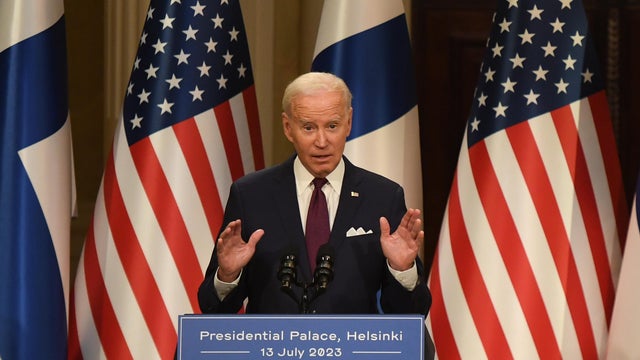 Helsinki, Finland— President Biden on Thursday declared that Russian President Vladimir Putin "has already lost the war" in Ukraine.
Mr. Biden was wrapping a four-day long European trip which included the NATO summit in Vilnius, Lithuania, where the alliance reaffirmed their commitment to Ukraine. But as Mr. Biden celebrated Finland's new membership and Sweden's likely ascension into NATO, he and the rest of NATO remained emphatic on denying Ukrainian President Volodymyr Zelenskyy's request to join the alliance.
"Putin has a real problem, how does he move from here? What does he do?" Mr. Biden said when asked about the timeline of the war. "There is no possibility of him winning the war in Ukraine." 
Mr. Biden made this remark in the same room in Finland Presidential Palace where former President Donald Trump met with Russian President Vladimir Putin in 2018. 
The president also said he did not believe the war would go on for "years" because, he said, Russia cannot "maintain the war forever" due to resources and capacity.
Mr. Biden also said he is "serious" about prisoner exchange for Wall Street Journal reporter Evan Gershkovich, similar to the one that freed American basketball player Brittney Griner, who was imprisoned for months in Russia on drug charges before the one-on-one exchange for Russian arms dealer Viktor Bout. But the one-on-one exchange left American contractor Paul Whelan still imprisoned, and Gershkovich has since been arrested. 
"I'm serious about doing all we can to free Americans who are being illegally held in Russia, or anywhere else for that matter. And that process is underway," Mr. Biden said Thursday. 
Mr. Biden was  delivering remarks with Finland's President Sauli Niinistö, who oversaw his country's April admission into NATO, a move into the alliance that the country resisted for decades until Putin's invasion of Ukraine last year and his increased hostile rhetoric towards its Nordic neighbors. 
"I have been doing this a long time and I don't think NATO has ever been stronger," Mr. Biden told the Finnish president during their meeting in Helsinki's presidential palace. 
The strength of NATO has been central this week as the more than 30 leaders in the alliance met this week in Lithuania for a summit, with a smaller contingent meeting with Zelenskyy on Wednesday. 
While Zelenskyy initially expressed frustration that the alliance would not set a specific schedule to admit Ukraine  into NATO, the Ukrainian leader–whose country was invaded by Russia more than 500 days ago– said on Wednesday that "the Ukrainian delegation is bringing home a significant security victory for Ukraine, for our country, for our people, for our children." 
Mr. Biden told reporters on Wednesday that "we're all moving in the right direction" toward admitting Ukraine. 
On Thursday, after Mr. Biden and his Finnish counterpart met,  they gathered with the four other Nordic leaders from Sweden, Norway, Iceland and Denmark.
One of these countries, Sweden, overcame a major hurdle earlier this week in their own process for joining the NATO alliance. After pressure from NATO leaders and a phone call from Mr. Biden on Sunday en route to London, Turkey's President Recip Erdogan announced on Tuesday that he would drop his block of Sweden from joining the alliance. 
While Sweden now has the greenlight from NATO member countries, the official timetable of Sweden officially joining NATO is unclear, but the earliest expected timing is later this year.
Swedish Prime Minister Ulf Kristersson in the Nordic summit credited Mr. Biden with assistance getting to this point of the alliance process, and after meeting with the president last week at the White House and at the NATO summit in Lithuania this week, he joked to Mr. Biden that he has "met you more than I have met my own family."
"I like it a lot," Kristersson added.  
Bo Erickson is a reporter covering the White House for CBS News Digital.
source: https://www.cbsnews.com/news/joe-biden-helsinki-european-trip-vladimir-putin-war-in-ukraine/