'Compromised patient care' and 'unsafe waiting times' at Christchurch ED - union delegate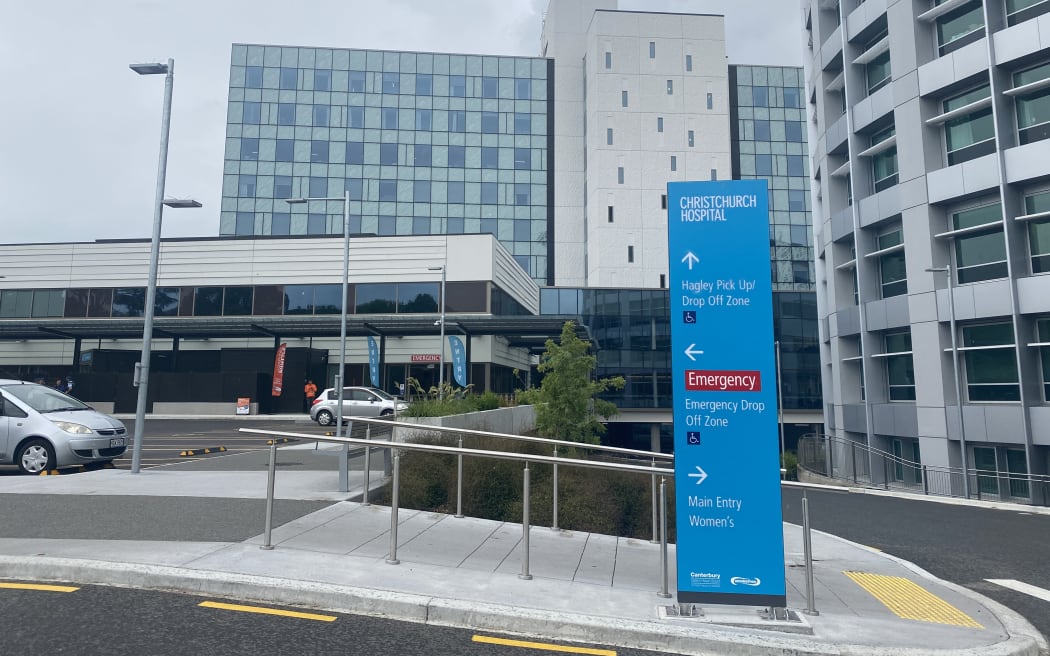 Concerns were raised about the hospital in April in 2021. Photo: Supplied / Te Whatu Ora
Christchurch Hospital's emergency department is under resourced and under pressure, and it is impacting patient care, the nurses union says.
Their emergency staff recently saw a record 412 people in a 24 hour period.
It has prompted the hospital to warn less urgent patients they might face longer waiting times.
Isaac works as a nurse in the Christchurch Emergency Department, but he spoke to RNZ in his role as a delegate with the New Zealand Nurses Organisation.
Staff were doing the best they could with the resources they had, but were understaffed and it was untenable to meet the current demand, he said.
The hospital was closing off areas of the department overnight because of staffing shortages and often the corridors were filled with a lot of patients because they did not have enough staff or bed spaces to cope with the demand, he said.
The concerns were raised in April in 2021 with 55 staff impact statements talking about burnout, unsafe patient loads and under-resourced staff.
The issues had not changed, he said.
"Essentially what occurs is unsafe patient loads. There's compromised patient care because you're just trying to do as much as you can with the limited time and resources that you have.
"There's unsafe waiting times which are being seen. There's an increase in patients having to wait and self discharging from the department who aren't receiving probably all of the medical care that we would like to provide in the best case scenario."
Government figures put out in October for care capacity suggest Christchurch ED needs roughly 140 full time nurses to meet demand.
It currently has about 108 full time nurses in the ED.
Te Whatu Ora has been trying hard to get more staff onboard, but they were still under resourced, Isaac said.
"Our community deserves better. Our staff are doing a wonderful job, our nurses are phenomenal, our managers are doing an amazing job trying to allocate the resources to get the best output.
"But we just need more resources so we can treat the Christchurch community for the needs that they're presenting with."
Te Whatu Ora Canterbury declined to comment due to staff availability.
The central city's 24 Hour Surgery closed its doors to patients for several hours last week for the first time after becoming "clinically unsafe" due to demand, with its website warning non-urgent patients might face wait times of six hours on Wednesday.
Christchurch resident Nicola's one-year-old daughter was sick on the day the clinic closed and heard the ED was under a lot of pressure.
Nicole said they tried to wait, but when her temperature spiked, they went in.
They could not ask for better care during their stay but it was obvious the staff were exhausted and under pressure, she said.
"Once we were discharged the paediatrician phoned us with a follow up with the test results as well so I was just so impressed considering the ... volume of patients that they had.
"When we left in the afternoon, they had a waiting room full of people as well, ready to take our bed."
New Zealand Resident Doctors' Association national secretary, Dr Deborah Powell, said doctors were faced with increasing demand from an ageing population while not having enough staff.
She expected more doctors would leave.
"No health practitioner wants to not get to a patient who needs their care."
Photo: RNZ / Simon Rogers
Further north, Waikato Hospital entered red status on Monday and was redeploying staff to the floor due to high demand and occupancy.
"So in the case of Waikato, they're looking to set up additional beds in places that aren't wards. They're using other spaces.
"In the case of Waitākere, we're hearing that they're putting people into chairs instead of in beds. All of that is a sign of an increasing number of patients who do need to be admitted and we just don't have the space for them."
Te Whatu Ora said the emergency department and assessment and diagnostic unit at Waitākere Hospital were very busy and staff carefully prioritised beds to match the health needs of their patients.
Powell said they had known for years that the system would face more pressure from an ageing population, more complex illnesses, and improvements in diagnostics.
"The point of the screening programmes is to pick people up earlier so we can treat them so the cancer gets resolved, gets cured.
"That's put more pressure on services as well. It's a good thing. But the fact of the matter is it has to be resourced.
"So the increasing demand has been forecast. We've known it's been coming and we're just way behind the eight ball I'm afraid."
Health Minister Ayesha Verrall said staff were working extremely hard
"We've been very focused on making sure that we're taking pressure off emergency departments and doing more in the community under the Winter Plan. That means that of those coming to emergency departments, more of them do require admissions because we've made those changes."
Powell urged people who were sick to still go to hospital where they would be triaged and treated.
source: https://www.rnz.co.nz/news/national/493633/compromised-patient-care-and-unsafe-waiting-times-at-christchurch-ed-union-delegate