Tourism operators report big boost from winter school holidays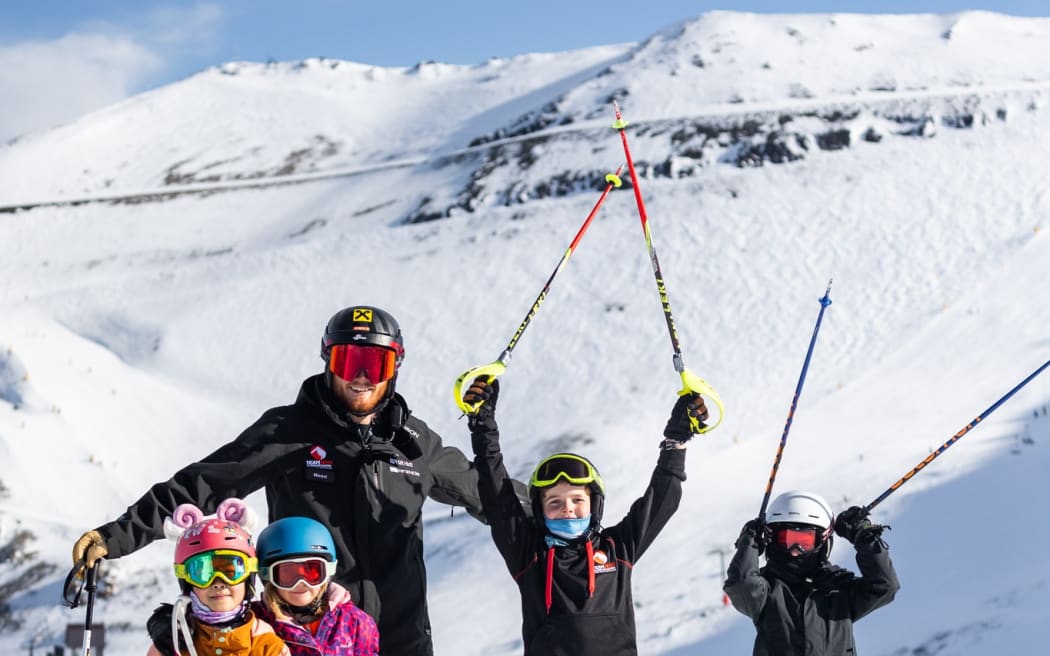 Young skiiers enjoying the snow on Mt Hutt during the school holidays Photo: Supplied/ NZSki - Mt Hutt - Nicole Hawke
Tourism operators say the winter school holidays have been a much welcome boom to numbers during a traditionally quieter season.
It was a warmer break than the ski fields were after, but businesses said it encouraged more people to get out and enjoy the sunshine.
On Waiheke Island, Gavin Oliver from EcoZip Adventures said the domestic visitors had been out in force during the school holidays.
"We would normally expect to see the winter school holidays give us a mid-winter boost. It's two really strong weeks for us normally, and what we're seeing is a lift even higher that that.
"I think we're at about 260 percent of previous, which is a combination of both domestic visitors and those World Cup visitors."
NZSki chief executive Paul Anderson said last week was very busy.
"That's the week where we have the overlap between the Australian school holidays and the New Zealand school holidays, so we've had busy ski resorts in both Queenstown and Methven."
It has been a slow start to the snowfall this season, but Anderson said that was why they had been investing in snow making machines.
"Coronet Peak and Mt Hutt have only had between 30 and 40 centimetres each so we've had to rely significantly on manmade snow up there.
"But we've got great systems in place and we're skiing top to bottom even though we have only had a small amount."
It was also a good few weeks for Hobbiton Movie Set in Matamata - general manager Shayne Forrest was delighted.
"A good boost with the Australians being back over the ditch travelling around and enjoying our little piece of Aotearoa, and the New Zealanders - the domestic market being out travelling again, just enjoying the school holidays and a little bit of good weather that we managed to get."
In Ōtautahi, Willowbank Wildlife Reserve director Mark Willis said the tourism industry was bouncing back.
"It's more back to business as usual and with further openings for countries like China starting to come back in, we're feeling quite buoyant."
But it had been a different story further south. Ewan Kirk who runs the Naseby Indoor Curling Rink in Central Otago did not get the school holiday boost he was hoping for.
"This year has been certainly quieter than we would like it. To be fair, almost half what we would normally expect."
He said he would usually get 60 or more people a day during the winter school holidays, but that had dropped to 20 to 30.
The Matariki long weekend was the exception, with the rink nearly fully booked and 80 to 90 people signed up to hit the ice daily.
He believed the warmer weather and the cost of living were the likely causes.
"People might just be staying home, keeping an extra dollar in their pocket because things just generally seem a little bit on the tighter side financially for most, and I think that might have just kept a few away as well."
Tourism businesses remained hopeful the visitors might keep coming with the Women's Football World Cup not far away.
source: https://www.rnz.co.nz/news/national/493839/tourism-operators-report-big-boost-from-winter-school-holidays