All Blacks repay the faith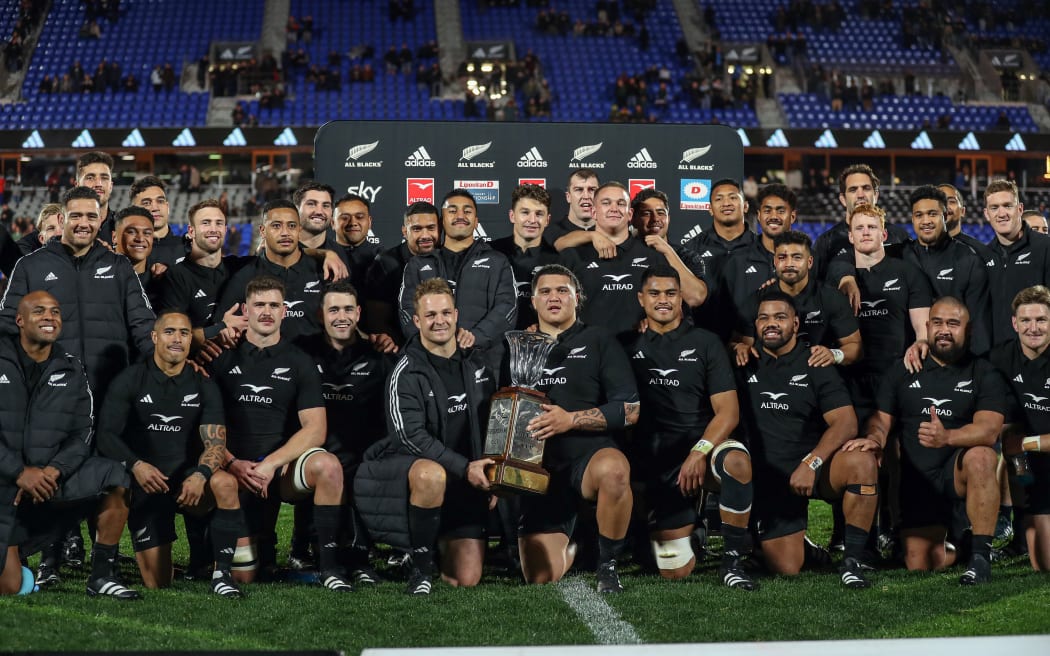 New Zealand celebrate their win over South Africa at Go Media Stadium Auckland. Photo: Photosport
The All Blacks are back.
After two emphatic wins to kick off World Cup year, many questions surrounding the side have been answered.
It was a tough 2022 for Ian Foster and his side, but the slump appears to be over.
Foster said following heavy scrutiny last season, there was nothing better as an All Blacks team than to repay the public's faith.
"It's very satisfying, it's a step in the right direction. We've set ourselves some clear objectives about the big rocks in our game that we really want to get right and we're getting them right at the moment."
He said he felt the public support had returned.
"Hopefully people are seeing that this is a group that's working hard and really wants to play, so long may that continue."
However, they are staying grounded in what is a huge year for the team.
"We've got a big smile on our face but we're also know it's early."
Skipper Sam Cane left the field at half time against South Africa with a neck injury, however is not expected to be sidelined for the upcoming test against Australia.
Cane has a history of serious injury having broken his neck against the Boks in 2018.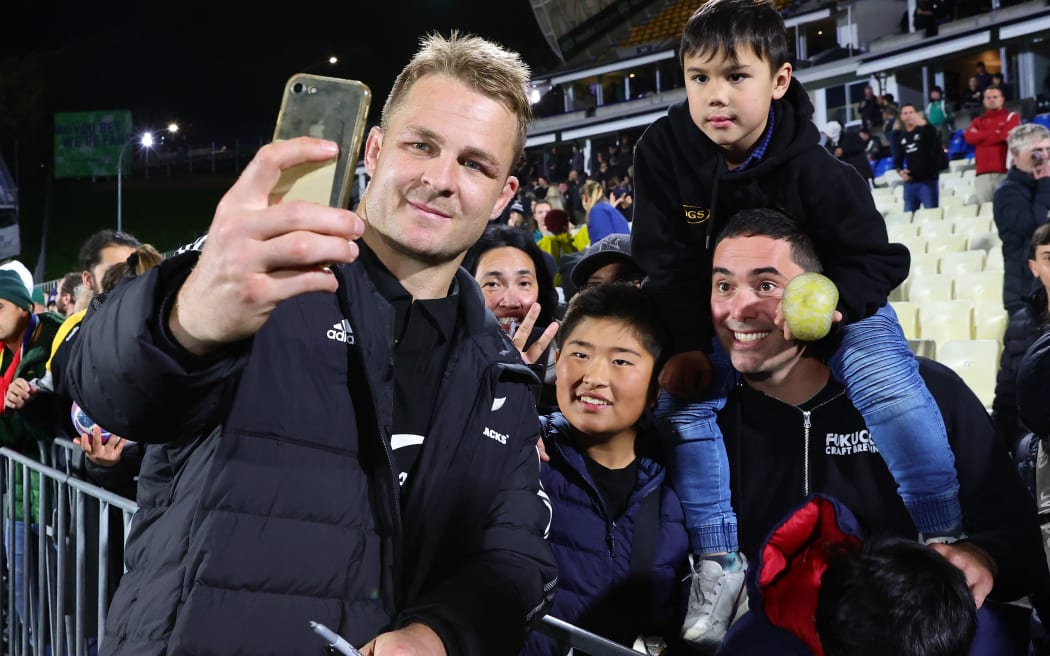 Sam Cane takes selfies with fans. Photo: Photosport
However, Cane said last night's injury was not of significant concern.
"I think it was just before Shannon's try, I got my neck tweaked. Foz made the call, probably a bit precautionary, I've got this coming week to get it right."
Also bruised and battered, lock Brodie Retalick said it was a typically tough test match against the Boks.
"I caught boot, so a couple of stitches, when you play the Africans it's always going to be physical. They are big boys and carry hard," Retalick said.
The All Blacks out-scored the Springboks four tries to three while Richie Mo'unga bagged 20 points.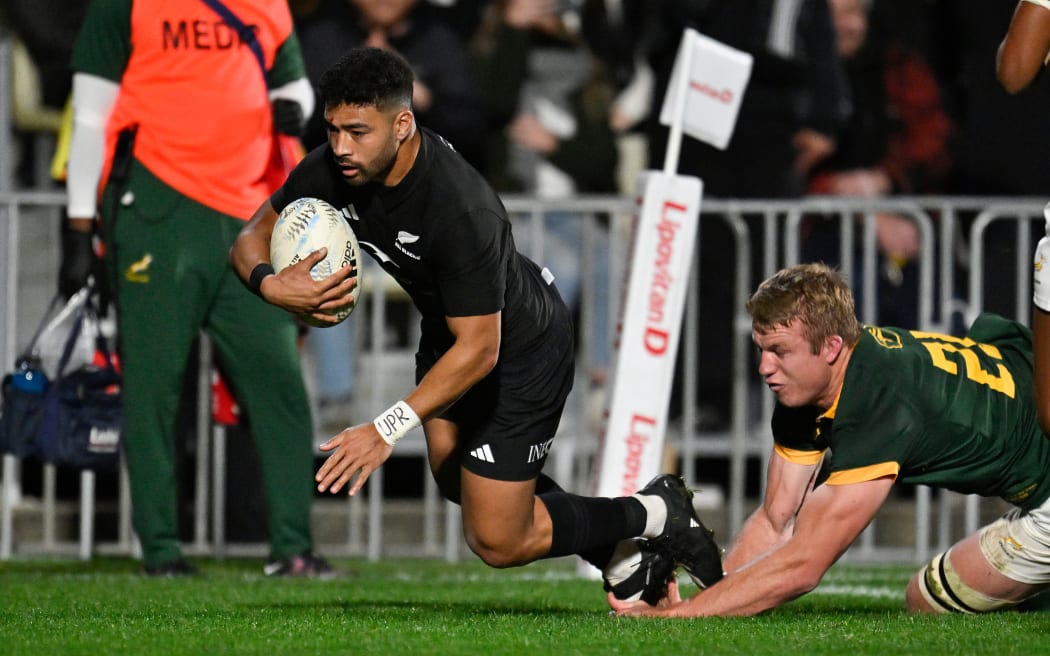 Richie Mo'unga of New Zealand scored the final try of the match. Photo: Photosport
An explosive start saw the All Blacks score through Aaron Smith and Shannon Frizell, with the Springboks forced to come back from a 17-0 deficit.
Frizell was exceptional in the opening stages, his blockbusting runs setting the All Blacks on the front foot.
"He's been simmering along all Super season, we have always had a lot of faith in Shannon and he's playing like a man who really wants it," Foster said.
Another star of the victory was the returning Will Jordan who showed no signs of the migraine issues that have been plaguing him, instead causing headaches for the Boks defence.
Playing on the wing in his first test of the year, Jordan scored a try and set up another in an outstanding display.
"There were a few nerves to be honest, I think when you've been away for a while there are always those natural little jitters and it was good to be able to get a few touches early on, I love being back out there."
Jordan said after a solid run at the back end of Super Rugby, he felt the inner ear issue was being managed.
"I've been feeling really good the last couple of weeks which is great and it really helps me go out on the park and and do my thing."
Will Jordan was in top form on his return to the test arena. Photo: Photosport
Jordan said he felt he got a good run at the back end of the Super Rugby season and was in a good place.
"It's not really an issue on the field, it's more about managing that day to day but fairly confident about being able to be in the group week in week out."
Prop Tamaiti Williams made his debut off the bench in a solid first outing in the black jersey.
The Crusaders prop from the Northland town of Kāeo said it had been an emotional week.
"My head's running right now but once I sit down with the family and friends and look back on the week, it's definitely special."
Williams said he would gift his first test jersey to his parents.
"My parents and my fiancé, they've made a lot of hard decisions for me to be here. They deserve this more than me."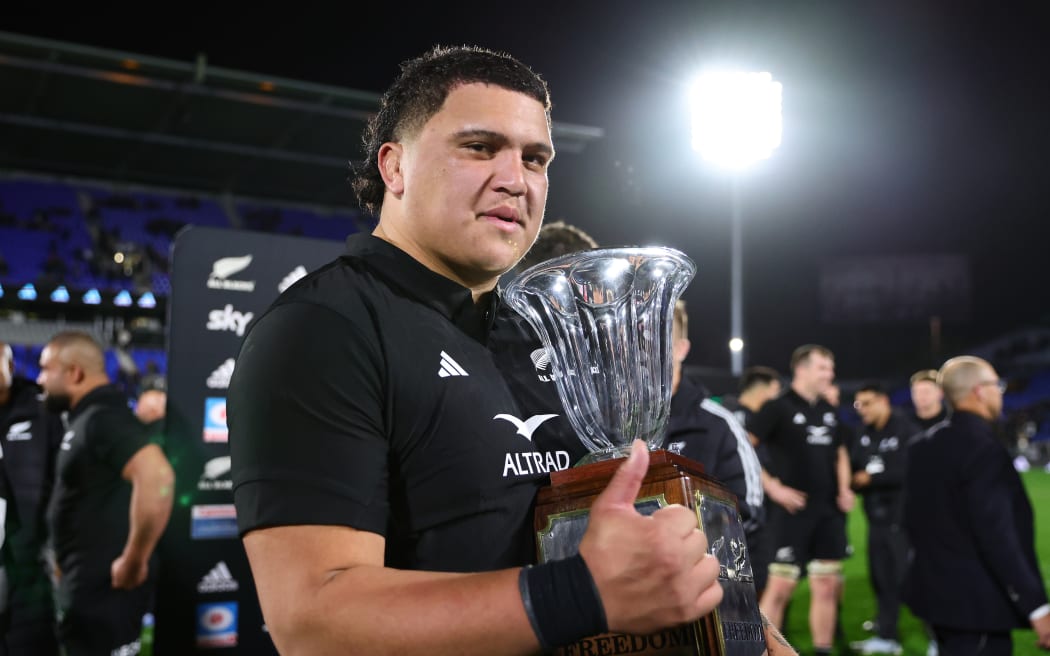 All Blacks debutant Tamaiti Williams with the Freedom Cup. Photo: Photosport
Fellow front rower Ethan De Groot lauded the debutant and his roomate.
"Big Tam's went really well, the big fella gets around the field pretty well so I'm stoked for him. There was a bit of snoring from the big man but a couple of good feeds, he is a good roomy."
In contrast to the All Blacks dream start to the year, the Wallabies have dropped their opening two matches of the Rugby Championship, losing a dramatic game against Argentina on Saturday.
Foster said the All Blacks needed to be weary of a wounded Wallabies side and the threat they would pose in Melbourne.
"They will be hurting, no one likes to lose their first couple of tests and they are a very proud nation so I'm sure they'll be working to come up strong."
He said history tells us you can never write Australia off.
"I'm sure a win over the All Blacks will solve a lot of the issues and we're really aware of that, they've got the ability to turn up and bite us and we're really respectful of their capabilities."
While the Wallabies will be licking their wounds this week, their coach Eddie Jones isn't worried about his team's festering form.
"This isn't about rankings. It's about getting ready for the World Cup. Ideally, we would have won every game we played. That hasn't happened but we're getting the team ready for the World Cup."
The All Black meet the Wallabies in Melbourne on July 29.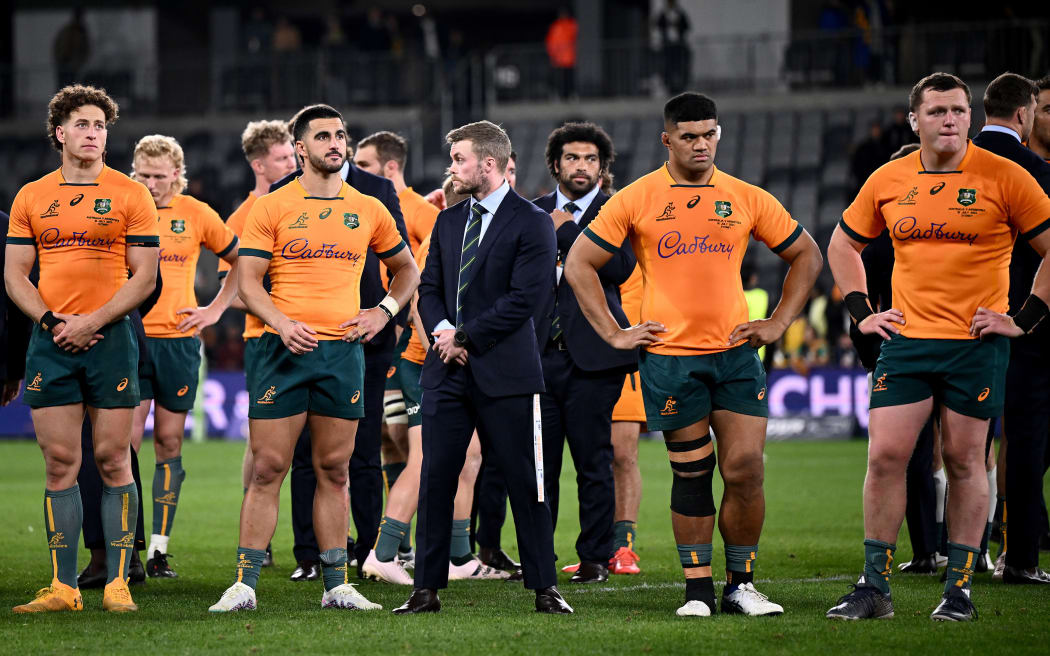 Wallabies react following their loss to the Pumas in Sydney. Photo: Photosport
source: https://www.rnz.co.nz/news/sport/493827/all-blacks-repay-the-faith