'A pandemic is not the way to tackle climate change'
Climate Change Minister James Shaw says the latest report shows we cannot rely on a pandemic to cut emissions, and National's Christopher Luxon says more may need to be done.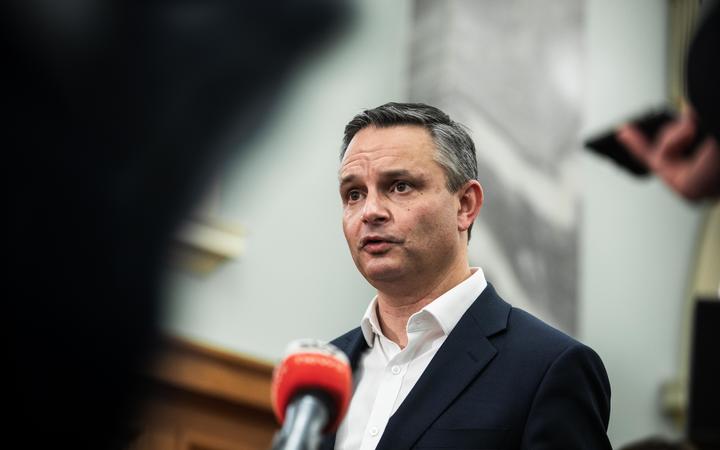 Photo: RNZ / Samuel Rillstone
Shaw is hyping up next month's emissions reduction plan after the release of the government's latest Greenhouse Gas Inventory, which found weeks of lockdowns in 2020 cut emissions by just 3 percent compared to 2019, but it was still 21 percent up on 1990 levels.
The report out today found the reduction was mainly down to lower road, air and sea travel and reducing manufacturing fuel use.
"Clearly a pandemic is not the way to tackle climate change," Shaw said in a statement this morning.
New Zealand needed to secure its part in the future by making sure Aotearoa was carbon-neutral, he said, pointing ahead to the government's first Emissions Reduction Plan, saying it would provide a comprehensive list of actions.
"It will set out how we will meet our first emissions budget and include policies and strategies to reduce emissions in key sectors like transport, energy, waste, building and construction, agriculture and forestry."
The biggest opportunities to reduce emissions were in agricultural methane and carbon emissions from transport, Shaw said.
In Parliament this month he agreed with statements by Minister of Agriculture Damien O'Connor that herd reductions would not be necessary to achieve New Zealand's emission reduction ambitions, but this afternoon he was more strident.
"I got asked in the house do I think it is necessary, and technologically there actually are things on the horizon that may mean that you don't actually need to reduce herd sizes but ... I said that actually, as part of that answer, that what you need to do is do the things that we currently have technology for."
Some farmers were reducing herd sizes in a way that was beneficial for them, he said.
"Farmers are better off, they're less in debt, they're making more money, they're getting better value at market and they're reducing emissions simultaneously.
"It does feel like everyone's waiting for the silver bullet of a methane vaccine or something like that to happen. Those kinds of technologies may come online but just having a hope that those things might occur doesn't mean that you shouldn't do everything in your power now.
"We've kind of been kicking the can down the road for the better part of 30 years ... we've dabbled half-heartedly with things like the emissions trading scheme and so on but it's really only in the last few years that we've really started to roll that out."
Prime Minister Jacinda Ardern said the emissions trajectory was "bending" but needed to continue to fall.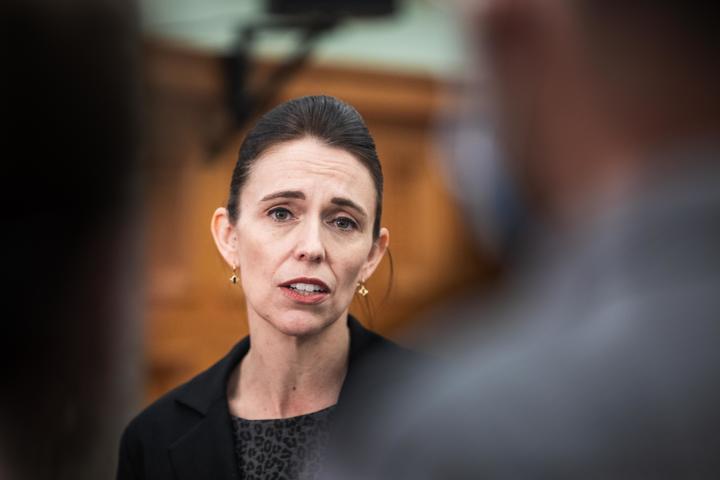 Photo: RNZ / Samuel Rillstone
"It's another reason why our forthcoming emissions reduction plan is so important. I think the overall message for all of us ... New Zealand will continue to see the economic pain of the climate crisis. We have to act, it's not an option, but it also presents a number of opportunities for us as well."
National Party leader Christopher Luxon this morning said a concrete plan was needed.
"We've all got more to do but ... what I would be doing is taking each of the categories of emissions and putting a proper concrete plan, working with the sector, working with the industries, to be able to hunt those down and to be able to close them down."
It was "possible" the government's approach was too conservative, he said.
"I think there's a possibility that it is, but the bottom line is we're all committed to the net carbon zero by 2050, we're supportive of the NDC for 2030, but the answer for me is we need to be able to put some plans in place to accelerate those transitions."
He was supportive of the industry and government continuing to work together on He Waka Eke Noa, a plan to reduce methane emissions but keep them out of the Emissions Trading Scheme.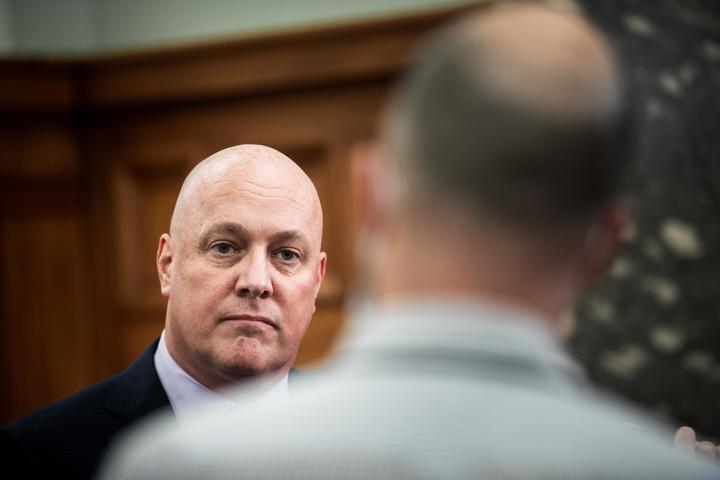 Photo: RNZ / Samuel Rillstone
Today's report found that in 2020 methane - more short-lived than carbon dioxide but also more potent - made up 44 percent of total emissions, and agriculture accounted for about 50 percent of total emissions, compared to about 13 percent on average for other countries.
The Groundswell rural advocacy group has opposed He Waka Eke Noa outright. Luxon said National would continue to hear from the Groundswell group, along with others in the sector, but the party supported the plan.
However, Luxon said there was no need to cut herd sizes.
"We're already the most carbon-efficient producers in the world and all we're doing is meeting the demand for that 40 million people that we feed goes to another less carbon efficient country and it's actually worse off for emissions.
"From my point of view we need to change our mindset a bit, stop being so negative and thinking of farmers as villains and actually back them to be truly world class, and that means investing more in research and development and making sure we actually lead the world in that."
He suggested focus should be on solutions in transport, and making it easier for people to switch to electric vehicles.
Massey University emeritus professor in sustainable energy and climate Ralph Sims said the biggest takeaway from the report was not to be complacent.
He predicted emissions would bounce back up in 2021 as happened globally after the 6 percent reduction from lockdowns.
"We'll bounce up probably higher than 2019 because to be honest not many people ... or companies have really seriously taken matters into their hands as to how to reduce their carbon footprints."
It was not all doom and gloom, either, with the recent IPCC report suggesting major change was possible.
"It had a very positive message that if we use all the technologies and the infrastructure and some behavioural change over the next 20 or 30 years or so starting now then we can reduce emissions by 40 to 70 percent by 2050 - and that's at really no cost.
The benefits could also extend well beyond climate.
"People tend to forget that if you do get more people cycling and walking then the health bill goes down ... less hospitalisation visits to the doctor because people instead of sitting at their computer and then sitting in their car all day are actually getting some physical exercise.
"Local air pollution would be improved ... those are the sorts of additional benefits."
He was confident the government's reduction plan would be more ambitious than previous efforts, but acknowledged agriculture emissions was a tricky problem.
"It is very difficult to reduce cows and sheep and deer from burping and producing methane ... if we could reduce the emissions by 10 percent that would be a great help.
"Farmers are trying very hard to offset, and many farmers are doing some great stuff reducing stock numbers, increase productivity, increase their profit and they're leading the way on what's possible to do ... many farmers are showing the way but there's a greater proportion that still need to follow."
There were also other steps farmers could take beyond animal ruminants.
"Use more renewable, maybe generated on the farm ... tractors can be run more efficiently, all sorts of little things can be done - it's not just the methane emissions or the nitrous oxides, and we can reduce those from improved fertiliser use ... so we don't waste the fertiliser and that saves money too."
The energy sector is New Zealand's second-biggest for emissions, about 40 percent of the total, and Sims suggested there were more accessible solutions there.
"It's electricity, heat and transport. Electricity we're already 80, 85 percent renewable electricity, which is great and that's without subsidies ... but we can increase that share of renewables higher.
"For heat, a lot of our heating for industrial purposes as well as buildings comes from gas and indeed from coal for some schools and businesses - Fonterra for example, the milk drying - we've got to get rid of that coal and we can have alternatives for that.
"Transport is the hard one and that's been growing the fastest in New Zealand of any sector ... we really do need to encourage more electric cars, less dependency on cars for transport, more use of public transport, more walking, cycling, e-bikes, e-buses."
ACT leader David Seymour was critical of the lack of action.
"Jacinda Ardern campaigned for prime minister saying climate change would be her generation's nuclear-free moment. Like just about every other policy promise she's made there's been no material difference. So far her best climate policy has been a pandemic.
"We would tie our net emissions as a country to our top-five trading partners, we would cap the ETS and let people get on with it, instead we've had a lot of huffing and puffing and promising and no actual result."
ACT leader David Seymour. Photo: RNZ / Angus Dreaver
However, plant-based meat and food would be hugely important for New Zealand's future, he said.
"I actually know some people from Impossible Foods and they are a very motivated, purpose-driven company that is doing amazing work and I gotta tell you that burger I had tasted pretty good. So, you know, we've got to be on guard against this stuff as an agricultural nation, be prepared - if we can't beat them, join them."
"We know the challenge on transport ... we know it's range anxiety on cars and it's about a charging network, well, we're doing nothing to build out the infrastructure that supports that."
Shaw said the next three years would be "absolutely critical" and the emissions budgets to come would set out the country's plan to tackle emissions and limit global warming.
"Whatever system we land on will have to create the right incentives for farmers to reduce emissions and move to more efficient, sustainable practices."
source: https://www.rnz.co.nz/news/political/465136/greenhouse-gas-emissions-fell-3-percent-in-lockdown-still-up-21-percent-on-1990