'Terrible' cycleway barriers unmoved despite council removal order
More than two weeks after elected officials ordered the immediate removal of unpopular brightly coloured planter boxes that line a main highway into Palmerston North, the offending objects remain.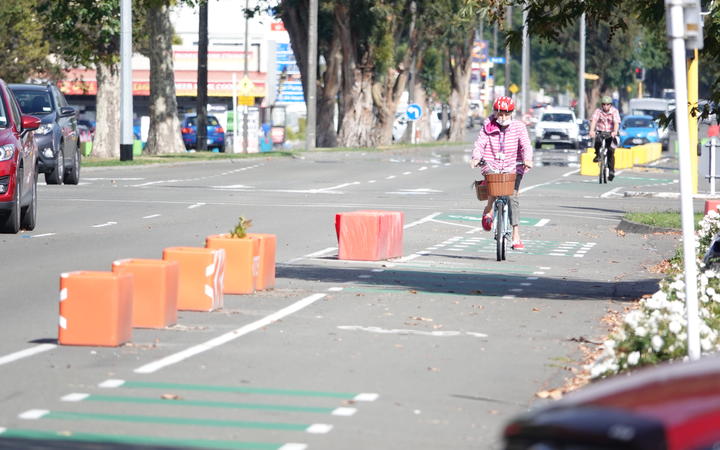 Photo: RNZ / Jimmy Ellingham
Palmerston North City Council officials say they are considering what will replace the boxes.
They act as a barrier between bikes and vehicles along a 1.5km trial cycleway along Main Street-Pioneer Highway.
They appeared in March last year, but at a city city council meeting on 6 April councillors voted for them to go and be immediately replaced with an alternative.
The cycleway attracted support and officials were tasked with coming up with a permanent design.
Council chief infrastructure officer Sarah Sinclair said its transport team was "considering options for a temporary solution" to replace the planter boxes.
No date was yet set for this.
"This will be funded from existing budgets under the urban cycle master plan."
At the council meeting this month, Palmerston North mayor Grant Smith didn't mince his words.
He introduced the motion for the barriers' removal.
"They are terrible. They are absolutely a disgrace," he said.
"I don't disagree with there being a separated cycleway. That's been proven. But how we've done it has been terrible. They're on our city entranceway."
He said councillors had to listen to the overwhelming public feedback against the boxes, which was 99 percent opposed.
Two councillors were against the move to replace them with other temporary markers, saying it could be confusing for road users.
source: https://www.rnz.co.nz/news/national/465834/terrible-cycleway-barriers-unmoved-despite-council-removal-order