Federated Farmers elects Wayne Langford as national president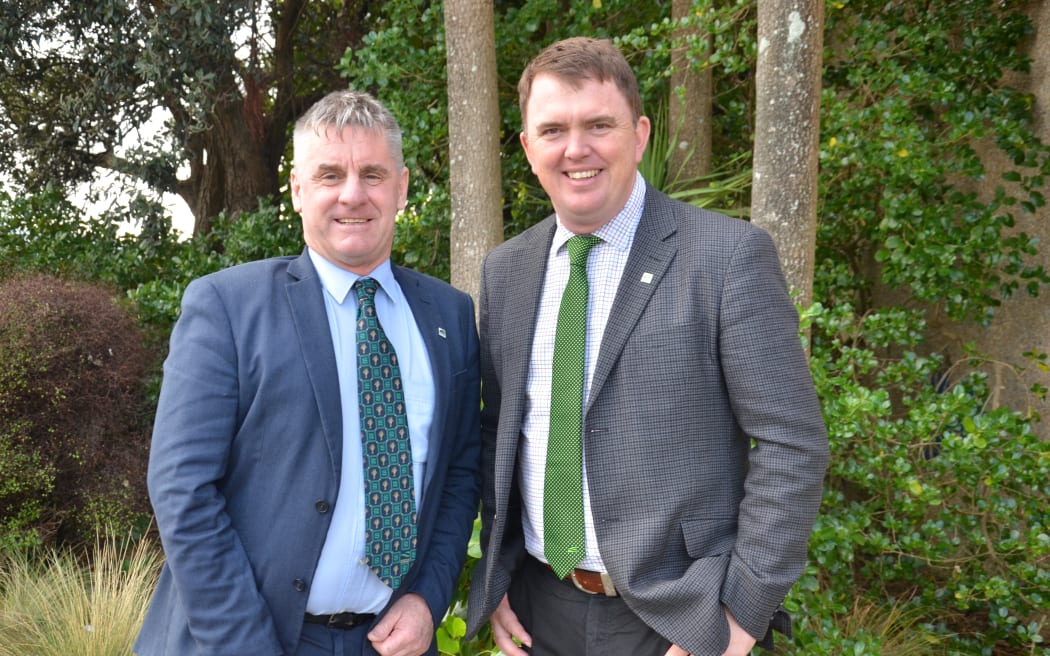 Newly elected Federated Farmers vice president Colin Hurst, left, and president, Wayne Langford. Photo: Supplied / Federated Farmers
Golden Bay dairy farmer Wayne Langford has been elected as the new national president for Federated Farmers.
The 40-year-old has been acting president since Andrew Hoggard stepped down from the role in May to join the ACT party.
Langford said he wanted to bring his own style and approach to the job while also honouring the 124-year history of the organisation.
Farmers were facing big challenges ahead with regulations, rising on-farm costs, and rising interest rates, so the industry needed to come together now more than ever to find solutions, he said.
"Federated Farmers are the largest rural advocacy organisation in the country and farmers are looking to us for strong leadership as they try to navigate their way through an increasingly complex world.
"We've got some big challenges ahead of us with changing regulations, rising on farm costs, high interest rates, and profit squeeze putting pressure on farming families."
Langford said there was no denying that times were tough.
"Farmers can't let fear, negativity or frustration divide us at the very moment. We should be coming together to find pragmatic solutions that will work for farmers and rural communities."
Federated Farmers had an important role to play in finding a pathway forward through strong and trusting relationships, and credible farmer representation that was well connected at the grassroots level, Langford said.
South Canterbury arable farmer Colin Hurst will serve as vice president.
Sandra Faulkner, Mark Hooper, Toby Williams, and Richard McIntyre were re-elected to the board.
source: https://www.rnz.co.nz/news/country/493285/federated-farmers-elects-wayne-langford-as-national-president