Video of Paul Pelosi attack released, shows suspect swinging hammer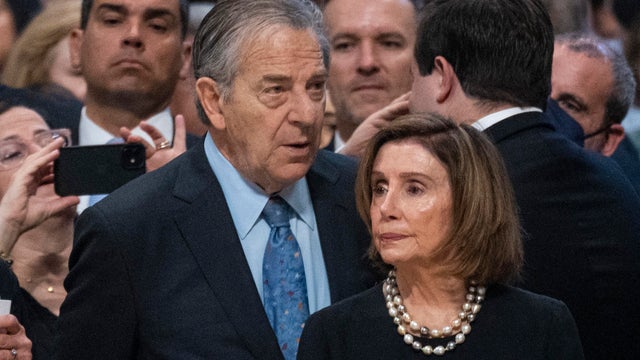 Video and audio of the violent October attack on Paul Pelosi, the husband of then-House Speaker Nancy Pelosi, was released to the public Friday.
It was released after San Francisco Superior Court Judge Stephen M. Murphy ruled there was no reason to keep the footage secret, especially after prosecutors played it in open court during a preliminary hearing last month.
The video shows police approaching the home and knocking on the front door. After a few seconds, the front door opens, revealing Pelosi standing alongside a second man, later identified as David DePape. DePape and Pelosi are both holding onto a hammer. 
The police exchange a few words with the men, then see the hammer and tell him to drop the weapon. 
"Um, nope," DePape responds, yanking the hammer away and swinging it at Pelosi. 
Police then rush into the home and pull DePape off Pelosi, who remains on the floor. Police can be heard requesting backup as they handcuff the suspect. 
Pelosi, who is 82, suffered a fractured skull and injuries to his arms and hands, and underwent surgery after the early-morning attack in the couple's San Francisco home. DePape, 42, allegedly broke into the home around 2 a.m. and demanded to know where the congresswoman was, violently attacking Pelosi with a hammer. Pelosi was able to call 911.
"Our officers observed Mr. Pelosi and the suspect both holding a hammer," said San Francisco Police Chief William Scott in October. "The suspect pulled the hammer away from Mr. Pelosi and violently assaulted him with it."
DePape intended to kidnap Nancy Pelosi and told officers he wanted to "break her kneecaps," authorities said. The congresswoman was in Washington, D.C., at the time. She announced the following month she was stepping down from Democratic leadership, though remaining in Congress.
DePape has pleaded not guilty to six charges that include attempted murder, residential burglary, assault with a deadly weapon, elder abuse, false imprisonment of an elder, and threats to a public official and their family.
Court records say the San Francisco police "recovered zip ties in Pelosi's bedroom and in the hallway near the front door of the Pelosi residence" and found "a roll of tape, white rope, one hammer, one pair of rubber and cloth gloves, and a journal" in his backpack.
News organizations including CBS News sought the material played in court, including audio from Pelosi's 911 call, police bodycam footage and surveillance footage and clips of a police interview.  ABC, NBC, Fox, The Washington Post and The New York Times, among others, joined in that request, The Associated Press reported,
source: https://www.cbsnews.com/news/paul-pelosi-attack-david-depape-chaged-video-audio-released/