Deputy Prime Minister receives traditional Samoan tatau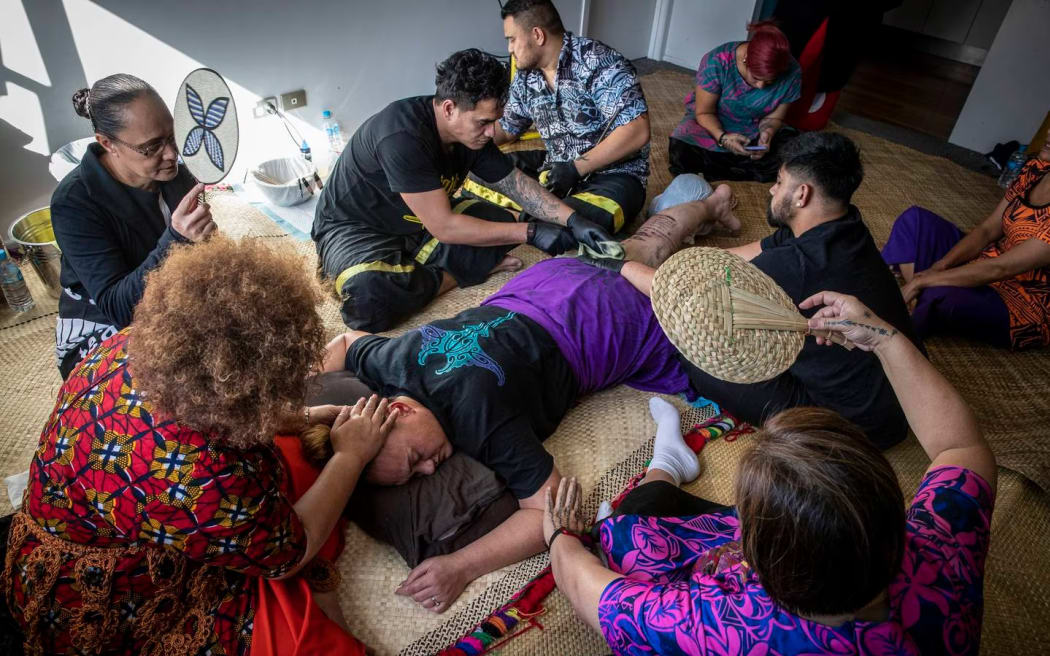 Deputy PM Carmel Sepuloni is supported by fellow MPs and family during her traditional tatau. Photo: Michael Craig / NZ Herald
As the front door swings open, the distinctive rhythmic sound of the traditional tattooing happening inside is immediately clear.
Lying on a mat in the sitting room of her Titirangi home is Deputy Prime Minister Carmel Sepuloni, surrounded by her closest friends and family as she receives a traditional Samoan tattoo for women, called the malu.
"The sound is very spiritual in many ways - that 'tap, tap, tap, tap'," she says.
"I think that takes you to that place where you're reflecting on your family, your ancestors, the homeland."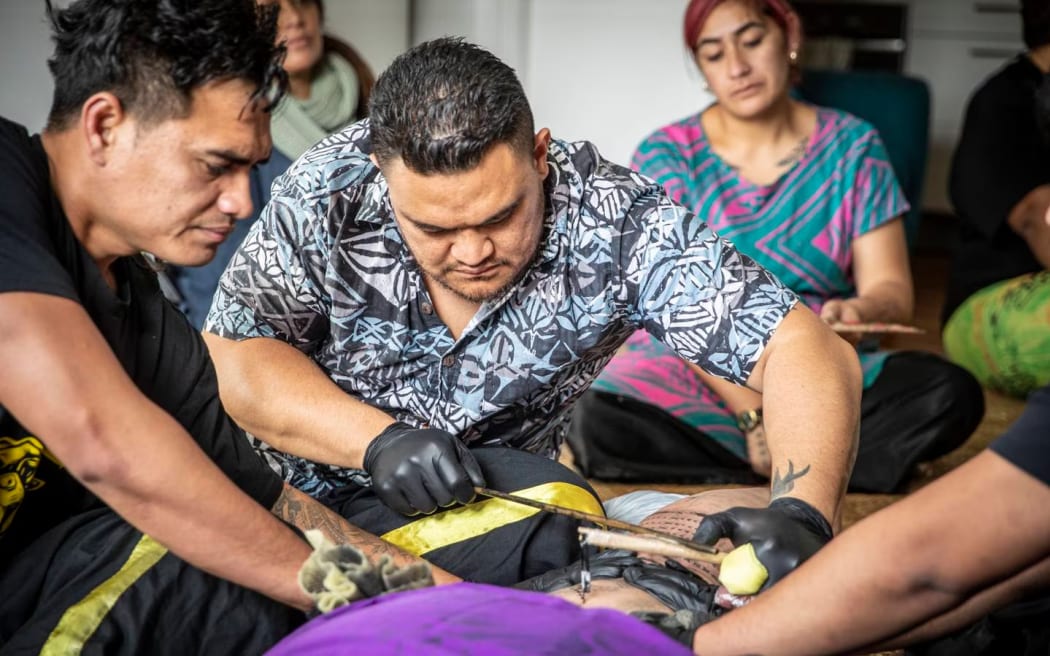 Tufuga ta tatau master tattooist, Li'aifaiva Imo Levi, is all concentration as he tattoos Deputy PM Carmel Sepuloni. Photo: Michael Craig / NZ Herald
Sepuloni this week took part in one of Samoa's oldest traditions - one that is considered a rite of passage for many Pacific women - and covers the length of her thighs and just below the knee with intricate designs.
It is often a painful experience. Tufuga (tattooist) Li'aifaiva Imo Levi strikes the tool - traditionally made from bone or pig's tusks - and another presses the ink into the skin.
"The feel - the way I describe it, in modern terms - is like having an industrial gun stapler just going: 'Ch-ch-ch-ch-ch-ch on your skin," Sepuloni says.
"Some people have said it's worse than childbirth. Some people have said it's not as bad - it's its own level of pain.
"But it is enduring. Six hours of it - it isn't easy. You do have to go to another place - going to that place where you're reflecting on your family and the homeland and your memories, it's really what I think helps you get through."
One image she describes through tears is that of her late grandfather collecting ulu (breadfruit) leaves in the islands.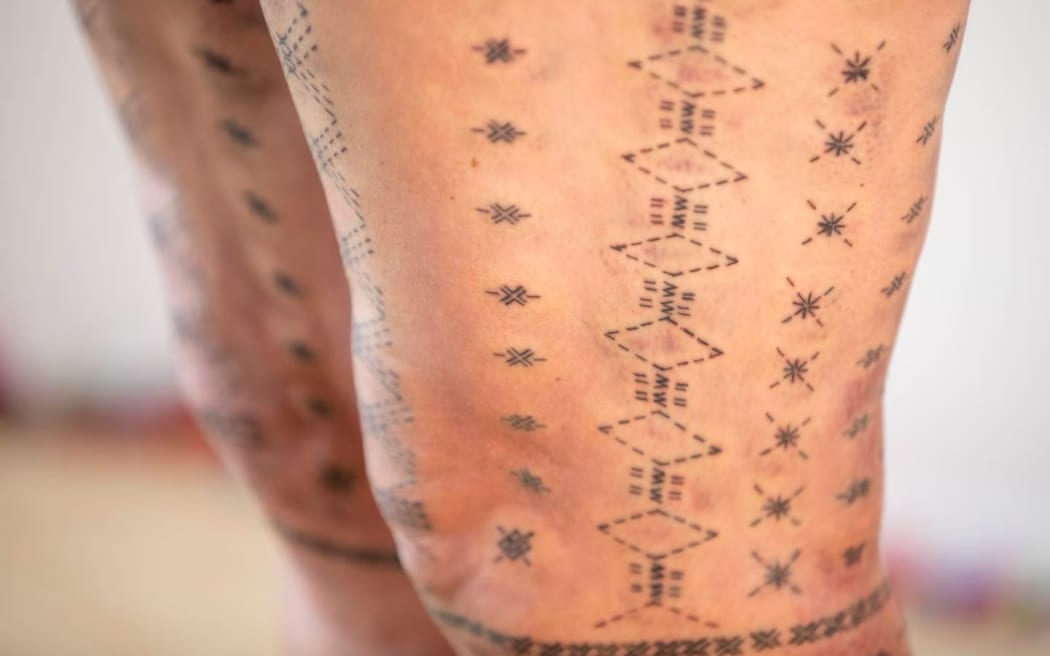 A close-up of some of the intricate designs of Deputy Prime Minister Carmel Sepuloni's traditional Samoan tatau reserved only for women: the malu. Photo: Michael Craig / NZ Herald
The 46-year-old has long had a connection to the malu and a yearning to get it one day after seeing it for the first time as a teenager.
"Instinctively, my whole life - as friends were starting to get tattoos - I just felt: 'No'. For some reason, in me, I didn't want to do that.
"I would've been 18 when I really saw it and began to understand what it was. I knew I didn't want any ink on my skin - until I saw that. Then it was a matter of when and if I was worthy of getting it done."
Traditionally, the malu was reserved for the daughter of a high chief or a highly ranked family.
Sepuloni says that is not her. Who she is, she says, is a person who has served and continues to serve her community.
"I've learned that through service and through all that you can do or do for a community and for your aiga [family], is that there's another pathway to gaining that worth to being able to get a malu.
"I am in a very hard job and so having that level of cultural protection and shelter is really important. I think in many ways, it will strengthen me in the work that I do."
Deputy Prime Minister Carmel Sepuloni shows off her traditional Samoan tattoo, the malu. Photo: Michael Craig / NZ Herald
She also needed the blessing of her Samoan Tongan father, Fa'atali'i Kamisi Sepuloni, whose Samoan roots lie in Vailele, Upolu.
The Deputy PM explains that her father was initially opposed to the idea of getting the tatau, but had come to support it in the past few years, to the point where he began to ask when she was going to do it.
On the day of the tatau, there are many poignant scenes - from the community mama clapping and singing old Samoan pese (songs), Sepuloni's fellow Pacific MP sisters holding her hands, to husband Daren Kamali quietly singing a Fijian tune as his wife wiped away tears.
As for her next Samoan duty, she laughs when asked if she is now considering a matai (chief) title.
"I'll leave that to my family to decide. One step at a time."
- This story originally appeared on the NZ Herald.
source: https://www.rnz.co.nz/news/political/493414/deputy-pm-carmel-sepuloni-on-the-pain-and-privilege-of-getting-a-traditional-samoan-tattoo