Belarusian Victoria Azarenka says it was unfair to be booed at Wimbledon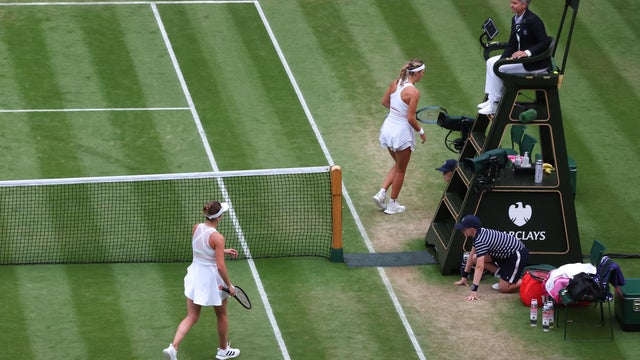 When Ukrainian tennis player Elina Svitolina won her match against Belarusian Victoria Azarenka at Wimbledon on Sunday, the two players left the court without interacting. Azarenka's run at the tournament had come to an end, and as she walked toward the umpire stand, grabbed her bag and left the court – without shaking Svitolina's hand – the crowd booed her.
Azarenka said the booing aimed at her was "unfair." 
Svitolina decided after Russia invaded Ukraine last year that she would not shake hands with players from that country and Belarus, Russia's ally that supports its invasion of Ukraine, Reuters reports.
"There's nothing to say. She doesn't want to shake hands with Russian, Belarusian people," Azarenka said during a post-match news conference. "What should I have done? Stayed and waited? There's nothing that I could do that would have been right. So I did what I thought was respectful toward her decision."
After her win, Svitolina said tearfully that during the match she thought about the people back home in Ukraine watching and cheering for her. She advances to Tuesday's quarterfinals. 
Svitolina has maintained her stance on not shaking the hands of Russian and Belarusian players, and said she thought tournament organizers should make that stance clear to fans, according to Reuters.
Perhaps the fans assumed there was an unsportsmanlike reason the Russian player ignored the Ukrainian player. But Azarenka said while she was booed, she is no victim. 
"I can't control the crowd. I'm not sure that a lot of people were understanding what was happening ... It's probably been a lot of Pimm's throughout the day," she said, referring to the gin drink commonly served at Wimbledon. 
She said the lack of handshake was no big deal. "I thought it was a great tennis match. And if people are going to be focusing on handshakes, or the crowd – quite drunk crowd – booing in the end, that's a shame," she said. 
Russian and Belarusian players were banned from Wimbledon last year, after Russia invaded Ukraine, but 18 players entered the tournament this year – but not without controversy. 
"We're reading about frosty responses that many of the athletes from Russia receiving in the locker rooms, we've seen booing, as we saw yesterday," Jules Boykoff, an associate professor of political science at Pacific University told CBS News' Anne-Marie Green on Monday. 
Boykoff said after first questioning whether or not Russian and Belarusian athletes should participate in sporting events, organizers of Wimbledon and the Olympics have softened their stances. 
"These athletes from Russia and Belarus come from a wide array of backgrounds. Some of them have actually been quite outspoken against the war, which is an incredibly courageous thing to do and puts their lives and maybe their family's lives in danger," he said. "And so, you really have to feel for these athletes that are pinched in the middle of this very difficult and complex situation." 
Caitlin O'Kane is a digital content producer covering trending stories for CBS News and its good news brand, The Uplift.
source: https://www.cbsnews.com/news/wimbledon-ukrainian-elina-svitolina-belarus-victoria-azarenka-booed-no-handshake/