Dairy returns help drive fourth month of record highs for commodity exports
The country's main commodity exports remain at record highs on the back of strong dairy and aluminium prices, but a firmer New Zealand dollar is denting returns to producers.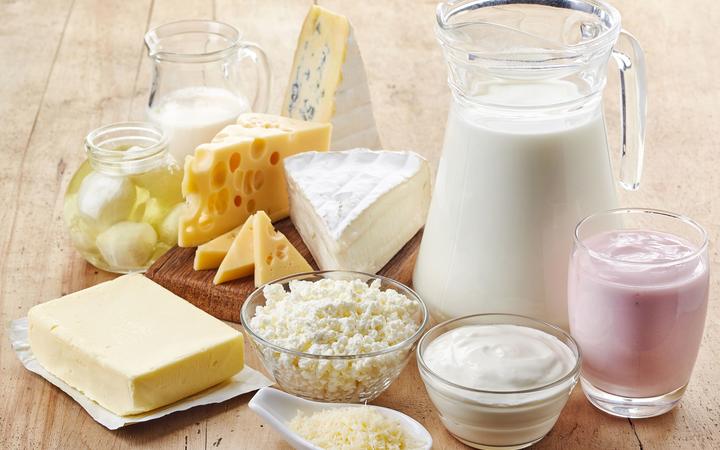 There was a 7.6 percent rise in dairy prices during March. Photo: 123RF
ANZ Bank's latest commodity price index rose 3.9 percent last month, making it four consecutive record breaking months, to be 18 percent higher than a year ago.
ANZ agricultural economist Susan Kilsby said a 7.6 percent rise in dairy prices remained the driver despite some volatility in prices recently.
"The underlying fundamentals are very supportive as global milk supplies remain very tight."
Read RNZ's explainer on why global prices are so high for dairy products
The gains for dairy were supported by an 8.4 percent rise in aluminium prices on the previous month, with sanctions on Russia for the invasion of Ukraine adding to pressure on global supplies.
"A large proportion of the world's aluminium is produced by Russia, which means global supply is tighter due to recent sanctions. Russia may have difficulty sourcing the raw alumina it needs to produce this metal," Kilsby said.
The other notable gain was shown in forestry and wood products, which rose 3.3 percent for the month, as constrained international supplies prompted Chinese buyers to look to New Zealand for supply.
Horticulture was flat with bad weather and shortages of labour constraining the sector, while meat and fibre rose marginally, held back by weaker beef prices.
Kilsby said shipping costs were picking up again, exacerbated by recent Covid-19 lockdowns in China adding to delays at key ports, sending one of the main indicators up more than 15 percent on February.
"Shipping costs and delays are expected to worsen as the year progresses. This is not good news for our seasonal exporters who rely on securing space on scheduled shipping services."
And the firmer New Zealand dollar, which gained 3.1 percent against those of our major trading partners, was reducing the returns to New Zealand producers.
source: https://www.rnz.co.nz/news/business/464757/dairy-returns-help-drive-fourth-month-of-record-highs-for-commodity-exports