More car companies plan to use Tesla's supercharging network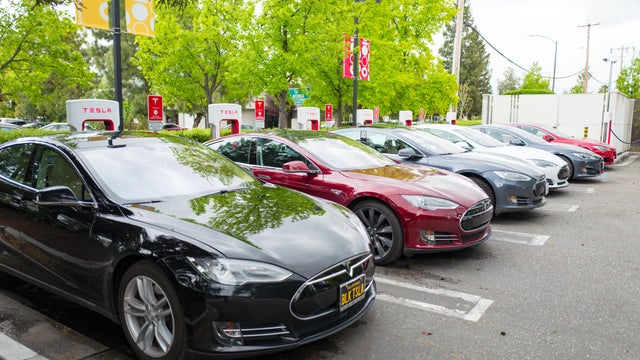 A growing number of automakers are modifying their electric vehicles so drivers can recharge them using Tesla's network of superchargers.
Mercedes-Benz said Friday that its EV customers will get access to more than 12,000 Tesla superchargers starting next year. The German company joins car makers including Ford, General Motors and Rivian to adopt Tesla's technology. Mercedes' move is part of a larger effort across the auto industry to offer drivers a universal charging port for EVs irrespective of the vehicle manufacturer.
For now, Mercedes drivers must use one of 60,000 "Mercedes me Charge" stations across the U.S. to recharge their electric vehicle. But EV owners will eventually be equipped an adapter so their vehicle connects to a Tesla supercharger, the automaker said. Electric vehicles made in 2025 and beyond will already have the supercharger port, the company noted. 
"We are dedicated to elevating the entire EV-experience for our customers — including fast, convenient and reliable charging solutions wherever their Mercedes-Benz takes them," Ola Källenius, Mercedes-Benz board chairman, said in a statement. 
A Tesla supercharger uses a three-pronged connector — known within the industry as the North American Charging Standard (NACS) — to send 120 volts of electricity to a vehicle's battery. A 15-minute charge gives a Tesla enough power to travel up to 200 miles, the company says on its website. Ford, GM, Rivian and Volvo have vowed to design their future EVs with a NACS port with an eye toward making it the industry standard.
Mercedes said Friday it's planning to add more than 2,500 chargers across North America by the end of 2030. The first batch of NACS charging stations, which Mercedes and non-Mercedes drivers can use. will open at the end of this year, the company said. Mercedes also plans to build hundreds of charging stations across Europe and China. 
Offering more charging stations is one strategy automakers are using to further entice customers to buy EVs. The electric car market, which is expected to reach $1.1 trillion globally by 2030, has had starts and stops in recent years, ignited by supply-chain woes caused by the pandemic and Russia's ongoing war in Ukraine. 
EVs are drawing more attention within the automotive industry, as shoppers grow curious about their capabilities and as automakers race to assert dominance in the market. A survey released this year from Deloitte found that "the availability of charging infrastructures" is a top concern among potential EV buyers, after cost. 
The Associated Press contributed to this report.
Khristopher J. Brooks is a reporter for CBS MoneyWatch covering business, consumer and financial stories that range from economic inequality and housing issues to bankruptcies and the business of sports.
source: https://www.cbsnews.com/news/electric-vehicle-charging-network-tesla-mercedes-benz/