Kim Jong Un's sister says warplanes repelled U.S. spy plane, issues warning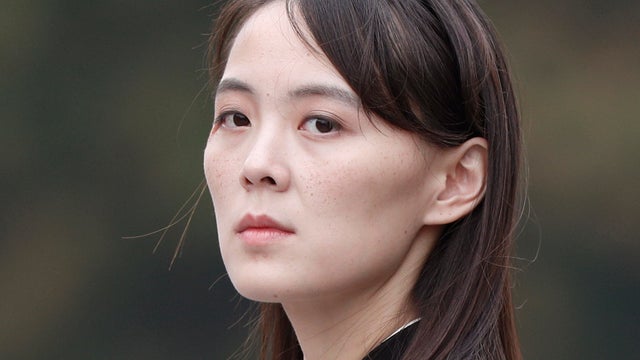 The powerful sister of North Korean leader Kim Jong Un alleged on Monday that the country's warplanes repelled a U.S. spy plane that flew over its exclusive economic zone. She warned of "shocking" consequences if the U.S. continues reconnaissance activities in the area. 
Kim Yo Jong's comments came hours after the nation threatened to shoot down American reconnaissance aircraft while condemning Washington's plans to deploy a nuclear missile submarine near the Korean Peninsula.
The U.S. and South Korean militaries did not immediately respond to the comments by Kim, one of her brother's top foreign policy officials, which were published in state media Monday evening.
Earlier Monday, North Korea's Defense Ministry issued a statement accusing the U.S. of flying spy planes into its "inviolable airspace" and warning that approaching aircraft might be shot down.
South Korea's Joint Chiefs of Staff responded by denying that the U.S. had flown spy planes into North Korean territory. Spokesperson Lee Sung Joon said at a briefing that the U.S. was conducting standard reconnaissance activities in coordination with South Korea's military.
Apparently in response to that comment, Kim accused the Joint Chiefs of Staff of acting like a "spokesperson" for the U.S. military and said the U.S. has been intensifying its reconnaissance activities in a serious infringement of North Korea's sovereignty and safety.
But while the North Korean Defense Ministry statement seemed to imply an intrusion into the country's territorial airspace, Kim accused the U.S. of sending spy planes over the North's exclusive economic zone, the area within 200 nautical miles of its territory where it controls rights to natural resources.
Kim said a U.S. spy plane crossed the eastern sea boundary between the Koreas at around 5 a.m. Monday and conducted reconnaissance activities over the North's exclusive economic zone before being chased away by North Korean warplanes. She said the U.S. aircraft crossed the eastern sea boundary again at around 8:50 a.m., prompting North Korea's military to issue an unspecified "strong warning" toward the United States.
She said North Korea would take decisive action if the U.S. continues to fly reconnaissance planes over her country's exclusive economic zone, but added that it would "not take a direct counteraction" for U.S. reconnaissance activities outside of the zone.
"A shocking incident would occur in the long run in the 20-40 kilometer section in which the U.S. spy planes habitually intrude into the sky above the economic water zone" of North Korea, she said.
North Korea's official Korean Central News Agency (KCNA) also slammed the planned deployment of U.S. strategic nuclear assets to the Korean Peninsula as "the most undisguised nuclear blackmail" against North Korea, saying it posed a grave threat to regional and global security.
"The present situation clearly proves that the situation of the Korean Peninsula is coming closer to the threshold of nuclear conflict due to the US.. provocative military action," it read.
Washington said in April it would send a nuclear-armed ballistic submarine to make the first visit to a South Korean port in decades, without specifying the exact timing.
In April, Kim's military leaders claimed to have flight-tested a solid-fuel intercontinental ballistic missile for the first time ever, which would represent a  significant breakthrough in North Korea's efforts to acquire a more powerful, harder-to-detect and shoot down missile capable of hitting the continental U.S.
In May, North Korea confirmed a failed attempt to launch a spy satellite into space, in another move that would be seen as a major provocation by its neighbors and the United States. The botched attempt triggered emergency alerts in Seoul and on the southern Japanese island of Okinawa. 
North Korea said then that efforts were already underway to try the launch again.
South Korea's President Yoon Suk Yeol has ramped up defense cooperation with Washington in response, staging joint military exercises with advanced stealth jets and powerful U.S. strategic assets.
Yoon is set to attend a NATO summit in Lithuania this week, seeking stronger cooperation with NATO members over North Korea's growing nuclear and missile threats, his office said.
AFP contributed to this report.
source: https://www.cbsnews.com/news/kim-jong-un-sister-north-korea-us-spy-plane-warns-shocking-consequences/