Microsoft can close its $69 billion Activision deal, judge rules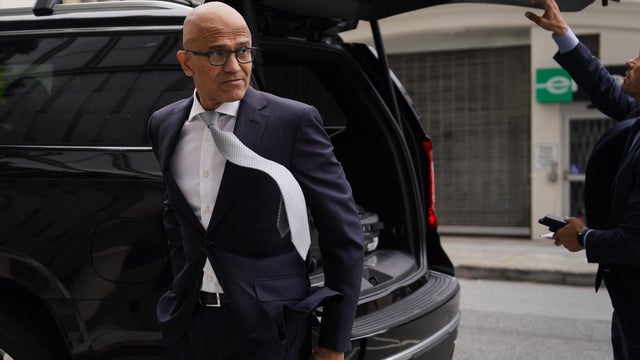 A federal judge has handed Microsoft a major victory by declining to block its looming $69 billion takeover of video game company Activision Blizzard, after federal antitrust regulators sought to halt the deal.
U.S. District Judge Jacqueline Scott Corley said in a ruling that the Federal Trade Commission, which enforces antitrust laws, has not shown a likelihood it would prevail if it took the case to trial.
"The FTC has not raised serious questions regarding whether the proposed merger is likely to substantially lessen competition in the console, library subscription services, or cloud gaming markets," Corley wrote.
Microsoft appeared to have the upper hand in a 5-day San Francisco court hearing that ended late last month. The proceeding showcased testimony by Microsoft Chief Executive Officer Satya Nadella and longtime Activision Blizzard CEO Bobby Kotick, who both pledged to keep Activision's blockbuster game Call of Duty available to people who play it on consoles — particularly Sony's PlayStation — that compete with Microsoft's Xbox.
"Our merger will benefit consumers and workers. It will enable competition rather than allow entrenched market leaders to continue to dominate our rapidly growing industry," Kotick said in a written statement after Tuesday's ruling.
The FTC had asked Corley to issue an injunction temporarily blocking Microsoft and Activision from closing the deal before the FTC's in-house judge can review it in an August trial.
Both companies suggested that such a delay would effectively force them to abandon the takeover agreement they signed nearly 18 months ago. Microsoft has promised to pay Activision a $3 billion breakup fee if the deal doesn't close by July 18.
The case was an important test for the FTC's heightened scrutiny of the technology industry under Chair Lina Khan, who was installed by President Joe Biden in 2021 because of her tough stance on what she sees as monopolistic behavior by tech giants such as Amazon, Google and Facebook parent Meta.
Another judge rebuffed the FTC's attempt earlier this year to stop Meta from taking over the virtual reality fitness company Within Unlimited.
Corley, herself a Biden nominee, expressed skepticism about the FTC's case during the proceedings, particularly about the hypothetical harms caused if Microsoft were to remove Call of Duty from rival platforms or offer a subpar experience on competing consoles.
"It all comes down again to Call of Duty," she said. "We're here because of Call of Duty."
Antitrust activists decried the decision. The American Economic Liberties Project called on the FTC to appeal and suggested that Corley's ruling was biased because the judge's son works at Microsoft, a fact she disclosed last month in a hearing.
"When Microsoft's own emails say they are building a 'moat' and trying to 'spend' their competitors 'out of business,' that should be enough for the court to hit pause. The fact that Judge Corley's son works for Microsoft taints the outcome at a time when judicial ethics are top of mind for many," the group said in a statement.
Near the close of the hearing, Corley said the FTC had already achieved a victory for consumers because of promises Microsoft made to some rivals as it sought to clear a path for the Activision Blizzard deal to go through.
As antitrust investigations and legal challenges mounted in the U.S. and around the world, Microsoft pledged that Call of Duty would appear on Nintendo's Switch console, Nvidia's cloud gaming service and other platforms for at least a decade.
"In many ways you won," Corley told the FTC's lead trial attorney on the case, James Weingarten.
"I don't think we won," Weingarten responded, saying there was no evidence that the "hastily agreed to" contracts would sufficiently protect the market.
Katherine Van Dyck, senior counsel at the American Economic Liberties project, recently noted to CBS MoneyWatch that antitrust law doesn't require the government to prove that a merger will definitely harm competition — only that it's likely to.
"Microsoft is going to gain control of the top four gaming studios in the country, and that will give them the ability to favor themselves — they'll be able to withhold that content on the gaming market," she said. "They can degrade it, so the verison that's available on another cloud gaming platform doesn't run as well."
A number of other countries and the European Union have approved the Activision Blizzard takeover, but it still faces opposition from the U.K.'s Competition and Markets Authority. Microsoft is appealing the British regulator's move to block the deal and a tribunal hearing on that is set to begin later this month.
Canadian regulators are also investigating the transaction and have concluded it is "likely to result" in preventing or lessening competition on gaming consoles, subscription services and cloud-based gaming, according to a letter to Microsoft filed in the U.S. case late last month. 
CBS News' Irina Ivanova contributed reporting.
source: https://www.cbsnews.com/news/microsoft-activision-judge-declines-to-block-antitrust-ftc/