SH35 between Tokomaru Bay and Te Puia Springs reopens
The final stretch of the flood-damaged road between Tokomaru Bay and Te Puia Springs has been reopened to daytime traffic after an extensive repair job.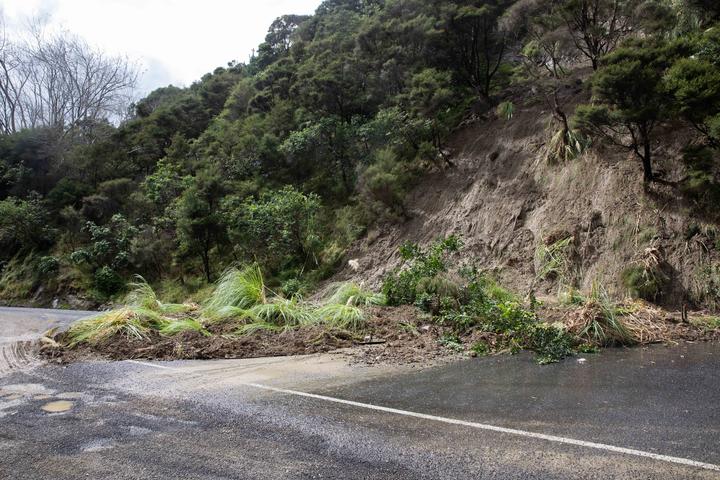 One of the many slips that blocked SH35 in Tairāwhiti during last month's storm. Photo: RNZ / Angus Dreaver
Waka Kotahi said it had been surprised at the level of damage to State Highway 35, which had been closed since 23 March.
National Journey Manager Helen Harris told Morning Report the road frequently had problems after bad weather, due to its "challenging geology", but the level of destruction wrought by last month's Tairāwhiti storm was unprecedented.
"Some of this area we have never had problems before."
While the road had reopened for daytime traffic, it would remain closed overnight for the foreseeable future, Harris said.
"Anyone driving through will understand why we need to keep it closed from 7pm to 7am ... we still have dropouts in there, there's single lanes."
She said temporary speed limits - some as low as 30km/ph - were in place while contractors remained on site and she urged motorists to drive carefully and adhere to the speed restrictions.
"It's going to be like this for some time, some of the repairs are major."
Engineers were trying to figure out how to largely keep the road open while ongoing repairs were undertaken, she said.
"We are hoping that if they have to close the road again then they will be short, sharp bursts."
source: https://www.rnz.co.nz/news/national/464884/sh35-between-tokomaru-bay-and-te-puia-springs-reopens