Heavy rain and strong winds to hit Auckland, holiday weekend areas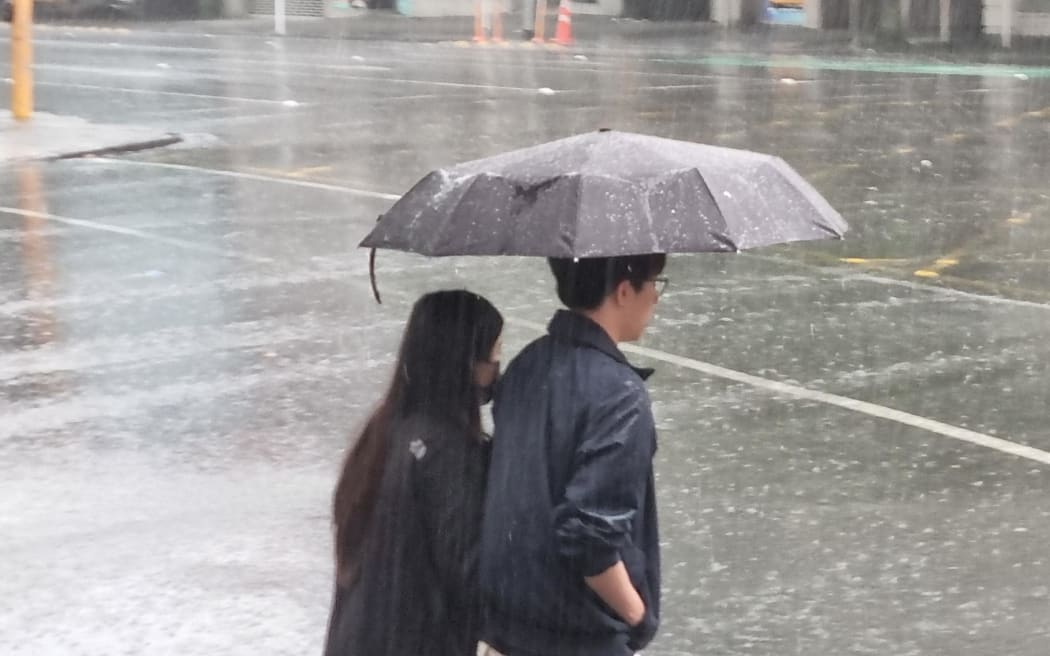 MetService has issued a marine warning of gale force winds expected around the upper North Island that has woken to heavy gusts and rain this morning.
The alert warns of "very rough seas" from Brett, the Bay of Islands, and Bream Head to Cape Colville.
As droves of Aucklanders get ready to make their annual exodus for the region's anniversary weekend, MetService last night issued warnings for heavy rain, while strong winds and thunderstorms are expected in the north.
A tweet from Hauraki Gulf Weather on Thursday night showed a band of heavy rain moving through Northland.
The humid northerly flow has set up over Aotearoa, MetService Meteorologist Jessie Owen said, and it is here for the long run.
"While this warm air from the north will raise temperatures across the country, it will also bring rain along with it," Owen's said.
For the upper North Island, particularly Northland, the Coromandel Peninsula, and the Bay of Plenty - areas that have already experienced a substantial amount of rain this month - MetService is predicting further heavy rain.
"It is going to be a very wet start to Auckland Anniversary weekend," Owens' said.
"Heavy rain could cause flooding and slips and make travel hazardous so if you're planning on heading away for the long weekend it's a good idea to keep up with the forecasts and perhaps consider delaying your travel."
Heavy rain was expected to move onto Northland last night, where a heavy rain warning is in force until this evening.
After that, it will move further south. Through Friday, a heavy rain warning is in effect for Auckland, and into Saturday, heavy rain warnings are in effect for Coromandel and Bay of Plenty.
There is also a strong wind watch in place for northeasterly winds in Auckland on Friday.
Motorists are warned that the strong winds could force the closure of Auckland Harbour Bridge, with winds of up to 110km/h possible.
This has prompted a warning from Waka Kotahi to drivers.
"Motorists are urged to drive to the conditions, look out for the electronic message boards which will indicate lane closures and reduced speeds, or full bridge closure, and stay within their lane while travelling across the bridge," the warning said.
"Drivers of high-sided vehicles and motorcyclists are advised to avoid the Auckland Harbour Bridge and use the Western Ring Route on State Highways 16 and 18. Waka Kotahi is working closely with MetService to monitor wind speeds with maintenance crews out on the network ready to react and close lanes on the bridge if wind gusts exceed threshold levels.
"The safety of road users is our top priority and we won't hesitate to reduce speeds, close lanes or close the bridge if necessary."
The high winds could also cause delays or cancellations to public transport.
Holidaymakers heading to the storm-ravaged Coromandel Peninsula may want to rethink their plans, with a warning from MetService to expect heavy rainfall for 24 hours from 10am on Friday.
This could cause streams and rivers to rise rapidly, leading to surface flooding and slips making driving conditions hazardous.
The Coromandel Ranges are expected to get a dumping of 100mm to 140mm of rain.
In Northland, MetService expects up to 130mm of rain, especially in the east and north, and said thunderstorms are possible.
Peak rain rates between 10 and 20mm per hour are expected.
"Heavy rain may cause streams and rivers to rise rapidly. Surface flooding and slips are also possible and driving conditions may be hazardous," MetService warned.
After the deluge kicks off the long weekend, MetService meteorologist Paul Gorman said it isn't likely the weather will get much better.
The rain continues on Saturday in Auckland which won't be welcome news for Elton John concertgoers in the largely unsheltered Mt Smart Stadium.
Gorman said the weather is likely to be worse in Northland, but linger the longest in Auckland.
On Sunday, it's a similar story, with showers throughout the region, finally easing in the evening.
Laneway festival-goers might be wise to pack a poncho, with showery weather expected in the area.
The wind is also expected to pick up on Monday, with brisk northeasterlies turning to gusts in exposed places.
- This story was first published on the New Zealand Herald
source: https://www.rnz.co.nz/news/national/483182/weather-heavy-rain-and-strong-winds-lash-auckland-coromandel-bay-of-plenty-and-northland