'We can't do without that access' - Coromandel mayor on massive SH25A slip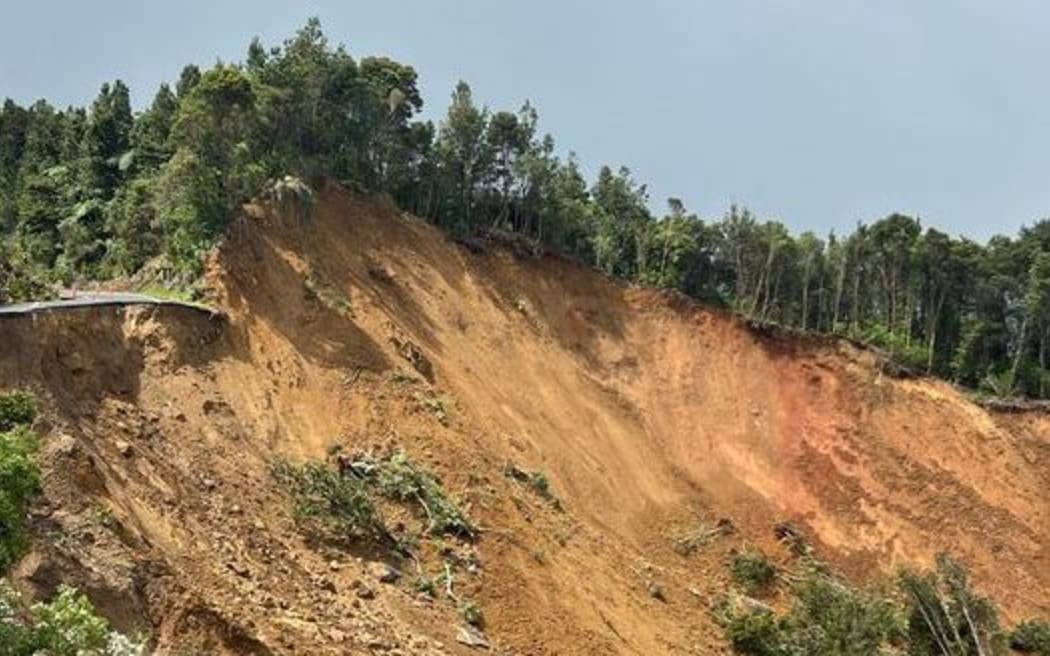 Another 60 to 70 metres dropped off State Highway 25A in the Coromandel in the 24 hours to Thursday. Photo: Thames-Coromandel District Council
Coromandel communities have lost a "severe amount of access" with the huge landslide cutting SH25A, the mayor says, and he's confident the government will step in to help.
State Highway 25A crosses the region from Kopu to Hikuai, but a huge area of the road has been swept away in a major slip following destructive amounts of rain.
Mayor Len Salt visited the site on Thursday with Emergency Management Minister Kieran McAnulty.
"By the time we got up there the crews on site told us that in the previous 24 hours another 60 or 70 metres had dropped away," Salt said.
"It was quite a revelation to see the extent of that and it gave us an idea of the scale of what it's going to take to fix that.
"While we were there, there was more debris falling off the sides down into the drop at the bottom."
He was confident the minister and the government will be stepping in to provide a solution "as soon as possible."
"We can't do without that access."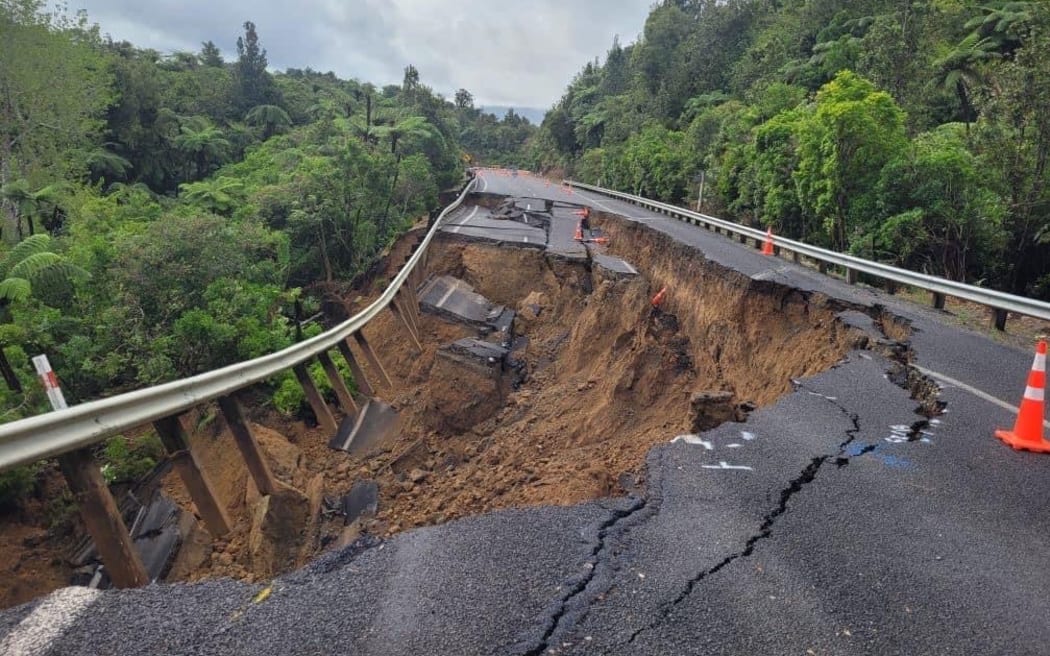 SH25A earlier this week. Photo: Waka Kotahi
Until a solution is found, Waka Kotahi experts have been looking what interim measures could be put in place, he said, but with the size of the landslide there was little room for a bypass cut.
"So we're looking at is there a way to get through round the side - do another cut - or do we have to have to go all the way around the bottom and around the coast road, which is a very long diversion."
He was unsure if there could be permanent repairs on the same site or whether or a new route round the slip would be needed.
"What I see is something that a bridge would go over - but it would be a big bridge.
"Whether it can be rebuilt in the same place or whether they have to work with DOC to find alternative routes through there, I don't know."
He was hoping for a break in the weather so crews could start repairs on other roads, like the Thames Coast Road (SH25) at Ruamahunga.
Waka Kotahi spokesperson Cara Lauder was also at the site on Thursday and told Checkpoint she was "stunned" at the size of the slip.
Lauder wasn't able to say how long it would take to fix - or whether it might be done by Christmas.
"That was what we were certainly thinking before it did this.
"If we have to build a massive bridge across it though, if it does get to that kind of scale, those things do take a bit longer," she said.
Six households were evacuated at Koputauaki Bay on Thursday night as a precaution after a slip blocked a stream.
A local first alerted the council to the risk of a pool of water building up after the slip, Len Salt said.
The concern was that the debris dam had potential for build up put people below the dam at risk.
Those evacuated were offered accommodation, but preferred to stay with whānau in the area, and all were safe.
The mayor said a helicopter was going over the area on Friday morning for a site evaluation.
The Whitianga / Mercury Bay area had heavy rain overnight, Salt said, but there was none in Thames.
source: https://www.rnz.co.nz/news/national/483557/scale-of-damage-to-sh25a-a-revelation-coromandel-mayor